11-year delay in arsenic-free water project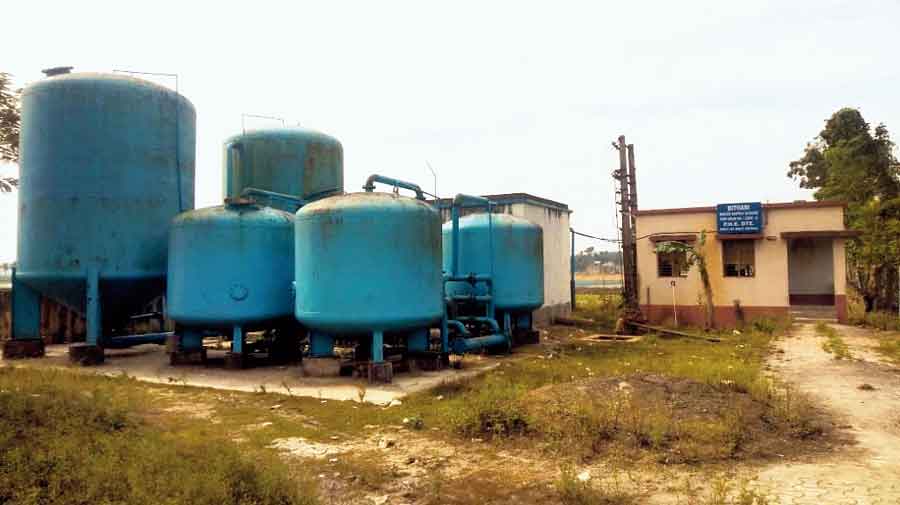 ---
Swarupnagar
|
Published 09.12.20, 04:56 AM
|
---
Nearly one lakh residents in the arsenic-contaminated Swarupnagar block in North 24-Parganas are yet to get pure drinking water, because a dedicated water supply project commissioned in 2009 is yet to be made operative by public health engineering (PHE) authorities.
The authorities allegedly took 11 years to obtain approvals and funding to include an arsenic removal plant under a joint scheme of the state and Centre.
Residents said that the PHE during 2009 had launched a project in Bithari village of Swarupnagar as a deep-tube-well-based water supply project. But, a few days after the commissioning, arsenic was detected in the supplied water. Eleven years on, the people of Swarupnagar are yet to get safe drinking water.
Sanjib Sarkar, executive engineer of the PHE's Barasat division, said: "After arsenic was detected in the water supply, we had to prepare a fresh project report to include an arsenic removal plant. It turned out to be a new project under a central scheme with shared funding by the state government. But delays occurred in obtaining sanctions and funding. Eventually, we completed it last year and tried to make two units operative after trial supply. But, pipelines laid in 2009 were found damaged at many stretches as the project had been abandoned for so long."
The PHE started repairing the pipelines that were also reportedly damaged by efforts to widen roads under the Pradhan Mantri Gram Sadak Yojana.
According to WHO standards, drinking arsenic-contaminated water for extended periods or being exposed to it can cause cancer and skin diseases, cardiovascular diseases and diabetes, and impact the cognitive development of young adults that may even prove fatal.
Srikumar Chakraborty, a resident of Swarupnagar, said: "All 22 blocks are arsenic-prone. In Bithari, the contamination level is 0.0114 mg/liter compared to the acceptable limit of 0.1 mg/litre. The water test report states that water samples do not comply with acceptable standards and are unsatisfactory for drinking purposes in the presence of iron and arsenic."
Sources in the district administration added that most of the 137 deep tube well-based water supply projects in 22 blocks of North 24-Parganas could not be made operative yet either owing to delays in getting approvals from the state government or power supply to operate the arsenic removal plant.
Dulal Bhattacharya, local zilla parishad member, said that they ran from pillar to post these 11 years. "But pure water continues to elude us. The Left government was responsible for the commissioning of the project without examining water quality and later the Centre also has its share of the blame."
To address people's grievances, the state government recently directed the PHE to ensure commissioning of the water supply projects, including that in Bithari, by March next year.
"We are trying our best to replace damaged pipelines. We are hopeful to begin clean water supply by March 2021," Sarkar added.