Sikkim seeks review of reciprocal transport agreement with Bengal
Move aims to increase the number of permits for both passenger and goods vehicles registered in the Himalayan state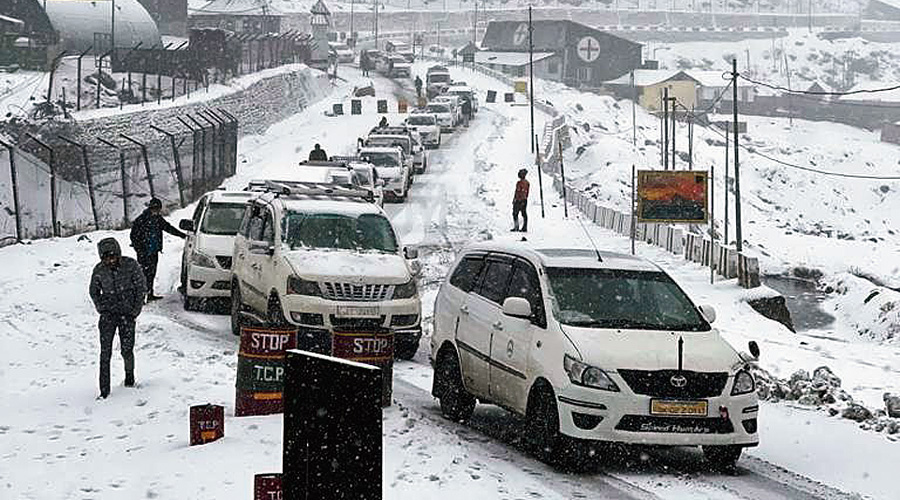 Representational Image
File picture
---
Siliguri
|
Published 27.09.21, 12:52 AM
|
---
Sikkim has sought a review of the reciprocal transport agreement with Bengal so as to increase the number of permits for both passenger and goods vehicles registered in the Himalayan state to enter Bengal by factoring in the present ground realities.
The four-point demands of the Sikkim transport department were placed in a letter submitted to Rajesh Kumar Sinha, the secretary of Bengal transport department, by Karma Namgyal Bhutia, PCE-cum-secretary of the Sikkim Transport Authority (STA) in Siliguri last week.
Apart from seeking an inc­rease in the number of permits issued to passenger and goods carriers, Sikkim has also sought issuance of permits for 10-wh­eeler trucks and incr­e­ase in the load-carrying limit for tru­cks from the present 16,200kg to 18,500kg, according to the norms of the Union ministry of road transport and highways.
The STA secretary told The Telegraph that Sikkim had requested for an increase in the number of permits for passenger vehicles from the present 2,500 per month to 5,000 and for goods carriage from the present 1,000 to 1,100. "We have also sought all-Bengal permits for our trucks just like those from Bengal are allowed entry to all parts of Sikkim," he said.
Presently, the entry of 1,000 trucks from Sikkim has been compartmentalized into districts in Bengal. "Like for instance, out of the 1,000 tru­cks, 300 are allowed entry to Darjeeling district and only 100 to Jalpaiguri and none to Kalimpong, which is now a separate district. Most of the godowns we ferry goods from are located along Eastern Bypass in Siliguri, which falls under Jalpaiguri district," said Bhutia.
The Bengal transport secretary said the matters raised by Sikkim were under consideration. "We will soon have a bilateral meeting to resolve the issues," said Sinha.