Indra Hang Subba iterates Nityanand Raj on tribal tag
Subba said he apprised the minister on how the 12 communities were socio-ec­o­­nomically same as other tribal communities in Sikkim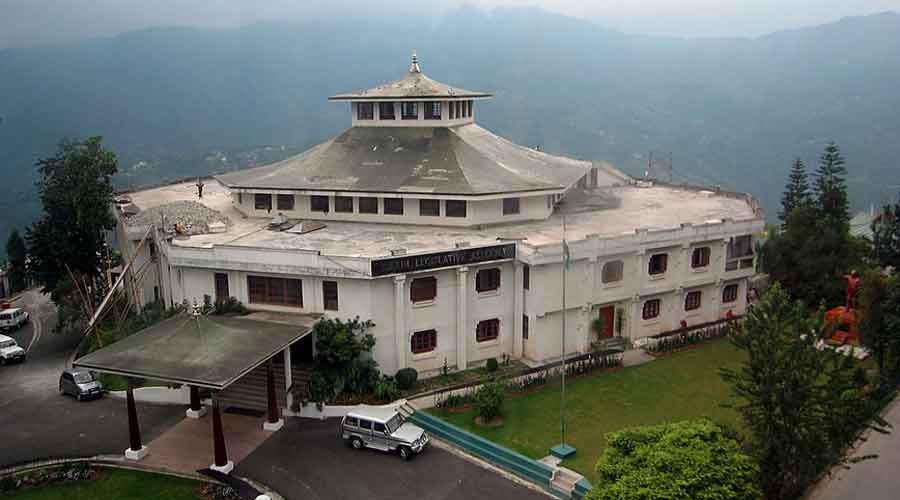 ---
Siliguri
|
Published 05.08.21, 01:04 AM
|
---
Sikkim's lone Lok Sabha member Indra Hang Subba met Union minister of state for home Nityanand Raj on Tuesday and iterated to fulfil the state's longstanding political demands of conferring Scheduled Tribe status to 12 Nepali-speaking communities and Assembly quota for Limboos and Tamangs.
In a statement issued to the media, Subba, the MPfrom the Sik­kim Krantik­ari Morcha (SKM), said he apprised the minister on how the 12 communities were socio-ec­o­­nomically same as other tribal communities in Sikkim, but were yet excluded from the list of Scheduled Tribes. "This has been an injustice… (they) are yet to be get their equal share of justice as other Scheduled Tribes in the state," he said.
In Sikkim, the 12 communities seeking tribal status are Gurung, Mangar, Rai, Sunw­ar, Mukhia, Jogi, Thami, Yak­ha, Bahun, Chettri, Newar and Majhi.
On the issue of reserving seats for the Limboos and Tamangs in the state Assembly, Subba said he told the minister that even though these two communities were granted tribal status in 2003, they are yet to get their quota of seats. "Four general elections (have) gone by, but these communities are still (being) deprived of their Constitutional right(s)," he said.
An organisation of the two communities seeking reservation had approached the Supr­e­me Court in January 2019, but the matter is yet to be decided. The 32-member Sikkim Assembly has 12 seats reserv­ed for the Bhutias and Lepch­as, two for the Scheduled Cast­es and one for the sangha, whi­ch is a body of monks.
The opposition Sikkim De­m­ocratic Front (SDF) wants the strength of the Assembly to be increased to 40 and rese­r­ve five seats from the enlar­ged pool for the Limboos and Ta­m­angs, but the ruling (SKM) is yet to spell out its formula.
The MP said he also raised the issue of the visit of the 17th Karmapa, Ogyen Trinley Dor­je, the head of the Karma Kag­yu school of Tibetan Bud­dhi­sm, to Sikkim. The Karmapa, who lives abroad, has been gra­­nted permission by the Centre, but is yet to make a trip to the Himalayan state where he has a large number of followers.
"Shri Nityanand Rai Ji was kind enough to give a patient listening to all the grievances put forward by me on behalf of the people of Sikkim…He has assured to act on these issues positively," claimed Subba.