Gates of Raj Bhavan to be thrown open for visitors from January 1
The English-style residency was constructed in 1897 by John Claude White, Britain's first political officer in Sikkim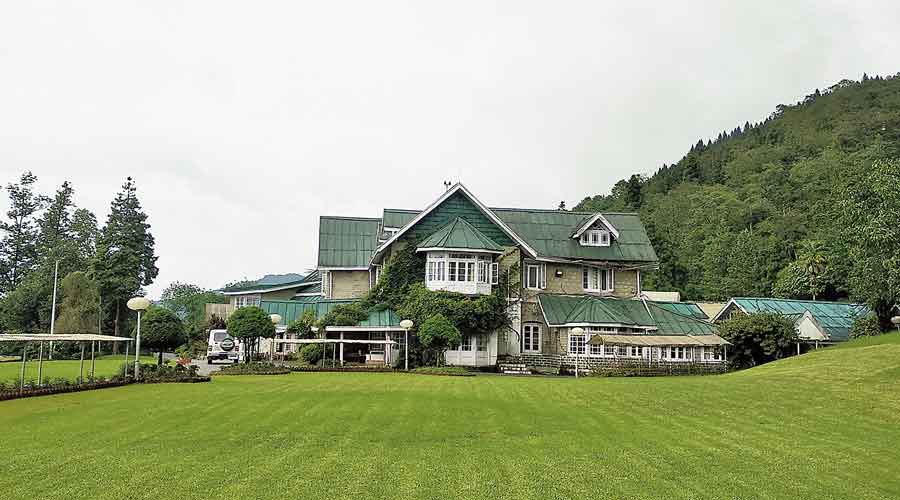 The Raj Bhavan complex in Gangtok, which will be thrown open to visitors from January 1.
Telegraph photo.
---
Siliguri
|
Published 30.12.21, 02:41 AM
|
---
Come the New Year, the gates of the Raj Bhavan complex in Gangtok will be thrown open to public for four hours everyday to enable them enjoy the grandeur of the almost 125-year-old property located in the midst of green forest with sprawling lawns and fauna of the Himalayan region.
The English-style residency was constructed in 1897 by John Claude White, Britain's first political officer in Sikkim, which was then an independent kingdom and a British protectorate. It was first the official residence of Britain's political officer till India gained Independence in 1947 and then that of the Indian political officer till 1975 when Sikkim merged with India.
Following Sikkim's merger, the residency was converted into Raj Bhavan and its first occupant as governor of the new state was B.B. Lal. Since then, the property, which is spread across 75 acres, has been home to 17 other governors. However, the present governor, Ganga Prasad, resides at the new Raj Bhavan located in the complex itself after the old one had suffered damage in the 2006 earthquake.
It was Prasad's decision to open the doors of the old Raj Bhavan to the public, including tourists, as he felt the people have the right to experience the essence of the rich heritage, biodiversity and splendour of the complex. "The ordinary people have the right of access to Raj Bhavan. In addition, this state is known for tourism, and this will add value to tourism. This is important for the economy and also in providing jobs to some of the people," he said. Apart from the old Raj Bhavan that has been restored to its former glory, the public will have access to the many gardens and lawns of the complex, the children's park and get to view the recently-installed statues of freedom fighters Netaji Subhas Chandra Bose and Sardar Vallabhbhai Patel and a 70-feet mast hoisting the Tricolour. They, however, cannot enter the new Raj Bhavan, which also houses the office of the governor.
The Raj Bhavan complex is located a walking distance from M.G. Marg, Gangtok's popular promenade. It is surrounded by the green forests that have exotic species of tress like rhododendron, magnolia and pine which are endemic to the Himalayan region. The main range of Sikkim's guardian deity Mount Kanchenjungha and other peaks like Mount Kumbhakarna, Mount Rathong and Kokthang can be viewed from the complex when the weather is clear.
Sikkim chief minister P. S. Tamang (Golay) thanked the governor for taking the initiative in opening the Raj Bhavan complex to the public. "Our government has always encouraged entrepreneurial ventures, and I urge our youths to explore the tourism sector and employ creative concepts to promote the tourism sector in the state," he said.