Quarantine for Sikkim scribes
Directive given after a Gangtok-based journalist went to the West Pandam constituency on Wednesday to report on the Covid-19 situation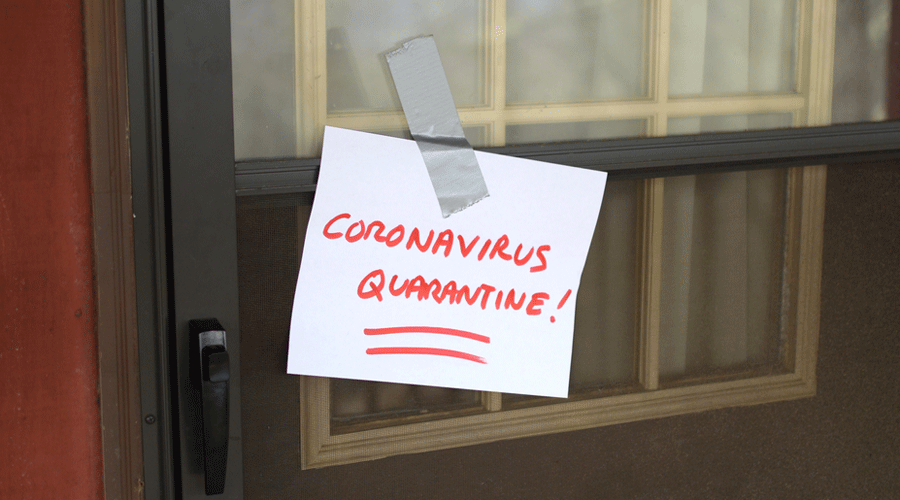 ---
|
Siliguri
|
Published 24.07.20, 03:30 AM
---
The East Sikkim district administration has directed eight journalists to go in for 14-day home quarantine after they came in close proximity with the secondary contact of a Covid-19 patient.
The directive was given after the Gangtok-based journalist had gone to the West Pandam constituency in East district on Wednesday to report on the Covid-19 situation in the area following complaints of administrative laxity. They had also interacted with K. B. Rai, the president of the Sikkim Republican Party, at his house at Sajong Busty.
Later in the evening, East Sikkim district collector Raj Yadav issued a directive to the journalists asking them to go in for 14-day home quarantine since they had met Rai who had himself been allegedly advised home quarantine after his son was found to be a primary contact of a local Covid-19 patient.
The directive came after some of the scribes had posted their reports on the people's complaint of the administration's alleged laxity in dealing with the pandemic on their social media platforms.
Furthermore, some of them also posted an interaction with Rai, who has been very vocal in his criticism of the state administration, and in particular the East district collector, in their handling of the pandemic in the state.
In a media release on Thursday, Rai said neither he nor any member of his family had received any official directive on home quarantine, and his son had tested negative for coronavirus through rapid antigen test.
"Therefore, the order given to the media persons for home quarantine by the authority has been given without proper study and information of the case history," he alleged.
The district collector's directive to the journalists mentioned they would have to be in home quarantine for 14 days whereas the guidelines issued by the Union health and family welfare ministry clearly state it is not mandatory for a contact of a Covid suspect to complete the duration once the case comes negative on lab test.
Besides, the journalists had come in proximity with the secondary, and not primary, contact of a Covid patient. Rai's son, however, has only taken the rapid antigen test and is yet to undergo a lab test.
The eight journalists have said they are all in home quarantine so as not to create a panic in their neighbourhoods.
"We will do whatever the administration asks us to for now. We are not entirely happy about the situation. Let this get over, and we will have a public debate," a scribe said.
Contacted, Yadav refused to comment on what he termed as insinuations, but asserted that the administration was dealing with the pandemic according to standard operating protocol. "I take decisions on the basis of medical advice. I have ordered 14-day home quarantine to the journalists for now, and will review my decision on the basis of what the medical team says," he said.