Yuvi is relieved… From now on, he's his own boss, says mother
Supremely efficient BCCI congratulates Yuvraj after 24 hours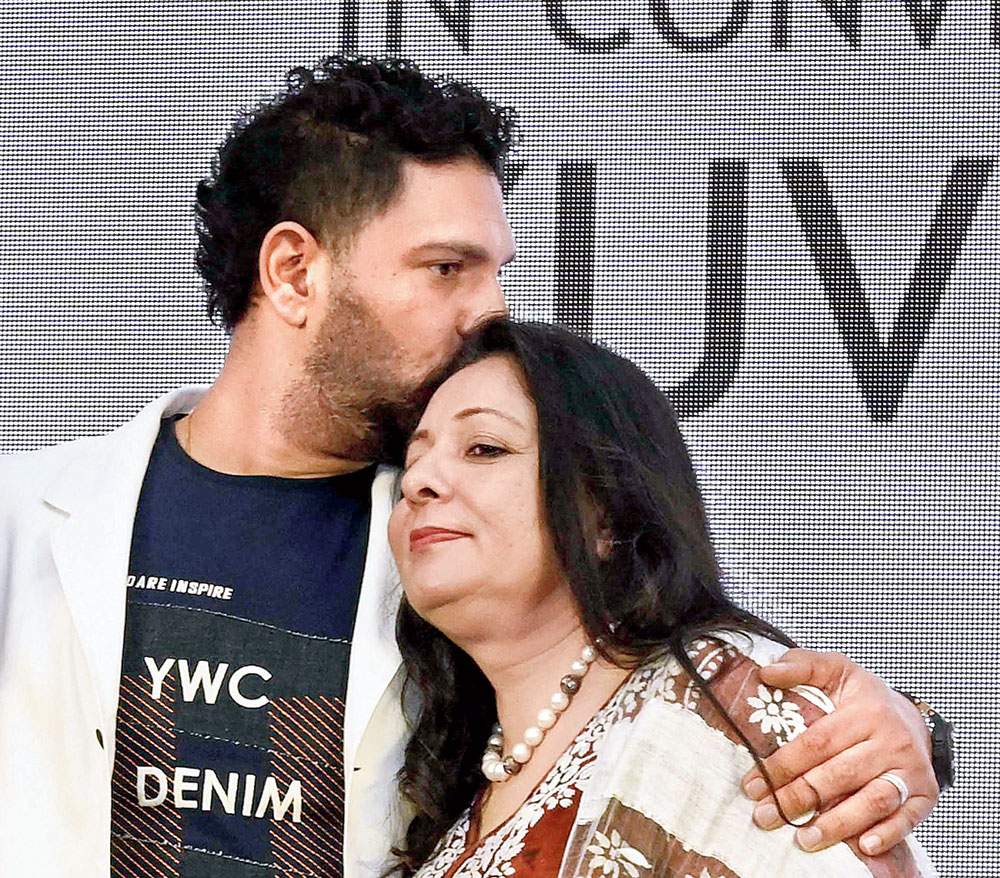 ---
|
Calcutta
|
Published 11.06.19, 11:08 PM
---
After an emotionally-draining afternoon, Yuvraj Singh was "rather low" for the rest of the day on Monday.
"It's not easy for a sportsman to call it quits and, clearly, Yuvi was left overwhelmed by the response to his retirement...
"Once back in his (Mumbai) apartment, Yuvi spent the entire time going through messages on his phone and the reaction of teammates, senior cricketers and fans on social media...
"Yuvi began feeling rather low, moved by so many of the personal messages as also posts on public platforms... Some well-wishers had cried," Yuvraj's mother Shabnam, in Mumbai at this point in time, told The Telegraph on Tuesday evening.
Shabnam, who has been a source of enormous strength to Yuvraj right through his life, added: "It will take time for this big decision to sink in and for Yuvi to be absolutely fine emotionally."
According to Shabnam, Yuvraj is actually a relieved soul. After all, there's no pressure to perform, no pressure to try and make yet one more India comeback when the men who matter aren't fairly disposed towards him.
"I sensed that Yuvi is relieved... From now on, he's his own boss and doesn't have to worry about what anybody thinks," Shabnam said.
Asked when Yuvraj informed her of his decision to call it a day, Shabnam replied: "Around a month ago... Yuvi had been battling with it for the past six months...
"Yuvi first wanted to quit, then to continue playing before finally deciding he wasn't getting the opportunities needed (to stay motivated)...
"Somewhere at the back of his mind, Yuvi felt the hard work he'd been putting in wasn't getting adequately rewarded. His place was out in the middle, playing...
"I heard out Yuvi, but made no attempt to discourage him. In fact, I've never done so... I wouldn't have dissuaded Yuvi if, for example, he'd wanted to retire on returning home from the US after his treatment for cancer (April 2012)...
"That Yuvi actually made a comeback, despite everything he'd gone through, made him a winner. You've yourself made this point more than once...
"Those close to Yuvi are privy to the effort he kept making to become a better cricketer. He shouldn't, therefore, be faulted there."
Going forward, Shabnam expects Yuvraj to devote more time to his Foundation, which is into worthy causes, and to promote the YWC brand in a much bigger way as well.
Yuvraj and wife Hazel have, by the way, gone on "vacation."
As highlighted in these columns, it's odd that Yuvraj got dumped just a few weeks after a stellar innings against Pakistan in the 2017 Champions Trophy. Earlier that year, he'd scripted a career-best 150 in an ODI at home versus England.
Yuvraj wasn't considered even after clearing the Yo-Yo test at the second attempt. Perhaps, some were hoping he'd fail twice, but they definitely hadn't budgeted for Yuvraj's willpower and determination to not be labelled a failure on any count.
Applause worthy is India's white-ball vice-captain Rohit Sharma's apt tweet that Yuvraj "deserved a better send-off."
Manoj Tiwary too tweeted something similar: "Wish u had a better treatment during ur last phase of ur career..."
Both Rohit and Manoj hit the proverbial nail on the head.
Meanwhile, in keeping with the Board of Control for Cricket in India's bewildering functioning, it put out a Media release congratulating Yuvraj on a "glittering career" more than 24 hours after the former India vice-captain (white-ball teams) announced retirement!
Not that anybody wished to be left out: Chief Administrator Vinod Rai, acting president C.K. Khanna, acting secretary Amitabh Choudhary and CEO Rahul Johri... All put out messages in the Media release.
Full marks to the Board for such exemplary timing.