WWE's World Champion Drew McIntyre on winning
'It has always been a great dream of mine and I'm glad I pulled it off!'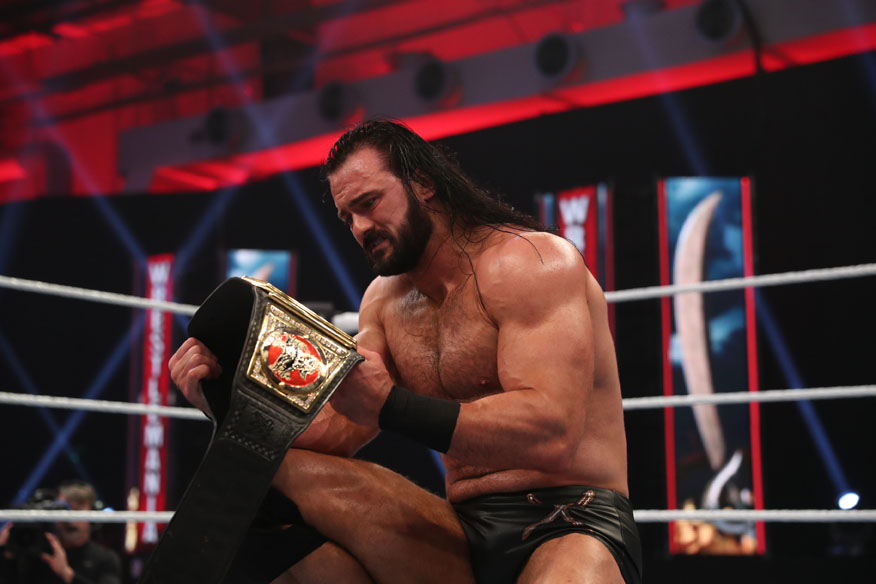 ---
---
In an industry where second chances are rarer than a hen's tooth and longevity is a continuous struggle, Andrew McLean Galloway IV, popularly known as Drew McIntyre, has certainly proved himself as an exception. Setting his sights on becoming a WWE Superstar since the age of 15, when most of us worried about being the most popular kid in class, McIntyre rocked the independent circuit with his slick persona and unmatched athleticism before debuting at WWE where he was declared "a future World Champion" by showrunner Vince McMahon, the moment he arrived.
Now, in his second stint with the company after having established himself as a respected figure across countless wrestling promotions like TNA, IWW and Evolve, McIntyre soon evolved to be a force to reckon with by becoming a Triple Crown winner — a wrestler who has won the WWE Championship, the Intercontinental Championship, and the World Tag Team Championship — a feat that has just been achieved by 31 Superstars in a promotion that has been around since the '50s. We caught up with the WWE Superstar over a video interaction. Excerpts...
Congratulations on winning the WWE Championship title. What was the moment like when you faced Brock Lesnar and lifted the championship belt?
It was surreal. That's something I've dreamt about my entire life, especially in the past six years of my career. I've worked so hard intending to become the WWE champion. And the fact that through hard work and determination I was able to pull it off at WrestleMania (36) at the main event against Brock Lesnar and I beat him in five minutes... that was almost like I was living in a dream.
WWE has seen a lot of Superstars from across the pond — British Bull Dog Davey Boy Smith, William Regal and Wade Barrett — but you became the first British WWE champion. Was this a conscious thought in your head when you were facing Lesnar or you didn't think much of it?
The only thing in my head while facing Brock was that 'I gotta beat Brock' (laughs). But leading into the match it was certainly in my head because becoming the first British champion was a huge goal of mine forever. I can't believe that we never had a (British) champion before. I was so focused on becoming the first British champion that when I won the Royal Rumble, I didn't realise that I was the first British superstar to win the Rumble (laughs).
This is your 19th year in the business. You've been wrestling since 2001, making your WWE debut in 2007 under the SmackDown! brand. How has the journey been?
Interesting... crazy (laughs). I think I've had a journey unlike anybody else probably in the history of WWE. I got signed so young — I was 21 years old. I was on television when I was 22, back in 2007. I spent some time at WWE's development property, Florida Championship Wrestling; returned at 24 when (Vince) McMahon proclaimed me to be the future of the industry. However, it didn't quite work out, I got fired. It was on me, it was my fault, and I wasn't giving my all. That was the day I vowed to always give my hundred per cent, be accountable for my actions, work hard — inside and outside the ring and one day become the WWE Champion.
Your career at WWE can be divided into two halves, first from 2007 to 2014, when you were a part of 3MB (along with Heath Slater and Jinder Mahal) and were 'The Chosen One', and second, from 2017 onwards, where you won a majority of your titles and became a force to reckon with at the company...
There was a lot that changed about me since I was released (in 2014). I had a lot to learn, there were a lot of lessons that I wasn't able to apply... what I was taught by my mentors Fit Finlay and The Undertaker. While I was outside the company, I wasn't under the WWE microscope so I was able to start working hard and figure things out. In the ring I was always comfortable and was able to figure the bigger picture out like how to be a Main Event player or to get more confident on the microphone (during promos), the main focus was to be more confident outside the ring. I was just a student and was having a good time just like students do... I was just out of university when I signed with WWE. So, I had that opportunity to grow up outside the ring. Plus, that was the period I met Kaitlyn, my current wife. She helped me a lot outside the ring to grow up in a lot of different ways. I think the biggest thing for me is that I left WWE a boy who had a lot to learn and returned a man who had not only improved to be a franchise player for multiple companies around the world but also grown up outside the ring.
Speaking of university, you have a master's degree in criminology. What made you choose professional wrestling as a career?
That's all I wanted to do, to be honest. I stayed in school because I believe in education. I always encourage everybody that when you're chasing your dream, make sure you stay in school too. You need that fallback plan no matter what. I started wrestling professionally when I was 15, so all my free time was dedicated to wrestling. I just never had any other plan. During my last year in university, I was thinking, "Oh no! This is my last year at university! What am I gonna do if don't get signed this year?" (laughs). Thankfully, I believed in myself enough to become the first ever Scotsman to be signed by WWE.
Coming back to WrestleMania 36, right after defeating Brock Lesnar at the Main Event, you were confronted by Big Show, against whom you successfully defended your title. In a post-match interview, Big Show said he expects 'amazing things from you'. How did it feel to be acknowledged by someone of his stature?
It felt absolutely amazing. It's humbling to see so many Superstars who I respect so much say such positive things about me, especially Big Show. He's a very honest person, so if he says something I know he means it. The fact that he said such nice things about me and that he thinks I have the potential to be one of the greatest champions of all time means the world to me.
You're considered one of the fittest wrestlers in the industry. What's your fitness regimen like?
Ah... right now I have a garage gym. My trainer (Rob MacIntyre) is also John Cena's trainer. He puts a little program that I follow. So, I train with weights four days a week, I stretch five or six days a week.
What is Drew McIntyre's day like when he's not in the ring?
I just relax and play with my cats. The wrestling takes up a lot of time. But as soon as I get home, I try to shut it off and relax with the wife and cats and when I'm back at work, I'm back 100 per cent. You have to do that to keep your sanity.
A message for your Indian fans...
I just wanna thank all my Indian fans. I'm blown away by the 25 million WrestleMania viewership from India. I know how large the Indian fan base is and cannot wait to come there. Keep checking us out live every week and when things start getting back to normal, we're gonna set a date and come to India.
FACT FILE
Name: Drew McIntyre
Age: 34 years
Finishing move: Claymore Kick
Debut: Began training in 2001. Officially debuted at British Championship Wrestling in 2003 and at WWE in 2007 at SmackDown
Career highlights: Current WWE Champion, 2020 Men's Royal Rumble Match winner, Intercontinental Champion, WWE Tag Team Champion (a title now defunct), Raw Tag Team Champion, NXT Champion, Raw's Gold Medal of Excellence, WWE's 31st Triple Crown champion
WWE RAW airs live and exclusive every Tuesday on Sony Ten 1 from 5.30am and WWE Blockbusters airs daily on Sony Ten 1 and Sony Ten 3 at 8pm