Wriddhiman faith in team judgement
Former chief selector MSK Prasad thinks India would do well to pick Saha as the 'keeper in Asian conditions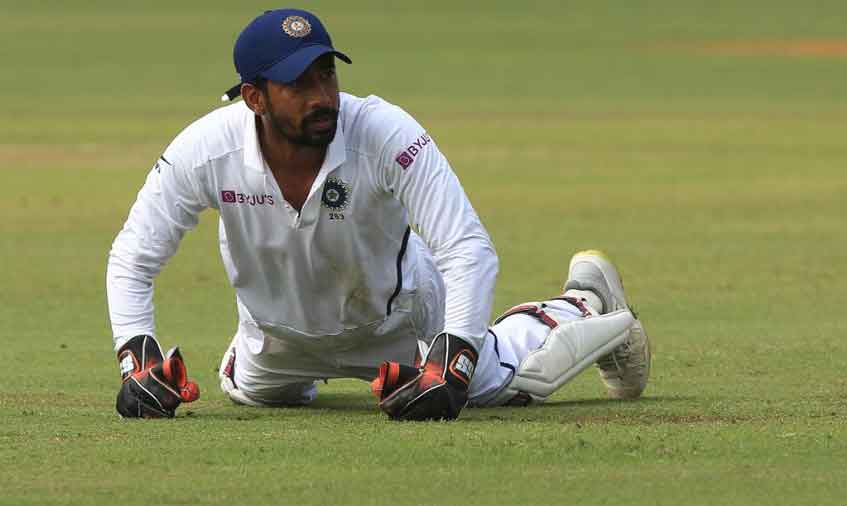 ---
|
Calcutta
|
Published 23.01.21, 02:19 AM
---
The longevity of Wriddhiman Saha's Test career is inversely proportional to the rise of Rishabh Pant. But Saha, like always, is not losing sleep over it, simply because the matter is not in his hands.
Pant's success as a wicketkeeper-batsman in the Test series in Australia will surely re-ignite the debate of who should stand behind the stumps for India in Test cricket — Pant, the better batsman, or Saha, the better 'keeper?
Besides his current form, Pant also has the age factor on his side. While Saha is 36, he's just 23.
But Saha chooses to be practical. "It's up to the team management to decide who will play where. Nothing above that, and I'm not at all worried with these things, because who'll play and who won't is not in our hands," Saha, who returned to the city on Friday morning, told The Telegraph.
"If the team management feels that one particular individual is good or more appropriate for any series or for a particular game, we have to go by that. If they feel a player looks to be in good touch and rhythm and can keep delivering on a consistent manner, he will obviously be continued with or get more chances. Setai toh sabhabik (That's quite normal)."
Former chief selector MSK Prasad thinks India would do well to pick Saha as the 'keeper in Asian conditions and use Pant as a specialist batsman in the middle order. "I had said in the past that Saha should be the wicketkeeper in Asian conditions and Pant during overseas tours, and I stand by it," he said.
"The team will be playing the next series against England, who are a very, very strong side. So you need someone who keeps well off the bowling of (Ravichandran) Ashwin and the other spinners, ensuring there are no slip-ups as such.
"That said, the form that Pant is in currently, he certainly can be included as a middle-order batsman.
It's definitely one option," MSK added.
For Saha, however, all that matters now is spending some good time with his wife and kids after spending over two months in Australia, under strict quarantine and bio-bubble restrictions.
"On previous occasions, I used to be on tour for one or maximum two months. But this time, I have been out since the IPL and have returned home after five months or so.
"My son (barely 11 months) initially couldn't make out if he was again seeing me on video call or camera. Because, that's how we've been communicating for the last few months, so his reaction was quite interesting," Saha said with a laugh.
Although he played just the first Test in the recently concluded series against Australia, the tour does rank among Saha's best so far in his career. "Of course, this has to be one of the best experiences... We lost so many of our players due to injuries and then with those racist comments coming in (during the Sydney Test), the job was certainly not easy.
"So I do consider myself fortunate to have been part of this tour," he said.
Asked about the captaincy styles of Virat Kohli and Ajinkya Rahane, Saha said: "Virat is more expressive, all of us can see that.
"Ajinkya, on the other hand, is calmer and looks quieter, but since we have seen him from close, we know how much aggression is there in him and the steel he has."
Talking about Thangarasu Natarajan, who's also his Sunrisers Hyderabad teammate, Saha feels the left-arm quick should be having an impressive international career going forward.