World Test Championship: Keep calm, it's 'just another match'
"Cricket doesn't stop" irrespective of whether India win or lose in the final, Virat Kohli said on match-eve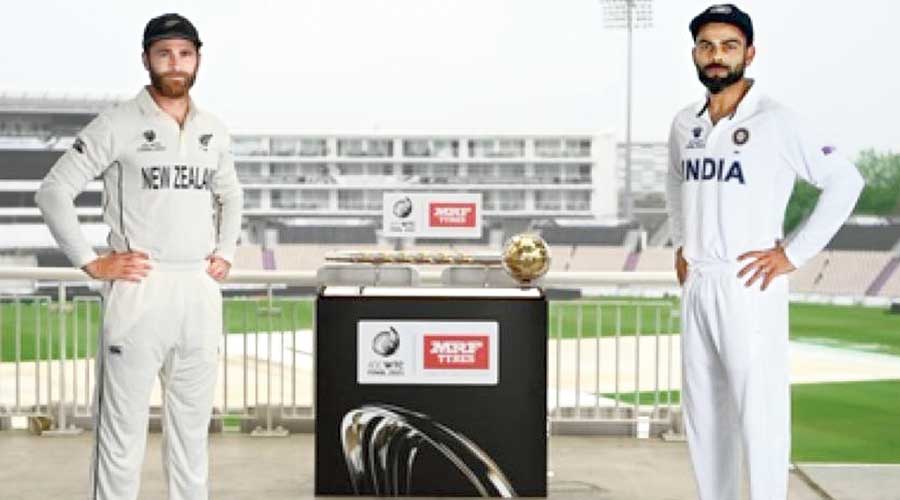 Kane Williamson and (right) Virat Kohli on the eve of the WTC final.
Twitter
---
Published 18.06.21, 02:20 AM
|
---
Team India are determined to play down the hype around the World Test Championship final against a formidable New Zealand side.
"Cricket doesn't stop" irrespective of whether India win or lose in the final, Virat Kohli said on match-eve, also emphasising that the decider "is no more important" than their debut Tests as youngsters.
"If you are deciding Test cricket on the basis of one game over a period of five days, that's not the reality or the truth. It's not going to reflect anything for people who understand the game and know what exactly has gone on in the last four to five years. "If we win, cricket will not stop and if we lose, then also cricket won't stop. We are playing in quest of excellence and understand what we are as a team," the India captain said during a virtual media interaction on Thursday.
Just as his deputy Ajinkya Rahane said the other day, Kohli also views the WTC final as "just another Test match", not quite accepting it as the biggest event of his illustrious cricketing career so far.
"This is just another Test match... Not a one-off Test... We see it as six Test matches that we need to play till the end of the English summer.
"Yes, we did win the 2011 World Cup, but cricket has gone on just like life goes on. You have to treat success and failure in the same manner.
"It is an occasion that needs to be enjoyed, but it's no more important for us than the first Test we all played as young players trying to rise through the ranks," Kohli elaborated.
Taking a mild dig at the concept of the current New Zealand side being referred to as the "nice guys of world cricket", Kohli reaffirmed there would be no change in the brand of cricket his team has been playing over the last few years.
"I don't think other teams have bad guys, so it's something we are not thinking about.
"The other stuff doesn't matter as we'll be professional on the field. Yes, we get along very well off the field, but when we step out on the field, we'll play the brand of cricket we've been playing over the last few years," the skipper made it clear.