The first few seconds of the video carry no hint that a surprise is in store.
As Lionel Messi waves from his hotel balcony at the crowd on the Paris street below, someone breaks into a chant of "Messi, Messi, Messi, Messi...."
All standard fare, except that the exclamations that follow in English seem to carry an accent familiar to Indians.
It's only when the speaker cries out "Makkale, kando, footballinte rajavu (Children, do you see — the king of football)!" that denizens of one part of India would have stared at one another in disbelief.
An old joke asserts that you can find a Malayali in every corner of the world. On Tuesday evening, not one but two Malayalis were in such a corner — on a balcony a few feet to the left of Messi's and slightly above it at the Hotel Le Royal Monceau, Raffles Paris.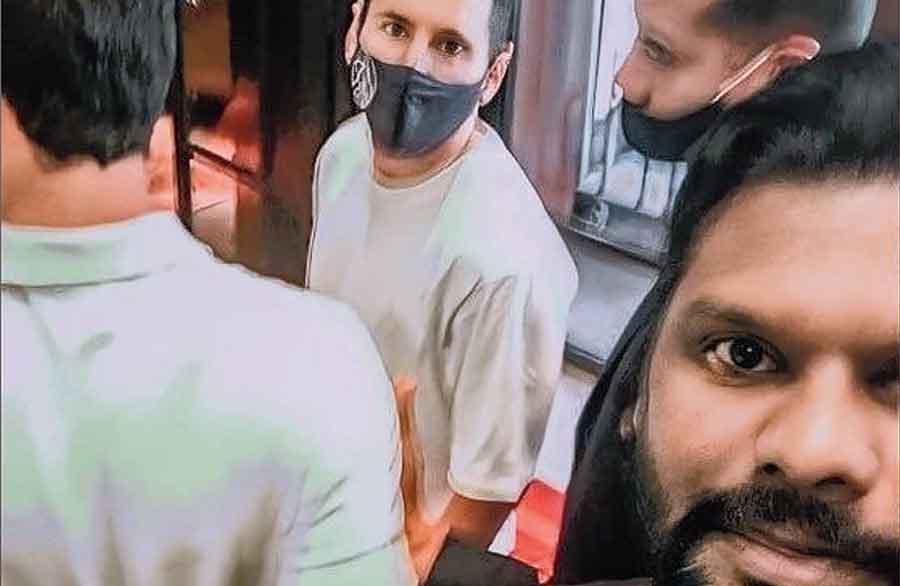 Sameer takes a selfie with Messi at Hotel Le Royal Monceau, Raffles Paris. The Telegraph
It was a vantage point like few others to film the Argentine genius whom most Parisians had to be content with seeing from the street below. Sameer P.A. and Anas P.A. didn't waste their chance.
"Messi, Messi, Messi, Messi...," Anas kept screaming until the footballer, who seemed to be with wife Antonella and eldest son Thiago, turned to him and gestured with his hand.
"Can I have.... Oh! My God, can't believe this," Anas can be heard screaming in the video.
He seems to add "My hands are... (unintelligible)" before breaking into Malayalam: "Makkale, kando, footballinte rajavu (Children, do you see — the king of football)!"
The video has gone viral, and not just in football-crazy Kerala.
"We had a faint idea that Messi would be staying in our hotel — there had been hectic activity before his arrival," Sameer told The Telegraph over the phone from Paris on Thursday.
"But we never expected to be standing one balcony apart and see him wave at us."
Sameer and Anas, who work for a private firm in Doha, Qatar, had arrived in Paris on an official trip a week ago along with their Iranian colleague Naeem Baloch. Sameer is from Malappuram while Anas is from Thrissur.
"We all just stood there frozen after Messi looked at us," Sameer said, describing it as "a magical moment none of us dreamt of".
He confessed: "I'm a diehard Brazil fan, but Messi is my life."
It was Anas who shot the video and posted it on Facebook, but Sameer had his prize too.
While his colleagues were busy working on Wednesday afternoon, Sameer took a precious selfie with Messi after a long vigil outside a restaurant in the hotel.
"I waited more than two hours to manage another great moment with him yesterday after he entered the restaurant a little after noon to have lunch," Sameer said.
"Once he stepped out around 3pm, I pleaded with him to allow me to take a selfie. So he turned for a few seconds for me to click a picture although his bodyguards tried to stop me."
Sameer, who has played amateur football in Malappuram, has posted the selfie on Facebook.
Sameer said "a goalkeeper and several other footballers" — whom he couldn't identify — were staying in the hotel but none attracted the kind of attention Messi did.
"The fans and the media began arriving in hordes after it became clear that Messi would be staying here," he said.
Sameer said he and Anas had initially "gone down to the street to get a feel of the atmosphere before returning to our balcony".
It was a lucky decision. But as the world's best defenders know, you need to be lucky to get close to Lionel Messi.