Anand eyes future kings & queens
India and Russia were declared joint winners of the 2020 Online Chess Olympiad after Internet disconnection and server malfunction disrupted the final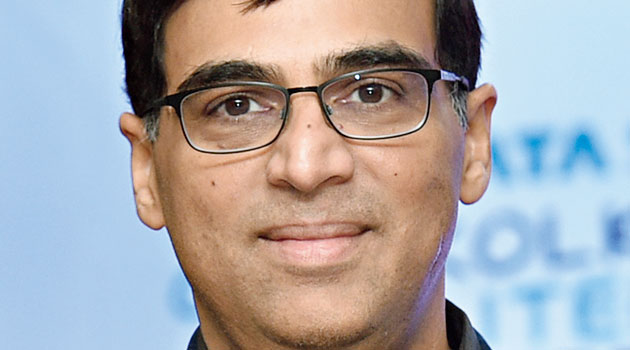 ---
|
Calcutta
|
Published 01.09.20, 01:41 AM
---
Thirtythree years ago, the world junior chess championship win had motivated Viswanathan Anand to scale greater heights. Now, in 2020, the five-time world champion hopes India's Chess Olympiad triumph on Sunday will give confidence to youngsters like Rameshbabu Praggnanandhaa and Nihal Sarin to go for the summit.
India and Russia were declared joint winners of the 2020 Online Chess Olympiad after Internet disconnection and server malfunction disrupted the final. This was India's maiden triumph in the Olympiad.
"The world junior chess title had helped me to understand that I can take on the world. Next year I became the Grandmaster (he was India's first GM) and then everything else followed…. Five world titles, so on and so forth.
"I hope this win will inspire Praggya and Nihal to aim higher. They should now target 2700-plus Elo ratings and dream of becoming world champions," Anand told The Telegraph from Chennai on Monday evening.
Both Praggnanandhaa (15) and 16-year-old Nihal are Grandmasters and are seen as the future of Indian chess.
"By becoming Grandmasters at such a young age, they have already proved that they are on the right track. It's just that they needed a boost. Sunday's triumph will act like a springboard for them. I am also confident that girls like Divya Deshmukh (14), Vaishali Rameshbabu (19 and Praggya's sister) and Vantika Agarwal (18) would do very well in the future. We all knew that Indian chess has the depth, this victory drove home that point," Anand added.
Anand said the title was a nice addition to his overflowing trophy cabinet. "Yes, it's a good addition to my cabinet. This one was missing and am happy that it's finally done. We were always on course for a title in the Chess Olympiad. Do not forget we got the bronze in 2014," Anand, who sat out the first round and drew with world No.4 Ian Nepomniachtchi in the second, said.
Sunday was dramatic though. Nihal and Divya lost their Internet connections and time, which gave Russia a 4.5-1.5 win in the second round. After India appealed for a review, it was found that there was a global Internet outage and Fide announced both the teams as joint winners.
Anand said connectivity loss is something which is part and parcel of online chess.
"These things will keep happening. The main problem arises when the electricity comes back… Your router takes some seconds to move from the generator mode to normality. In chess, that loss of seconds (around 30 seconds) can prove costly. Also, with so many people logging in to watch duels online, with so much of live streaming and video uploading, chances of a global outage are always there."
In the group stage, India were held by Mongolia from a commanding position after team captain Vidit Gujrathi and Koneru Humpy lost
their matches on time. Later, it was found out that both Vidit and Humpy lost their Internet connections and their time ran out.
Then, in the quarter finals between India and Armenia, the latter staged a walkout from the second round after a Haik Martirosyan move against Nihal wasn't registered by the system. "I guess you have to bear with these things," was Anand's take.
On Monday afternoon, during an online media conference of the Indian chess team, Anand shared an interesting tale. "During the quarters or the semis, there was a proposed power cut in my area in Chennai from 9 in the morning till 5 in the evening. Srinath (Narayanan, non-playing captain) called and told me that he had spoken to TNEB (Tamil Nadu Electricity Board) and they had agreed to restore the power three hours early and promised not to disrupt power supply till the final. Srinath has a huge fan following in my apartment now!"
Anand heaped praise on the world body for coming up with the online Olympiad this time. "It was a game-changing move." Anand has a message for the All India Chess Federation though. The AICF is engaged in a bitter factional fight between the PR Venketrama Raja group and supporters of Bharat Singh Chauhan. Interestingly, in the build-up to the Chess Olympiad, both the factions had named different squads.
The last time the 64-square game saw an Arjuna awardee was in 2013, when Abhijeet Gupta got the prize, while a chess coach has been given the Dronacharya just twice — Raghunandan Vasant Gokhale (1986) and Koneru Ashok, Humpy's father, in 2006. That was 14 years ago.
"It's time the AICF settles the differences and moves on. The sooner they do, the better it's for the game in the country. Also, I think Sunday's win will give an impetus to chess. Now we can walk up to the ministry and tell them that, 'Look, we have done our part. It's up to you guys now'."