'Virat's unchallenged, but doesn't mean he has always been right'
When Rohit is on song no one, not even Virat, can take an attack apart like him: Tharoor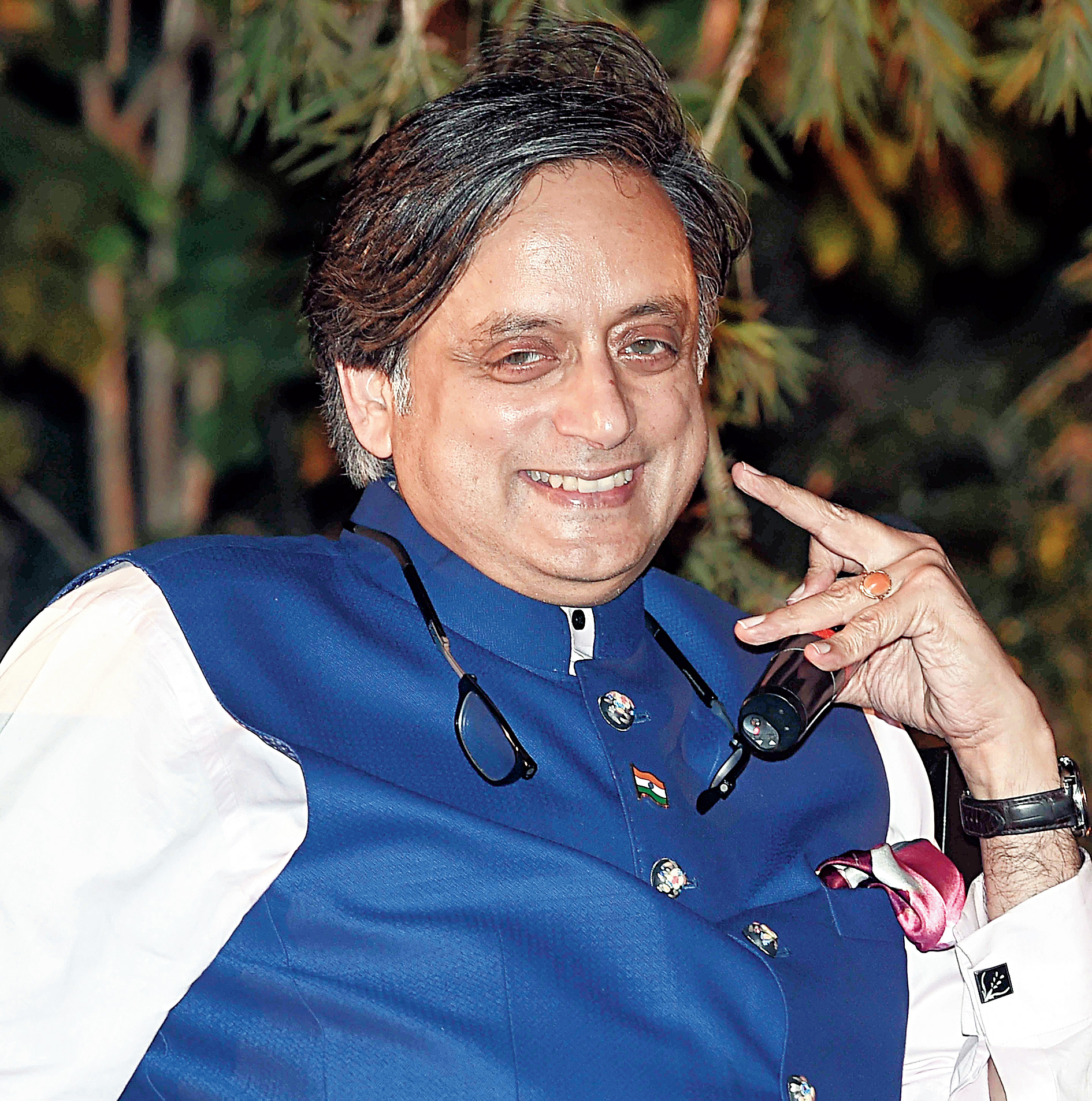 Shashi Tharoor in the city on Saturday.
Santosh Ghosh
---
Calcutta
|
Published 03.11.18, 09:35 PM
|
---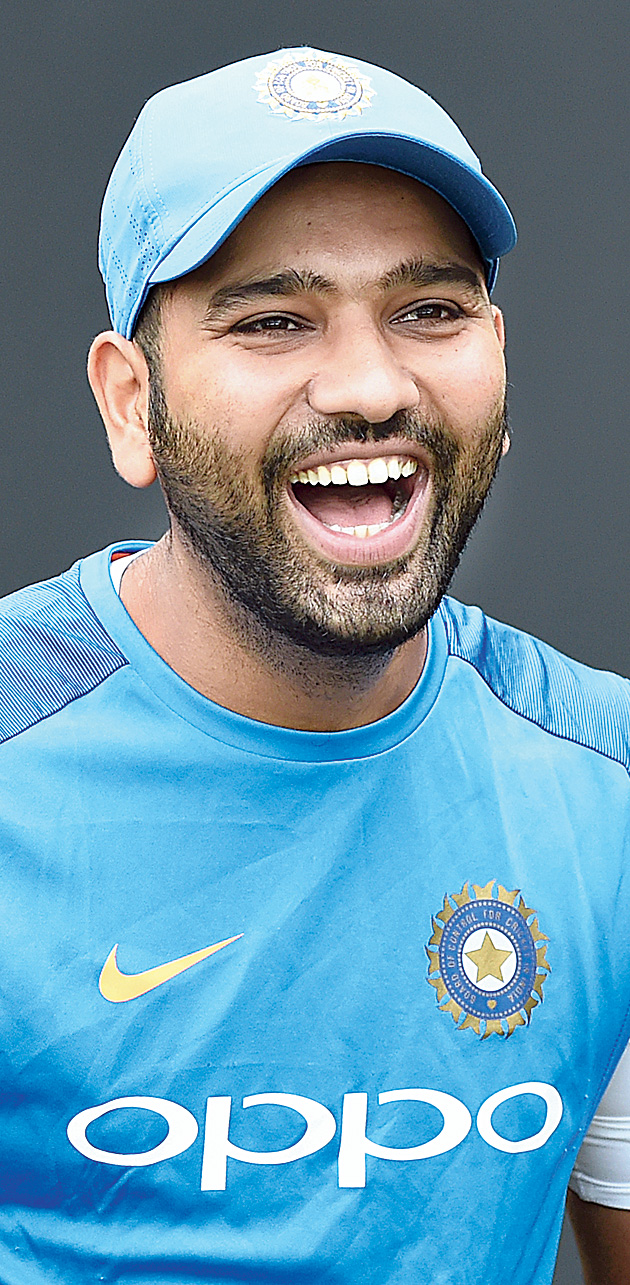 Q Inspiration No.1?
A Kofi Annan, former Secretary-General of the UN, who died recently. Working under the very able Kofi was an experience.
Q Virat, the batsman, can do no wrong...
A (Smiles) Thank God! We do need at least one infallible batsman. There's Virat, otherwise we've gone back to the bad old days when mercurial batsmen would play one mightily pleasing innings and fail in the next six. That cycle would keep repeating itself... Sunil Gavaskar was the first of the tribe of consistent batsmen, with Virat the only one after the Sachin Tendulkar-Rahul Dravid era who gives the confidence he'll succeed far more than he'll fail. We don't need one spectacular performance and, then, a string of failures. What we do need is consistency. Virat alone provides that... He's disciplined his game so much, it's admirable... I've been quite disappointed with Cheteshwar Pujara, Ajinkya Rahane and Murali Vijay. One expected them to be consistent... In the last couple of years, in Test cricket, the only Mr Consistent has been Mr Kohli... I used to be a huge admirer of Pujara and I don't know what has happened to Rahane... Vijay too used to be consistent.
Q We have excellent bowlers, both in the pace and spin departments, but the opening slots have caused a headache...
A Well, since South Africa and England, we've unearthed Prithvi Shaw... Somebody who gets a 100 on his Ranji debut, first Duleep match and his Test debut has to be special. I expect big things from Shaw... This teenager's class augurs extremely well for India... Vijay has been recalled for Australia and, between him and KL Rahul, I expect one to get it right there... One of them will have to rediscover his mojo in Australia. Mind you, I wouldn't totally write off the out-of-favour Shikhar Dhawan.
Q Pleased that Rohit Sharma, a centurion on Test debut, has been recalled for red-ball cricket...
A This has to be seen as Rohit's last chance and I can't help but feel bad for Karun Nair... Look, when Rohit is on song no one, not even Virat, can take an attack apart like him... When in full flow, I can't think of anybody more exciting than Rohit... I just can't understand what happens to him when he takes guard in a Test match. Maybe, somebody should tell Rohit that he'll be playing five one-dayers in as many days! That could work. After his Test debut (at the Eden), Rohit has been one batsman in white-ball cricket and quite another in the longer version... One of Rohit's strengths is his ability to play off the back foot. That should be handy on the bouncy wickets in Australia.
Q Aren't some unnecessarily making an issue of Dhoni's age (37)?
A Dhoni's the best 'keeper in India, indeed, nobody has a swifter pair of hands... Nobody in world cricket, I dare say. I accept that Dhoni's batting has become disappointing, but his 'keeping remains razor sharp.
Q My view is that Dhoni will be needed in the 2019 World Cup. Your thoughts?
A I think Dhoni will be there. In any case, my understanding is that Virat wants him... After that, there are other 'keepers... Rishabh Pant, Sanju Samson, Ishan Kishan... I hope Sanju works more on his 'keeping, for he won't make the XI purely as a batsman... I'd like Sanju, who started off as a wannabe Dhoni, to take big strides. He is, after all, from my constituency! Players, as you know, evolve and I'm confident that in the post-Dhoni era, Sanju will at least be picked for the T20Is.
[Samson's only India appearance, a T20I, was way back in July, 2015.]
Q You're hoping that India win the Test series in Australia, yet the hosts could well begin their upward climb against Virat and his men...
A That Australia have the home advantage cannot be discounted, but India do have a very good chance... It would be fair to say both teams will start evenly, but I'm pretty upbeat about India.
Q Finally... Whether in politics or in cricket, what goes into making one successful?
A You need individual brilliance in both, but that alone won' matter unless the team or party collectively prevails... Surely, it would be pointless if somebody keeps scoring hundreds or taking five wickets and the team keeps losing... It would, equally, be futile if you excel in your constituency, but the party loses most of the other seats... All must come together cohesively to create a satisfactory result. Bottom line: Impact has to be collective.
Shashi Tharoor, the buzz-creating former Union minister and Under-Secretary-General of the UN, spoke to The Telegraph at length in the hours before the release of his latest book, The Paradoxical Prime Minister, in the city on Saturday.
Moon Moon Sen did the honours at the Bengal Rowing Club.
Tharoor is a member of the Lok Sabha from Thiruvananthapuram. He's won the seat twice on an Indian National Congress ticket.
Now, watch out for Tharoor's hat-trick in the 2019 general elections.
Tharoor is passionate about cricket and the interview was largely confined to that sport.
Excerpts...
Q We're in the midst of white-ball action, but to talk of Test cricket... Absolute tigers at home, yet unable to win a big series overseas... Your take?
A The state of Indian cricket, to use a word I'm using a lot nowadays, is paradoxical... Unbeatable at home, but not winning overseas, even though the scoreline may not reflect the actual difference between India and the hosts... I'm hoping, of course, that Virat Kohli's team will vindicate itself by winning the upcoming Test series in Australia. Having said that, I don't think our preparations are what they should be. Last season, we prepared for South Africa by playing at home against Sri Lanka. This time, in the lead-up to Australia, we're hosting the West Indies. There must, clearly, be systematic preparations for big tours.
Q Surely, it makes little sense to be playing so much against Sri Lanka and the West Indies...
A The International Cricket Council and its member Boards must seriously consider a two-tier Test Club, each division having six teams... I wouldn't have advocated this some years ago, but the gulf between the top teams and the rest is huge now. After a two-year cycle, the bottom-ranked team in division I should be demoted and the No.1-ranked team in division II promoted. The gap in skills between India and the West Indies, for example, is significant. It's almost cruel to be playing against a team which isn't at the same level.
Q You've been an admirer of Virat... Since we last spoke, in February, has he grown as a leader?
A Virat has certainly become a power in Indian cricket, to the extent that an aspiring coach would need his backing and come in on the captain's terms... It's an unusual situation... So, over a period of time, Virat has grown in terms of wielding power. Whether he has also grown in effectiveness is something to take a call on later. However, Virat has a number of very impressive attributes.
Q Such as...
A First of all, Virat is an outstanding batsman and when the captain leads by example, there's an extra dimension to his authority. That's true of generals in war and captains in cricket... Secondly, Virat also has a penchant for swift and decisive action... However, there are questions as to how effective his first XI choices were, in South Africa and in England, for example... Virat's unchallenged, but it doesn't mean he has always been right.
Q Is it a good thing for a captain to have so much power?
A On the field, there can only be one leader, the captain. While Virat remains unchallenged, he has had the bigness of heart to take (Mahendra Singh) Dhoni's advice in the white-ball formats. I'm told he's generally receptive to advice, which is good... Off the field, the captain has to be subjected to the authority and discipline of a structure. Generally, there would be buffers to limit the authority of a captain. In the case of Virat, those buffers seem to be eroding considerably. Whether that's good or not can only be judged by results.
Q To take that last bit forward... Should leaders and captains be judged solely on results?
A There's certainly more to it... Empowering the team, taking everybody along and not claiming sole ownership of success. There's an old Chinese saying that when the work is accomplished, the people should say 'we did it'.