Virat Kohli feels 'just the same' as India get ready for job in hand
Despite wanting to stay unnoticed, Dhoni is the cynosure on arrival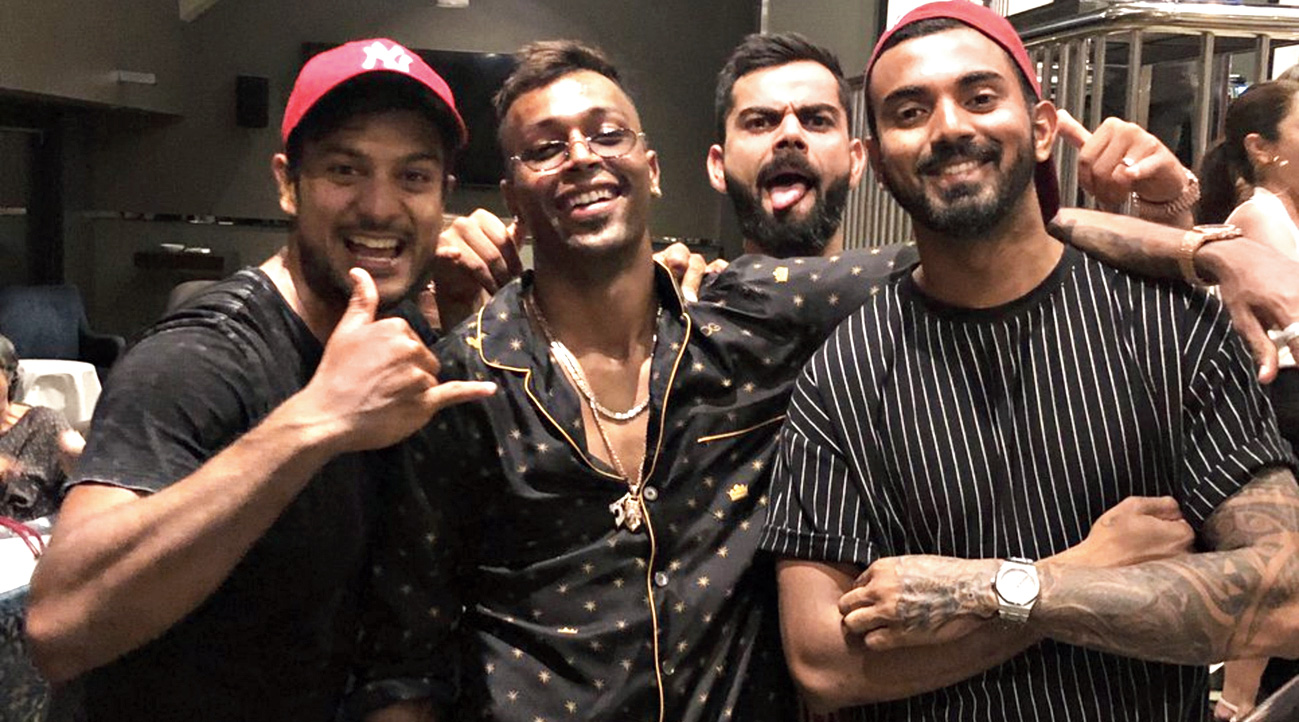 Mayank Agarwal (from left), Hardik Pandya, Virat Kohli and KL Rahul celebrate after the series win on Monday.
Twitter
---
Sydney
|
Published 08.01.19, 09:25 PM
|
---
After the "usual hungama" associated with a Team India celebration which lasted well into the night on Monday, captain Virat Kohli was in the foyer of the InterContinental around 6.00 pm on Tuesday.
Asked by The Telegraph for his day-after-the-historic-series-win feelings, Virat answered: "Just the same... It's the same as what I'd felt on arriving here (2-1 up in the four-Test series)... No different."
The win, it seems, has quickly become a thing of the past and Virat is probably already focusing on the remainder of the Australia-New Zealand tour.
One job ends and the other is never far off, after all.
While three ODIs will be played in Australia, the New Zealand leg features five ODIs and three T20Is.
The day saw the Test specialists leave and the ODI 'masters', including top gun Mahendra Singh Dhoni, arrive.
Rohit Sharma, who'd missed the SCG Test owing to the birth of his first child (daughter Samaira), too landed on the flight from Mumbai.
Jasprit Bumrah, who has been rested for the rest of the Australia-New Zealand tour, is still in Sydney and replacement Mohammed Siraj is yet to depart from India.
"I'll leave as soon as my flights have been booked," Bumrah informed this Reporter.
Dhoni, to no one's surprise, was the cynosure. Much as he tries to stay unnoticed, more the attention on him.
"We only arrived around 2.30 pm... Shave karne ka time kahan raha," Dhoni said, adding that he never quite got jet-lagged.
Later, Dhoni bumped into Michael Vaughan, who asked if he was affected by jet lag. On hearing Dhoni's "No," the former England captain observed: "It's all in the mind... All in the mind."
Hardik Pandya, who was within earshot, countered: "Excuse me, I needed five days to get over it... Jet lag is very much in the body, not the mind."
One isn't repeating the knockout punch landed by Dhoni as a reaction to Hardik's response. Suffice to say it left Hardik speechless and Vaughan in splits!
Vaughan is here as a commentator on TV for the BBL.
It must be mentioned that the bonding between the Team India players appears excellent.
Dinesh Karthik, for example, warmly greeted Bumrah with "The star, the star." The latter was as delighted to see the Kolkata Knight Riders captain.
Shikhar Dhawan, for whom Melbourne is second home, hugged Dhoni while his wife Ayesha enquired about the former India captain's bubbly daughter, Ziva.
Ziva and her mother, Sakshi, are currently in Dehradun.
Lokesh Rahul too came up to Dhoni and exchanged greetings.
Bhuvneshwar Kumar was far too engrossed on his phone to notice Dhoni, who drew his attention with "Naya saal mubarak ho."
That left Bhuvneshwar rather embarrassed.
Dhoni went for dinner with Hardik and Kedar Jadhav, while Shikhar and Bhuvneshwar went together to The Spice Room. Shikhar was with his family, while Bhuvneshwar had his wife for company.
Mohammed Shami was spotted leaving the InterContinental with an acquaintance. On being congratulated by this newspaper for a wonderful Test series, he replied: "Hum lage rehte hain... Ups and downs toh hote hi hain life mein."
Shami has just got through a tumultuous year, largely related to his family. Yet, on the field, he was more often than not an absolute star.
Postscript: Late in the evening it rained (again) in Sydney. Indeed, the weather here has much in common with the summers in England.