Virat is well supported by Rohit and Dhoni: Sourav
Sourav agreed that there will be pressure on India and captain Kohli, but added that pressure is no hindrance to performance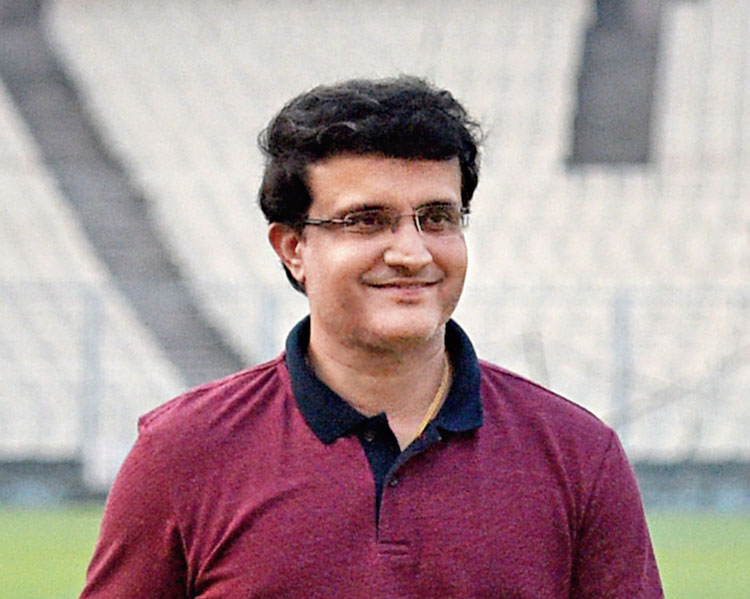 ---
|
Calcutta
|
Published 14.05.19, 10:21 PM
---
India are definitely one of the favourites for the 2019 World Cup. Sourav Ganguly has his own way explaining that.
"This Indian team has as much chance as we had in 2003," the former India captain said during an event in the city on Tuesday.
In the 2003 World Cup, under Sourav's captaincy, India had gone all the way to the final, losing to Australia to end runners-up.
"Indian cricket is strong… We've been strong for the last 25-30 years. We played the final in 2003. I hope this team play the final too and win it," Sourav added.
Sourav agreed that there will be pressure on India and captain Virat Kohli, but at the same time added that pressure is no hindrance to good performance. He even cited Lasith Malinga's example, how the Sri Lankan dished out a perfect last over in the IPL final, to make his point.
"There will be pressure, but after a while you get used to the pressure. Imagine the pressure that there was on Malinga in the final over of the IPL final. The entire world was watching. He went 42 in three overs, but the captain told him 'win me the IPL with your last over', and he turns up and does the job.
"There cannot be more pressure than this. When you play at the top level, you actually need that pressure for you to get the best out of you.
"You ask an opening batsman facing world's fastest bowler… He's always nervous. Sometimes pressure is good for you to succeed and you need that. You just cannot turn up into any event with an empty head. There has to be some thought process going in… 'Will I succeed, will I not succeed...'
"And that's when maturity comes in, that you turn that thought into 'I will succeed'.
"So it's good that India is under pressure, every other team in the World Cup will be under pressure. You don't want to turn up like a Nepal or an Ireland where the entire world thinks that you're not going to win.
"You rather turn up like an India or an Australia or an England where everybody says this team is going to win the World Cup."
And that is why he expects Virat to do well in the UK. "Virat, probably being the best player of the world at the moment, is as much under pressure as anybody else and that will be good for him because he will turn up, work hard, will be pumped up and get India going."
Sourav, in fact, has much faith in Virat's captaincy. "Don't compare Virat's IPL captaincy record with his India captaincy. His captaincy record for India is very good. He's got Rohit Sharma as the vice-captain. (MS) Dhoni is also there. So Virat's well supported," he said.
The 46-year-old also has high hopes from all-rounder Hardik Pandya. "Hardik will play a key role for India. He is in tremendous form. He will be very, very important for India's chances."
Asked about the India-Pakistan match on June 16 and if India have the edge because of their unbeaten record against the neighbours at World Cups, Sourav said: "I don't believe in records. Both of them will have to play well on that particular day. Pakistan beat India in the final of the Champions Trophy."
Sourav expects this World Cup to be a keenly contested one. "This World Cup has the best format. It's a great tournament because all 10 teams will play against each other and the best four will qualify for the semis. It's going to be an exciting World Cup."
Sourav was the Delhi Capitals's advisor in the recently-concluded IPL XII. The Delhi team, which also had Ricky Ponting as the head coach, had a better season this time, making it to play-offs.
What was the formula of the Delhi Capitals' turnaround? "I don't know. I don't have a formula. My only formula is to keep trying till you succeed. I don't have any particular way of winning or losing. When I played, I only played to win.
"Delhi Capitals always had a young team. It's about bringing everyone together with the same purpose of winning. I joined them this year and Ricky was the head coach. It was important to get them to believe in themselves.
"I think a lot of credit should go to the players who actually turned it around. "