U-21 topper aims to pass Tokyo qualification test
The Telegraph gets up close and personal with the 19-year old Dhoni fan who has been ranked No.1 by ITTF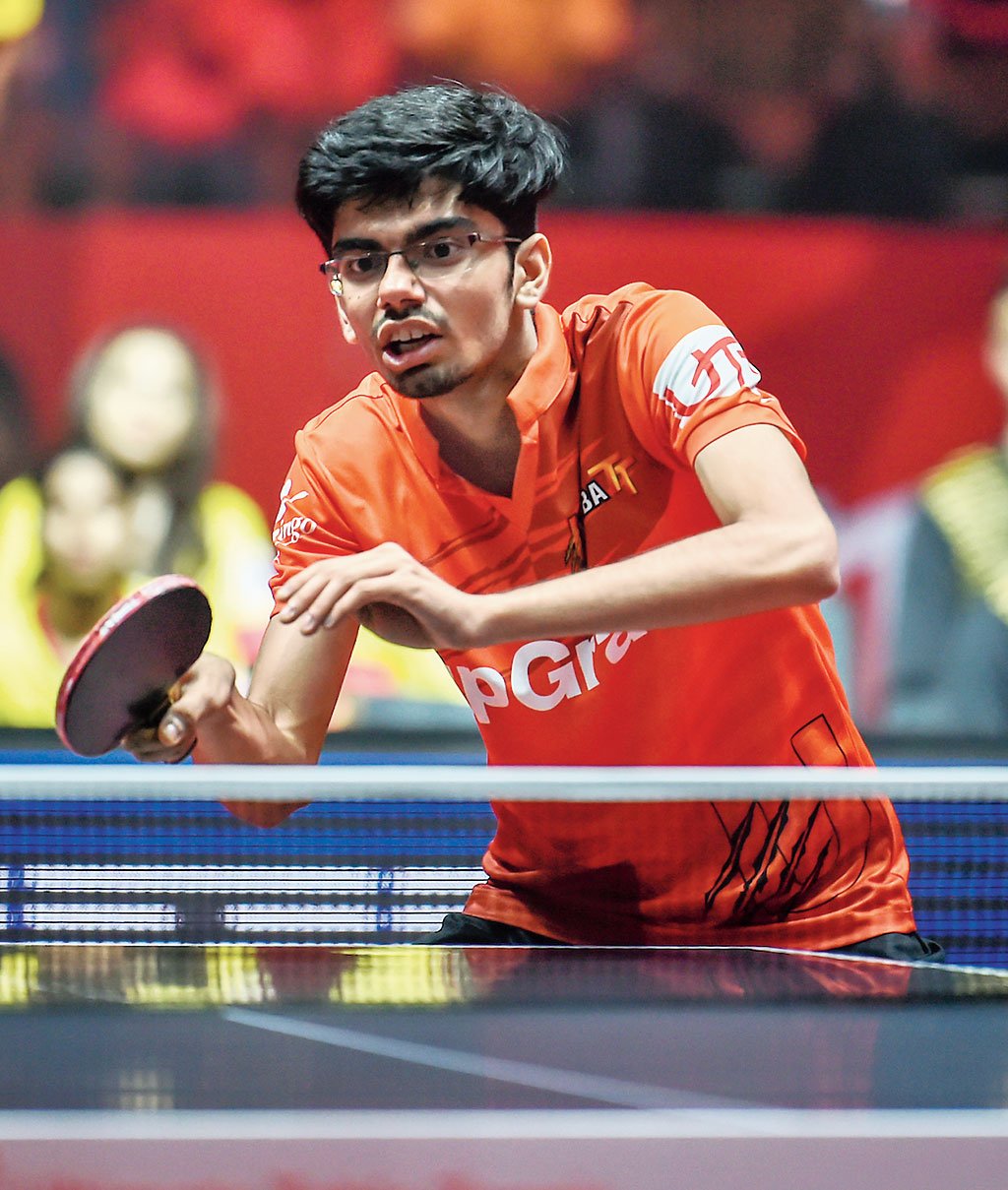 Manav Thakkar
Telegraph picture
---
Calcutta
|
Published 10.01.20, 09:19 PM
|
---
The year 2020 started with a bang for paddler Manav Thakkar. He became the first Indian to be ranked No. 1 in the world by the International Table Tennis Federation (ITTF) in the U-21 category. Of course, being world No.1 is not new to the 19-year-old. In February 2018, he had climbed to the pinnacle in the Under-18 category too.
How does this latest achievement feel?
"Needless to say it's overwhelming… What felt even better was the fact that it came along with my U-21 title in the ITTF Challenge Plus Benemax-Virgo North American Open in Markham, Canada, where I performed well against higher-ranked opponents," Manav told The Telegraph from Poland, where he is playing in the Polish League (called Polish Superliga) for a club named Gwiazda Bydgoszczv.
On December 6, Manav had joined Harmeet Desai, Sathiyan Gnanasekaran and Soumyajit Ghosh among Indians to win ITTF World Tour U-21 men's singles titles when he defeated Argentina's Martin Bentancor in the final of the North American Open. Harmeet and Sathiyan had won the title in Brazil and Egypt, respectively, while Soumyajit clinched it in Chile in 2011.
Manav's next target is "to participate in the World Team Championship in Gondomar, Portugal with the purpose of qualifying for the team event in Tokyo.
"If we do qualify, it will be the first time in history that India will field a table tennis team at the Olympics."
Asked about India's chances, Manav, who was a part of the Indian men's team which won the bronze at the 2018 Asian Games in Jakarta, said: "We have a fair chance of qualifying.
"We have trained together in Chennai in December and are fit and raring to go. Though, of course, much depends on the draw, pressure and the performance on that particular day.
"Next we move to Duesseldorf where we have the World Olympic Qualifying training camp from Sunday. Then come the Qualifiers in Portugal from January 22-26," Manav, who trains in Germany and Denmark, said.
Before he took to table tennis, the Surat-born Manav, born to doctor parents, had tried his hand at two other sports — skating and gymnastics. So why the shift?
"Skating is a high-injury sport. So a decision was taken against my pursuing it. Thereafter, I was simultaneously playing table tennis and training in gymnastics and I found I was better at the former. I was winning at the district and state levels. By the age of 11, I was taking part in the nationals and I realised that that is where my true calling lay."
Manav, who idolises Achanta Sharath Kamal and Jan-Ove Waldner, is a keen Mahendra Singh Dhoni fan. "Though I haven't been watching cricket so much over the past one year — because, firstly I am short on time, and secondly and mainly, because Dhoni is not playing so much these days," he laughs.
Manav owes a lot to Ultimate Table Tennis (UTT) for having got him where he is today. It has been a platform where he has played with and against a number of senior players, national and international, and has got a lot of exposure.
"UTT (Manav played for U Mumba in 2019) gave me an opportunity to train with and play matches against a lot of senior players. It has helped me observe, from close, how they train, how they plan their matches and their diet.
"UTT helped me believe we can beat the top-level foreign players. In Season II, I stunned Christian Carlsen, then the world No. 16.
"So the exposure we've received from UTT has given us the confidence of not being intimidated by the star power of higher-ranked players. This table tennis league sure helped me make my mark."