Tokyo Olympics: Pistol betrays, robs Manu Bhaker of best shot
Appearing in her maiden Olympics, the 19-year-old Manu finished a creditable 12th, despite losing nearly 20 minutes during qualifications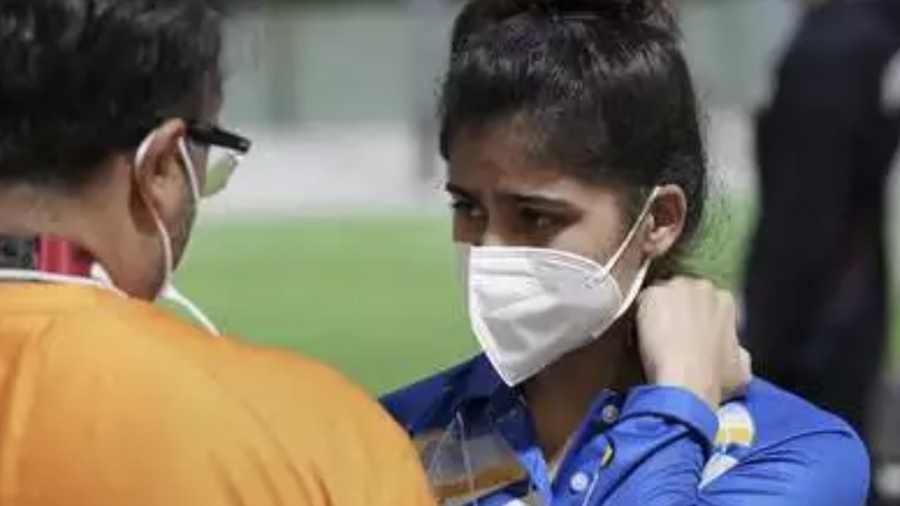 Manu Bhaker.
Twitter/@DrGauravGarg
---
Calcutta
|
Published 26.07.21, 02:18 AM
|
---
Manu Bhaker, the young India shooter who was considered a medal prospect in the women's 10m air pistol competition, had a heartbreaking exit when her weapon malfunctioned in Tokyo on Sunday.
Appearing in her maiden Olympics, the 19-year-old Manu finished a creditable 12th, despite losing nearly 20 minutes during the qualifications after her pistol malfunctioned, forcing her to go to a designated area for getting it fixed.
Manu shot 575, while the cut-off was 577. "The exact reason is still not clear. We first heard that the electronic trigger of her pistol had a circuit malfunction. Later we were told that the pistol's cocking lever was broken," Joydeep Karmakar, Olympian shooter and coach told The Telegraph.
"An electronic trigger malfunction is rather common. But even to fix that it may take a little time. But for the cocking lever to actually break, well that is rather rare. I don't really know whether they are referring to a physical breaking of the lever or some malfunction or breakage of a smaller part inside the weapon. The cocking lever is a solid metal structure and I have never seen it break," he explained.
"Whenever a weapon malfunctions, the shooter can take the help of her coach/support staff to rectify it, but only after a jury allows it. The weapon cannot be taken out of the competition area and a jury member will always be present while the weapon is being handled.
"Why didn't Manu use the second pistol she supposedly had with her? "The rules (International Shooting Sport Federation) have allowable and non-allowable malfunctions listed. So it had to tally with that. Also, she may not have registered the second weapon for today's competition. Normally we carry only one weapon for each type of event and only one is registered."
The ISSF Rule 6.13.3 states: "If an athlete has a gun or ammunition malfunction, he may repair it and continue shooting or, if the malfunction was an ALLOWABLE malfunction, he may continue shooting with another gun of the same type and calibre that complies with the Rules. The replacement gun will be subjected to targeted testing." Karmakar added: "If coach Ronak Pandit was able to sort things out I must give credit to him. But I have always maintained that for big tournaments like the Olympics a trained gunsmith or armourer must travel with the team. A shooter is only as good as the weapon he or she is using and someone should be at hand to take care of technical issues."
Karmakar, however, felt that Manu did a commendable job even after the disruption. "Having lost around 20 minutes in repairing her pistol, she had just 36 minutes for 44 shots. This is almost impossible in pistol. She did manage to complete and had she shot a 10 in the last shot instead of the 8 she got she would have qualified for the final. In shooting these marginal things make a huge difference," he said.
Karmakar, who narrowly missed a medal in the 2012 London Olympics, stressed that the equipment is extremely important and before each competition a thorough check is a must.
"After any travel, specially long distance by air, rail or even by road, where the equipment case has to be handled by unknown people, we always check every part. Even the smallest screw is checked. We check whether there is any loose part, any crack or breakage. I hope all this was done meticulously. At such a high level, these things are always done, and I do hope there was no negligence," he said.
After Mnau returned to the range on Sunday to continue her round, more agony awaited the teenager as four to five minutes were again lost in checking the repaired gun in the sighter (practice). An opening of 98 was followed by 95, 94 and a 95 as the young shooter dropped out of the top-10. With a 98, the Commonwealth Games and Youth Olympics gold medallist tried to stage a comeback of sorts in the fifth series, but caved in under pressure in a poor final series, which saw her register one 8 and three 9s, leaving Frenchwoman Celine Goberville to bag the eighth and last qualifying spot.
Pistol shooter Heena Sidhu, an Olympian and former world champion, is a bit upset that a issue is being made of coach Pandit having handled the pistol just before the competition. "He is my husband, so people may think I am biased. But nothing like that happened. And had they any inkling that the weapon had an issue, then they would have registered the other pistol.
"An electronic trigger malfunction is rather common. But a cocking lever normally does not break. But in either case it takes time to sort it out," she said.
Asked if a prior detailed check of the weapon could have prevented this, she told The Telegraph: "An electronic malfunction can happen anytime. Very difficult to pre-empt that. As far as the cocking lever is concerned, it is rather rare for it to break. I would say even after checking it can happen. It is like the steering wheel of your car getting jammed all of a sudden.
"I really feel Manu did an excellent job after she got back. Had she got 10 in the last shot the scenario would have been very different."
(With inputs from agencies)