Tokyo Olympics: India's medal hopefuls at the Games
India marches into the mega event With a 228-strong contingent comprising over 120 athletes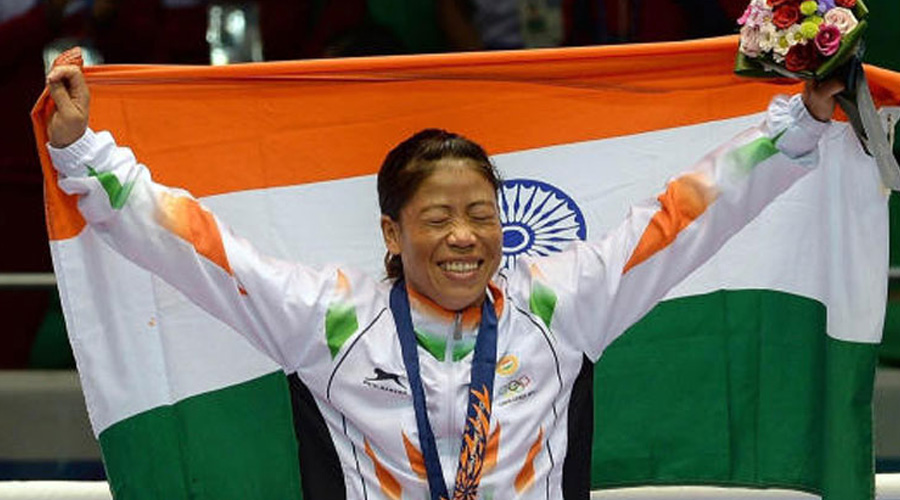 ---
Published 22.07.21, 03:08 PM
|
---
The pandemic might have altered the narrative of the mega event by a bit, but nothing can affect a participant's hunger for medals. In Rio 2016, India collected two medals -- a silver in badminton by PV Sindhu and a bronze by wrestler Sakshi Malik. This time around, with a 228-strong contingent comprising over 120 athletes, India march on with a thirst for medals in Tokyo. 
We have picked India's medal prospects at the Games. Here's a list:
Amit Panghal - Boxing
This flyweight is shouldering expectations that would be enough to bog down a super heavyweight in some cases. The world number one, the top seed, Panghal is being seen as a sure-shot medal for India in Tokyo. He knows it and he is revelling in the spotlight. The Armyman from Haryana is a nice mix of controlled aggression and tactical acumen. His cabinet already has the World Championships and Commonwealth Games silver medals, an Asian Games gold medal, and multiple Asian Championships medals. Competing in his maiden Olympics, the 25-year-old has been unstoppable for the past four years, starting with a breakthrough Asian Championships bronze back in 2017. Even in loss, he has hardly ever looked outplayed. But he does know his weaknesses well. A late starter and someone who tends to wear off a bit in the final three minutes, Panghal says he has addressed the issues in his desperate pursuit of an Olympic medal.
Amit Panghal's dedication to his craft is evident, even at first glance, but when it comes to India's boxing gold medal hope, there is a lot more than meets the eye.

Learn about his story in the latest Olympic Channel Original series, Jee Jaan Se.@Boxerpanghal @BFI_official

— Olympics (@Olympics) July 22, 2021
Mary Kom - Boxing
If there is a name in Indian boxing which needs no introduction, it is Mary Kom. This 38-year-old icon would be eyeing a second Olympic medal, something that puts her heads and shoulders above all else in the Indian team. A six-time world champion, her achievements and medals have become a bit difficult to keep count of. And the astonishing part, the Manipuri isn't showing any signs of slowing down. The ring is quite literally her playground and it has remained so for more than two decades now. Among the sharpest movers in the ring at the peak of her prowess, Mary Kom is, however, candid enough to admit that she has slowed down but to make up for that, she has worked on adding more muscle and thereby more power to her punches. It remains to be seen how she handles the younger competition which awaits her at the Games. She is fittingly one of the two flag-bearers of the Indian contingent and has sharpened her hook to make sure that nobody takes her lightly.
PV Sindhu - Badminton
Being someone who loves to thrive on the big stage, badminton star PV Sindhu is the best bet to satiate the country's thirst for a second individual gold medal from the Olympics. India haven't won anything before or after shooter Abhinav Bindra's golden triumph at the 2008 Beijing Olympics. With Carolina Marin ruled out due to knee injury — Sindhu had lost to the Spaniard in the final of the Rio Olympic Games — there is huge expectation that the reigning world champion will bring home the yellow metal. Seeded sixth in Tokyo, Sindhu should have it easy till the quarter finals. Placed in the bottom half, Sindhu will face Hong Kong's world No. 34 Cheung Ngan Yi and Israel's Ksenia Polikarpova, ranked 58th. The real battle, however, begins from the last-eight stage. In the round of 16, Sindhu is expected to be up against Denmark's Mia Blichfeldt. Sindhu had lost to Mia in the round of 32 at the Thailand Open at the beginning of the year. If Sindhu reaches the quarter finals, local favourite Akane Yamaguchi would probably be her opponent. In the All England badminton championship quarter final, Sindhu defeated Yamaguchi after one hour and 16 minutes of thrilling action, but that was Yamaguchi's only loss to her in the last four outings.
Throwback to Carolina Marin's nail-biting victory over PV Sindhu in women's single badminton at Rio 2016! 🏸🥇#StrongerTogether pic.twitter.com/1KrPQSYqd1

— Olympics (@Olympics) July 17, 2021
Deepika Kumari - Archery
World No. 1 Deepika Kumari clinched three gold medals in the World Cup Stage 3 in Paris in June — in singles, women's team and the mixed pair event with husband Atanu. It's needless to say she carries most of the country's hopes from archery. Of course, the fact that she slipped in both London and Rio will be at the back of her mind, but Deepika is trying to steer her mind away from all negative emotions. Being the lone female archer in the India camp in Pune, Deepika has been competing with Atanu and in fact with all three of the male members. "I'm trying my best to shoot better than them always. In fact, I'm winning most of the times," Deepika said, recently. The 2010 Commonwealth Games gold medallist had become world No 1 ahead of her maiden Olympic appearance in London but only to make a first round exit. "At my first Olympics, I was ranked world number one, though I was not aware of it much. It was kind of a fantasy for me being the first Olympics," she said. Deepika will be the lone female Indian archer at the Olympics after the women's team failed to qualify. After the qualifications round on the opening day of the Games on Friday, Deepika will have her first event, the mixed pair competition, on Saturday. Her individual event will begin on July 27.
Mirabai Chanu - Weightlifting
Star Indian weightlifter Mirabai Chanu has emerged as a strong contender in the women's 49kg category in the run up to the Olympics, making her one of the brightest medal prospects at the Tokyo Games. The lone Indian weightlifter to qualify for the Tokyo Games, Chanu will be eager to make amends for the disappointing show at the 2016 Rio Olympics where she had failed to record a legal lift in any of her three attempts in clean and jerk and thus could not get an overall total in women's 48kg. Not only did she silence her detractors by winning the gold in the world championship in 2017 and the Commonwealth Games a year later, the diminutive Manipuri also overcame an unspecified back problem, which marred her progress in 2018, and changed her weight category to 49kg from her original 48 kg after the international federation decided to introduce new categories in the sport in the run up to the Tokyo Games. Chanu currently holds the world record in clean and jerk in the women's 49kg category. She successfully heaved 119kg in the Asian Championship, her last tournament ahead of the Tokyo Games, in April to win the gold medal in the section and an overall bronze. The performance is bound to boost her confidence when she heads into the weightlifting arena on July 24.
After today's practice session @mirabai_chanu . #Tokyo2020 #ComeonIndia pic.twitter.com/zNYxXbY2nv

— Abhijit Deshmukh (@iabhijitdesh) July 21, 2021
Vinesh Phogat - Wrestling
Vinesh Phogat has emerged as one of the best medal prospects in Tokyo. One of the most disturbing images of Rio 2016 was the sight of Vinesh writhing in pain on the mat, having suffered a career-threatening injury that ended her 2016 Olympic campaign. But she made it back to the competitive arena and earned the right to fight in Tokyo, winning a bronze in the 53kg category at the 2019 World Wrestling Championships. The Commonwealth and Asian Games gold medal winner also won the 53kg gold in the 2021 Asian Championships. She seems to have had a measure of the competition she may face in Tokyo and a podium finish is very much possible. "Vinesh has a great chance of winning a medal. She has shown tremendous guts having recovered from the Rio injury and then going on to defeat top wrestlers in international tournaments," Vinesh's uncle and coach Mahavir Phogat had told The Telegraph.
Neeraj Chopra - Javelin
Neeraj Chopra. That's the name everyone is banking on to give India its first medal in the track and field event. But the 23-year-old javelin thrower has a mountain to climb in an event where a host of others are capable of winning a medal. Defending Olympic champion Germany's Thomas Roehler is out with a back injury, but the likes of Johannes Vetter (Germany), Trinidad's Kreshorn Walcott and reigning world champion Grenada's Anderson Peters have enough in their armoury to stand on the podium. Games debutant Neeraj's personal best is a throw of 88.07 metres but most of his rivals in Tokyo have breached the 90-metre mark consistently.