This Indian team can be the best ever: Sunil Gavaskar
The Little Master provided the assurance and belief that brought about a dramatic change in the mindset of the cricketers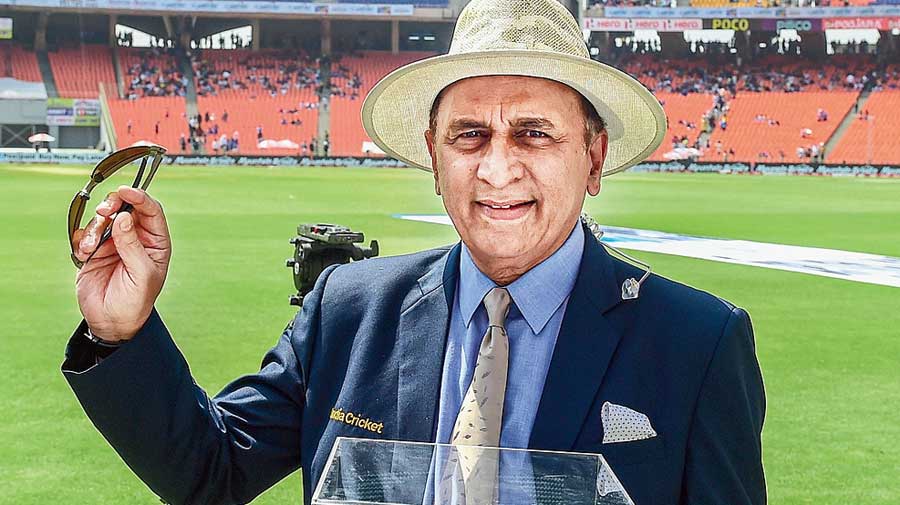 Sunil Gavaskar at the Motera stadium on March 6 after the BCCI felicitated the legend on the 50th anniversary of his Test debut.
PTI
---
Published 18.03.21, 03:07 AM
|
---
Sunil Gavaskar still triggers a sensation in the minds of millions of Indians. The Little Master provided the assurance and belief that brought about a dramatic change in the mindset of Indian cricketers.
As many as 774 runs in his debut series against the West Indies, and 50 years on, the record remains intact. His following is still comparable to that of Sachin Tendulkar and Virat Kohli. Gavaskar, 71, spoke to The Telegraph on a wide range of topics.
Excerpts:
⚫ The Telegraph: Would you compare India's recent series win in Australia to the 1971 victories in the West Indies and England?
Sunil Gavaskar: Comparing across eras is a subcontinent malaise. I have never seen it anywhere else in the cricketing world . Nobody in Australia questions if Ricky Ponting's team was better than Steve Waugh's team. The cricket lovers there just relish their wins. We have learnt some fine things from the Aussies as to how to be competitive, never to give up and also some not so fine stuff like using bad language on the field. Maybe we should learn from them and the others in the cricketing world not to compare eras and the players and wins across them.
⚫ The 96 in your final Test innings is still considered the best when batting on a rank turner. Don't you think the current Indian top-order batsmen struggle to bat on such surfaces these days? Is it because of the stress on batting on fast & bouncy pitches overseas?
Different eras, different approaches, different pressures… We are trying to compare here again.
⚫ Do you regret not getting a formal farewell in your final Test innings? Playing somewhere like the Wankhede or Eden Gardens would have been entirely different.
It's never occurred to me, never even thought about it.
⚫ Who would you consider most lethal — the West Indies pace battery (comprising Andy Roberts, Malcolm Marshall, Michael Holding and Joel Garner), Dennis Lillee-Jeff Thomson or Imran Khan?
I have never played Lillee and Thomson together in a Test match, so wouldn't be able to tell. Having the ball whizzing past your ears constantly, thanks to the Windies four-man pace battery, was testing alright.
⚫ Did the pressure of expectations ever weigh you down when you were at the crease?
Except for my debut Test, I never really felt any pressure. Once you enter the ground all the noise just evaporates as you simply focus on the next ball.
⚫ The current team has been termed as the best ever in the history of Indian cricket. Does the same apply to Virat Kohli as captain? If not who will be India's top-3 best ever Test captains?
The old saying that a captain or coach is only as good as the team is so true. This Indian team is blessed to have so many game-changers with both bat and ball which very few previous Indian teams have had. They have a wonderful opportunity to seal the deal as the greatest-ever Indian team by winning in England and especially South Africa later in the year. Having won in Australia earlier in the year (Indian teams have triumphed in England in 1971, 1986, 2007), South Africa now remains the final frontier to conquer for this team.
⚫ Despite achieving much success why has the Indian team failed at ICC tournaments? Is it pure luck or something else?
Of course one needs luck in life and in cricket but with hindsight you could argue that some decisions and selections could have been better.
⚫ How has cricket administration changed in the last 50 years that you have witnessed international cricket?
Just like the game improves with learning from experience, so also administration has got better over the years.
⚫ Should more and more former cricketers come into administration?
As far as decisions on the playing aspect of the game are concerned, yes cricketers will be better able to take them... but as far as finance, law, general administration etc are concerned it's better to have those who have the experience and are experts at it.
⚫ Poverty, national integration and communal disharmony are some of the major issues affecting the country. As an icon, we haven't seen you speak much on such topics. Any particular reason?
These issues have been there even before I was born. I don't kid myself that I have a solution for this.
⚫ In India it's become a tradition to name only a portion of the stands in a stadium after cricketers. Recently, Bishan Bedi has been very critical of the move to name stadiums after politicians. Your views?
Do you seriously think that those out there playing are concerned what the name of the stadium is? All they want are good facilities in which to train and display their talent. As commentators all we want is a great location and a box which is big to accommodate the equipment required to do our jobs. You guys in the print media I am sure also want a box which is big enough to seat you all and for it to be above the bowler's arm to be able to see what is happening out in the middle. Does it then matter who the stadium is named after?
⚫ Despite being a living legend, how do you manage to stay grounded? You still interact with the crowd at stadiums or pose for selfies at any time. How do you remain so humble in life?
Ha ha, that's so easy with my height!