The PK Banerjee tonic: Honey in lukewarm water
He always had an eye for spotting talent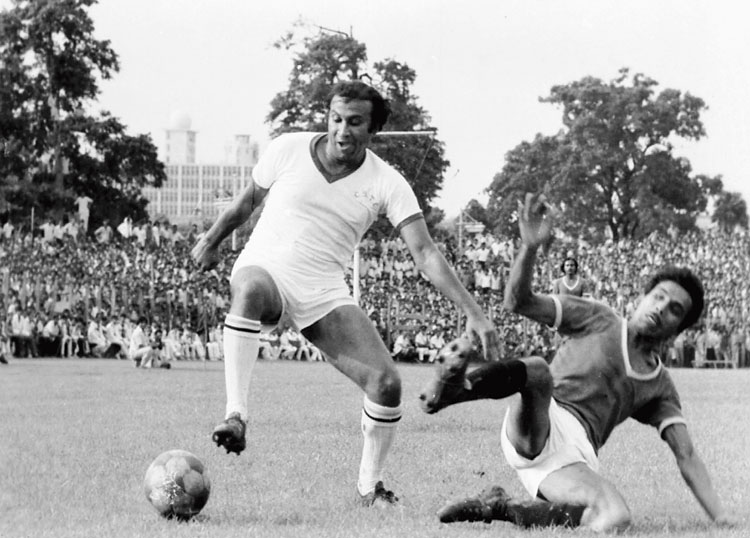 ---
---
The year was 1972 and East Bengal were on course to win their third consecutive Calcutta Football League title. I was a photojournalist who had learnt the tricks of the trade in the entertainment industry and was aspiring to gain a foothold in the Maidan.
East Bengal secretary Ajoy Srimani introduced me to PK Banerjee. He looked through me and asked a simple question, "Football ta bujish toh (Do you understand football)?" I nodded.
The League was almost drawing to a close by then. When the next season started I was a regular at morning practice sessions. One day I was at East Bengal president Dr Nripen Das's chamber when PK walked in.
"Which paper do you work for?" he asked. I was then working as a freelancer and looking for opportunities. He took me to Shankar mali and made sure that I had access to the footballers. That helped ease my problems.
PK used to travel in a scooter then from his Railways quarters at Kaiser Street, near Sealdah. On reaching the tent, he would always ensure that I got entry into the ground during practice sessions.
He always maintained a very cordial relationship with his players, which often resulted in the win-at-all-costs attitude. It showed in his success story. The players were ready to die for him on the field.
His famous 'vocal tonic' is part of Maidan folklore. He would never allow an outsider to stay in the vicinity during such sessions. It remained a private affair but you could sense from the players' body language that they were pumped up after the 'tonic'.
Not many knew that he often used to make the players drink honey in lukewarm water before every match. That he believed would serve as 'dope' for the players.
PK was visibly shaken when 16 persons lost their lives during the infamous East Bengal-Mohun Bagan derby at Eden Gardens on August 16, 1980. He was East Bengal's coach then. The match ended 1-1 after an on-field altercation saw Dilip Palit and Bidesh Bose being sent out, triggering a clash in the stands.
He always had an eye for spotting talent. He first noticed Chima Okorie during the 1985 Federation Cup in Bangalore.
The Nigerian didn't play there for Mohammedan Sporting but he was somehow keen on recruiting him. East Bengal finally managed to sign Chima in 1987.
PK's inimitable style and fondness to work up a conversation always made him a darling with the fans. He was always emotional and extremely popular among the footballers, his contemporaries and the younger lot alike.
Despite their rivalry as a coach, he remained close to Arun Ghosh. Along with Nikhil Nandy, the trio were part of regular adda sessions at the BNR tent in the evening till the early Nineties.
His wife Arati's death left him shattered mentally, something he failed to overcome. "Amar sob sesh hoye gelo (My world has come to a standstill)," he told me.
I helped him get a picture of his wife framed for her last rites and he offered me money. I refused.
Whenever I met him thereafter, he would always remember to express his gratitude. That will remain a lasting memory.