Swapna Barman conquers barriers to live her seven-event dream
A gold in heptathlon in the 2018 Jakarta Asian Games may have been the high point of her career till now, but Swapna aims higher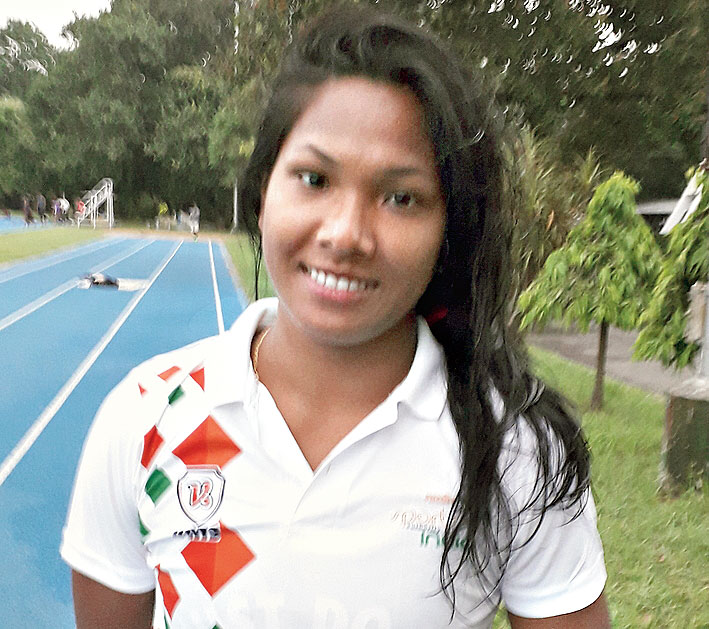 Swapna Barman at the SAI complex
Madhumita Ganguly
---
Calcutta
|
Published 26.07.19, 08:43 PM
|
---
Never say die. These words sum up golden girl Swapna Barman's attitude to life.

A gold in heptathlon in the 2018 Jakarta Asian Games may have been the high point of her career till now, but Swapna aims higher. She aims for a medal at the Olympics.
Born in a lower-middle class family in Jalpaiguri, Swapna has battled innumerable odds — physical and material — to reach where she has today.
Eye on the 2020 Tokyo Olympics? "Naturally," said Swapna, sitting on the lawns of SAI, post-training on Thursday evening. "That is for ever and always any athlete's dream."
But the path to that glory is not easy, to say the least.
Swapna is currently recovering from a knee injury. "A grade three tear in my right knee which I got while training. Hence, right now, I'm concentrating more on strength training," she said.
"The qualification mark set for heptathlon is very high — 6420 points. Barely seven-eight athletes in the world have managed to meet that mark. Another 18-odd have hit 6100.
"My personal best is 6026," continued Swapna. "But I hope to make the cut for Tokyo."
Why did she opt for heptathlon, a gruelling seven-event contest that covers a range of track and field events and is spread over two days? "When I came to SAI in 2012, my event was high jump. But here, my coach Subhash Sarkar felt that given my height (1.65m), high jump was not my calling. Hence my shift, and Sir sure was proved right," smiled the 22-year-old.
The women's heptathlon comprises 100 m hurdles, high jump, shot put, 200 m (all Day 1), long jump, javelin throw and 800 m (Day 2).
Coach Sarkar was asked the same question: What made him feel that a difficult event like heptathlon would suit Swapna? "Talent scouting and selection of the event where that talent would shine are the two basic jobs of a coach," he replied.
"We assess the athletes who come to us and we need to decide in what event that person would shine in say 10 years' time. A wrong assessment can completely ruin an athlete's career. So, after I put Swapna through all the trials and tests, I was sure heptathlon was her event."
Swapna will take part in some events shortly — the Inter-State Athletics and the National Open for instance. But it is only from January 2020 that she will go all out to qualify for Tokyo.
Life has not been easy for her. Financial constraints as also the six toes on her feet whereby she never got comfortable shoes. But she has always broken the pain barrier. Uncomfortable shoes and severe toothache — nothing could stop her from bringing India the gold.
After her success in the Asian Games, Adidas (whose India ambassador she is now) took her to Germany and made her specially-designed shoes.
She is thankful to her family, which has always stood behind her through thick and thin — "Everything I do, I do it for them," she said emotionally— and to her coach, Sarkar.
She is also indebted to SAI which has helped her much over the years and its director Manmeet Singh Goindi.
What would be her message for promising athletes? "One should remain focused in order to reach one's target. One must follow the coach's instructions to the T. Practice, diet and sufficient rest are the three key factors on which rest an athlete's success," said Swapna.