Sunil Chhetri: Team not just about me
Almost all seats are likely to be filled up, so a 60,000-plus turnout is expected at the Salt Lake Stadium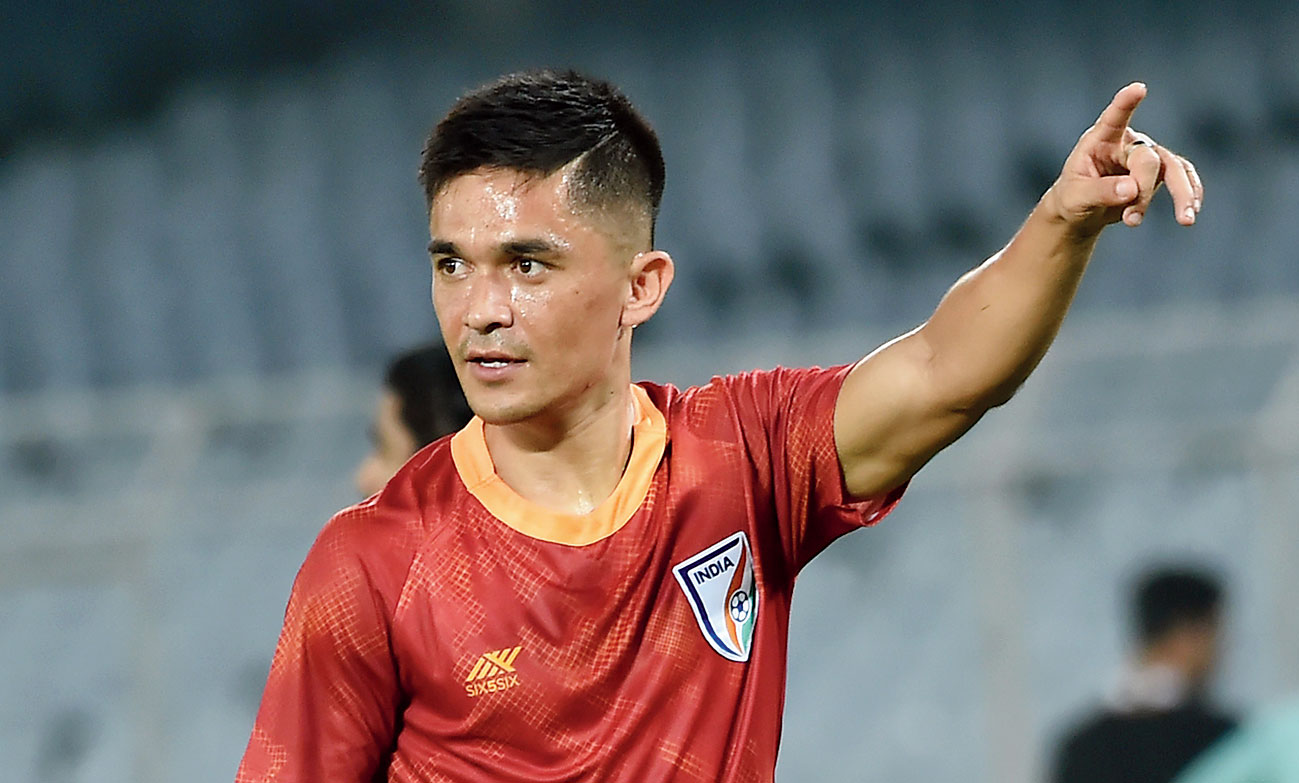 Sunil Chhetri at the Salt Lake Stadium on Monday.
Picture by Santosh Ghosh
---
Calcutta
|
Published 14.10.19, 10:59 PM
|
---
India captain Sunil Chhetri feels if Bangladesh put additional markers to keep him at bay, it will only help other players score and serve the purpose of his team.
"Their plan is to get as many as possible to mark me. If four people mark me, then they'll be down to six. If all the emphasis is put on me, then I'll be very happy...
"It's never going to be about me. But as I said, if someone wants to mark me, then we have other players who will get a chance to score," Chhetri said on the eve of the Fifa 2022 World Cup Qualifier against Bangladesh.
"If that (additional markers for him) happens, then people will come to know about the other players like Balwant Singh, Manvir Singh, Udanta Singh, Ashique Kuruniyan and Brandon Fernandes. But again, the team is not just about me.
"The Indian team doesn't need Sunil Chhetri to put up a good performance. I am just one of the 23 players in the team. I'm a bit lucky and little bit more experienced. That's about it… No dependency on me at all," India's highest goal-scorer added.
Talking about the XI with which India will go into the game, Chhetri said: "Whoever does well in training will play. It doesn't matter who is going to play against Bangladesh. The team will play as best as it can and that is the beauty of the game we have right now."
Almost all seats are likely to be filled up, so a 60,000-plus turnout is expected at the Salt Lake Stadium. For Chhetri, that will motivate the team to do better.
"My family is going to be a part of the fans' fraternity on Tuesday. My wife and my family travel everywhere we play. I love playing in Calcutta. There are very few places where we get the buzz that we get here.
"After our first training session here, the coach asked us whether we have played any match for the national team in front of 45,000-plus crowd. I said no. When I myself have not played, then there was obviously no chance for the others to have played.
"So, the crowd here would be a huge motivation for the team. It's an advantage for us and a disadvantage for the away team. It's certainly a great feeling to get this huge kind of support," he said.
When asked about Chhetri's presence in the team, India head coach Igor Stimac said: "His numbers are there among the top players. They reflect everything about him as a player. Nobody can change that.
"I can tell you about Chhetri as a person and I can also tell you about him as a leader. As a human being, his passion for football and discipline is inspirational for everyone in the team... I would say he's more important than me in the team."
Since their arrival in the city, the Bangladesh players and coaching staff have stressed about Chhetri being their most important concern. "Chhetri is a big name in Asia. We have to mark him tight.
"If we give space to big players, they will punish us. Yes, India have other good players too who can win them the game. But yes, we must make sure Chhetri doesn't get the ball," Bangladesh coach Jamie Day said.
"I played against Chhetri twice, in 2013 and 2014. He is a good striker, but we do have some plans for him.
"However, India have other good players as well, so we have to keep that in mind too," Bangladesh captain Jamal Bhuyan said.