Sumit Nagal's dream run
He opens up about how a once-reluctant tennis player ended up playing Roger Federer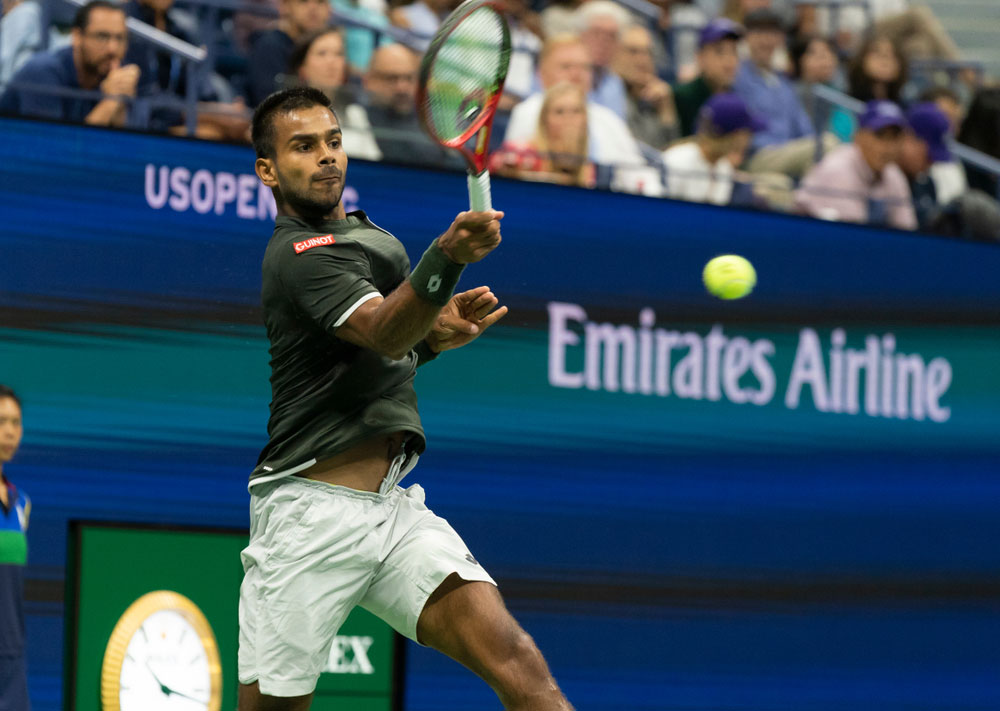 ---
---
And with that scoreline Sumit Nagal would become the poster boy of Indian tennis. Overnight. A success story in singles that has seen the Jhajjar boy who grew up in Delhi, climb up the singles rankings to a fantastic career high of 127 (currently ranked 131).
Son of a government school teacher who had once quit tennis briefly because of the expenses involved.
A 22-year-old who has handled success like few of his age can. Level-headed with eyes set on the next target.
Here's a t2oS chat with Sumit at the launch of iDestiny store at Avani Riverside Mall, Howrah, minutes after he gorged on pizzas.
Are you allowed pizzas?
Pizza is okay... here and there... It's not as if I am eating every day.
What is your favourite food?
Indian, Italian, Thai and only a few kinds of sushi.
Do you cook?
No, I am a horrible cook. So I don't go into the kitchen much, but everywhere you get Italian food. Indian is served here and there... big cities, yes... I live in Germany... so it's pretty easy (food wise).
You are back in Calcutta after many years.
The last time I was here was in February 2015, playing a challenger in BTA.
How much has life changed in the last few months?
I am still the same guy, you know. I am still trying to achieve my goals and do well in tennis. Nothing has changed in that way. But in other ways, people are...
Expectations...
... Yeah exactly. They are recognising you in every match.
Is that pressure or motivation?
It's good motivation to have a country like India behind me, getting messages, saying, 'Hey! Come on! Go!'... shows that a lot of people are there with me.
You are a reluctant tennis player, right? You wanted to be a cricketer.
Exactly. But it didn't happen. But I can't complain. It's been good.
Who did you idolise?
I have watched a lot of Gautam Gambhir and (Virender) Sehwag and Sachin's (Tendulkar) batting. I loved watching Yuvraj (Singh) and (Mohammad) Kaif play. If I look at it now, I would have wanted to be someone like Virat (Kohli). So much passion for the sport... who has routines and discipline in his life, who is carrying a lot of people on his shoulders, showing that things can be different... we can make a change in our sport.
I don't think this change was there before. I don't know everything about cricket, but as a person who likes the sport, things are changing in cricket.
How did you get started with tennis?
My dad... there is a sports complex near where I used to live, very close to my house... when we went there saying that 'Okay, we'll choose a sport' and that's how we picked tennis because the courts were right in front of us.
Believe me, when I went there on the first day, I didn't know what tennis was. I had never really heard of that sport before. I was so much into cricket. Also, I was seven-and-half, eight... very busy watching cartoons.
I cannot forget the first day when I hit the ball... I was very happy... I looked at my father... he was smiling... that's how I was there for the first six months and then I started playing in another academy. Two or two-and-half years in Delhi and then we moved to Bangalore for two years when Apollo Tyres (an initiative by Apollo Tyres) started.... After two years it was shut. I quit tennis for another month or month-and-a- half. We did some trips abroad and saw what one actually needs for tennis. The backup plan would be academics. I was a decent student. I was too young and at 12, I don't think I would be so sad about (quitting tennis). Now, I won't stop.
Then I got a call from Mahesh (Bhupathi) and the old coach who was running the programmes... that if Mahesh sponsors, manages, mentors, would I want to play tennis again. I said I would love to. And then I went back to Bangalore and decided that it is easier to go to Canada and start training there. I was there for four-five years. After 2014, I decided to move to Germany. I was there for four-five years again and then I tried Spain last year for a bit and then moved back to Germany again. Germany was recommended by Hesh (Mahesh Bhupathi).
So you felt an instant connect...
I just kept on going. It wasn't like I hated it or something. I always wanted to compete and I would play around here and there. So I have always had the energy to play a sport. I didn't want to sit at home and study.
Was there any point when you fell in love with the sport?
I enjoy it. If I don't perform well, I feel bad. I spend a lot of time on the court. I spend six hours a day on court and off it (with tennis). I don't think there was a (particular) day when I decided to take it up professionally. It just went on.
Who have been your mentors?
Mostly Mahesh. It is very important to have a mentor in our sport. If you need to have an idea of what to do at what age.... I don't think I would be here if not for him. I was not planning to play tennis.
Whose games have inspired you?
Rafa (Rafael Nadal), Djoko (Novak Djokovic), (Andy) Murray, (Roger) Federer. I have watched them a lot, especially when they were one, two, three, four... I always liked these long rallies.
So what did Roger Federer tell you that day?
That day he didn't (say) much. He wished me the best. I heard him say nice things about me in an interview and it was so nice of him. He also told my coach something, but I never asked him about it!
A dream come true, you wrote.
Exactly. Arthur Ashe (where the Federer-Nagal match played out) is the biggest stadium in tennis. Playing Monday night is the best night if you don't count the finals. There were a lot of people I have grown up watching and thinking that would I play them someday.
What was your mental make-up?
I just wanted to enjoy. I knew I was going to be nervous. This wasn't an opportunity that I was going to get every week or tournament. So how would you survive the nervousness that you are going to have for the first 30 minutes? Keep your focus on the things that you are supposed to.
After a bit, you start to enjoy... look at the crowd... the Indian flag... people shouting... before you know, the third set would be happening...
So mixed feelings?
Here and there, I could have done better. There were some crucial points where I played a little bad, tactically, especially in the fourth set, when I had a few break points to break him. But looking back, representing your country at such a big event for the first time, getting so many messages from friends and people, whom I don't even know... I think I did okay.
After I lost, I didn't speak to anyone for a day... went to the locker room shower, ate and left... woke up.... Mahesh sent me a message saying, 'I am so proud of you. You almost made me cry!' I told him I wasn't happy. He was like: 'Don't be an idiot. Call your parents.' When I called my parents, they were so happy. Then I calmed down.
Given that this is a turning point in your career, how not to get stuck here?
It is just about improving. I am working on my game. Having the right schedule. Little things have an impact on your game.
What is a typical day in your life like?
I wake up an hour-and-a-half before my training. I do long warm ups/a small fitness session for an hour. This would be around 9-10am.
Then I play a session for 90 minutes or a three-hour-long session. So, 10-11.30am I'd do tennis. Then take a break and have lunch. It's tennis again from 2-3.30pm. Then 3.30-5pm, fitness. If I am going for a long session, then 9am-10am warm up, 10-1pm tennis followed by lunch and fitness around 3pm or 4pm.
What do you for stamina?
I think drills on tennis courts. A lot of endurance... running. If you stand on the court and hit 500 balls without a break, I am sure you would go higher on your endurance.
Do you train less before a massive tournament?
You don't want to be tired. You bring down your intensity three-four days before the tournament.
You must tell us about your six packs...
It's gone! (Laughs) You need a good workout and the right amount of good food. I am not a guy who would eat dessert every day.
Who are your all-time favourite athletes?
Virat Kohli will be right up there. Rafa in tennis.
They've all had great comebacks.
That's one of the big things to have in life, to be able to come back from injuries or bad form. Which is what makes them great.
Do you miss your family in Germany?
At times but I am used to it now.
So what is me time?
By the time I finish, it is already five. If I need to go to the supermarket, I go. If not, then shower, play some video games, eat, play some more video games and sleep.
What do you play?
I play a lot of League of Legends. That has been my favourite game for the past three-four years. I have a gaming set-up in my room where I have a gaming chair, gaming TV screen with a gaming mouse, a razer keyboard. Everywhere I go, I have this bag filled with electronics. It weighs eight-nine kilos. I was big into watching anime. Dragon Ball. That's the only place I would say I have a favourite, otherwise it is tough for me to have favourites.
What about actors?
I watched a lot of Akshay Kumar films at a certain point, when he was getting into comedy. One of my favourite films would be Hera Pheri. I have watched it a dozen times. TV series, I would say Entourage.
We'll finish with your tattoos!
I have a world map with dots indicating the countries I have been to. I have a Japanese theme, a samurai. A place I'd like to be is at the Pagoda temple. Japanese culture has a big role in my life.