Smith lauds Marnus
Marnus played really well in his first knock in ODI cricket: Steve Smith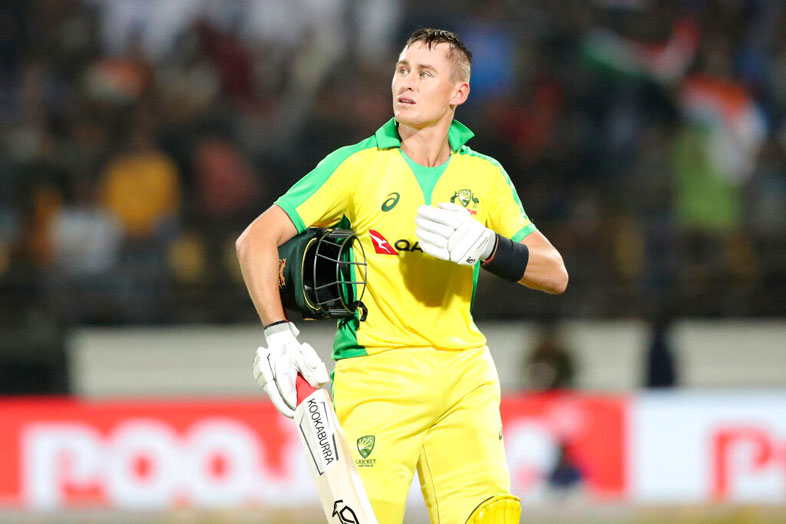 Australia's Marnus Labuschagne walks back to the pavilion after his dismissal during the second one-day international cricket match between India and Australia in Rajkot on Friday
(AP)
---
Rajkot
|
Published 18.01.20, 09:11 PM
|
---
Marnus Labuschagne fell four short of a half-century in his debut ODI, here on Friday, but his knock (46 off 47 balls) was good enough to earn accolades and praise from Steve Smith.
The distinct similarities in their batting techniques aside, Labuschagne looked rather unflagging and spontaneous during his 97-run stand with Smith for the third wicket that seriously threatened to take the game away from India.
"I think Marnus played really well in his first knock in ODI cricket. He was really busy, as we were going at a reasonable rate — at around six an over there for a while.
"The way Marnus played in his first innings, to have the courage to hit one over mid-off off Kuldeep (Yadav) early on just shows he's got something about him.
"We know he's in terrific form. He has been batting beautifully, but transferring that into one-day cricket now is another thing.
"So in that sense, I think he looked exceptionally good… He hit the gaps hard, ran hard between the wickets and played some nice shots.
"The one off (Ravindra) Jadeja was also a beautiful shot. He looked right at home.
"And there's no reason why the three-four-five (in the batting order) can't stay as it is," Smith said after Australia's 36-run defeat in the second ODI.
Although Australia had won the first ODI with ease, Smith said they were always cautious of India bouncing back.
"We played very nicely in the first game. But India were, of course, going to come back hard and we had to be at our best if we were going to beat them again.
"Hopefully, we can regroup and bring about another good performance in the final game," Smith said.
The former captain predicted another high-scoring contest at the Chinnaswamy in Bangalore on Sunday.
"It's a pretty good batting wicket out there, so I think it's going to be an exciting game… It feels like the ball goes further in the air, and you see lots of sixes there," Smith said.
"It's quite a fast outfield and usually a nice-paced wicket… Not too dissimilar to Rajkot. I can see another high-scoring game."