Time to speak up against racism
Sportspersons around the world unite and raise their voice in support of George Floyd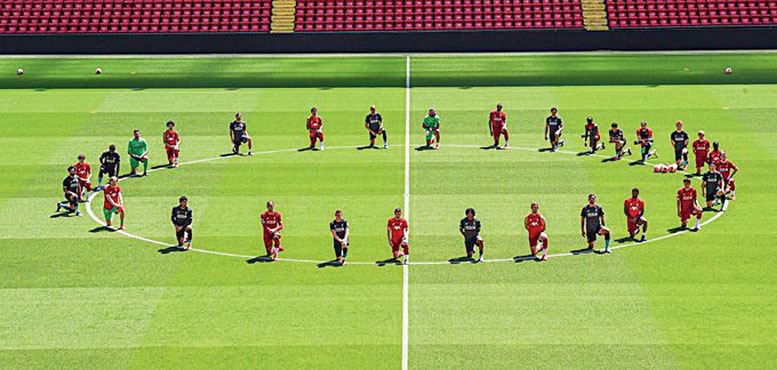 Liverpool players take a knee around the centre circle at Anfield on Monday in a gesture of support for George Floyd. "Unity is strength #BlackLivesMatter", the players tweeted.
(Twitter)
---
Calcutta
|
Published 02.06.20, 09:15 PM
|
---
Sportspersons from around the world and across disciplines have spoken out against racism and voiced support for George Floyd, who died in police detention in the US last week.
Tiger Woods has raised his voice against police atrocities on black people in the US, saying his heart goes out to the family of Floyd and all those at the receiving end.
"I have always had the utmost respect for our law enforcement," Woods said on Twitter. "They train so diligently to understand how, when and where to use force. This shocking tragedy clearly crossed that line."
Woods grew up in Southern California and he said he had learnt from the Los Angeles riots in 1992 that "education is the best path forward".
"We can make our points without burning the very neighbourhoods we live in. I hope that through constructive, honest conversations we can build a safer, unified society," the golfer added.
F1 star Lewis Hamilton lent his voice by bemoaning the response of his "white-dominated sport" amid widespread protests in the US.
According to Hamilton, too many of his peers were "staying silent" rather than using their platforms to speak out.
"I see those of you who are staying silent, some of you the biggest of stars, yet you stay silent in the midst of injustice," Hamilton wrote on Instagram. "Not a sign from anybody in my industry, which of course is a white dominated sport. I'm one of the only people of colour there yet I stand alone.
"I would have thought by now you would see why this happens and say something about it, but you can't stand alongside us. Just know I know who you are and I see you…"
Nine of Hamilton's 19 fellow F1 drivers responded to the Mercedes star's post — Charles Leclerc, George Russell and Alex Albon, who admitted that they had been unsure how to articulate their feelings on the subject.
West Indies cricketers are absolutely gutted over what has happened so far in the US. Former captain Darren Sammy urged the cricket fraternity to take note of the injustice against people of colour after Chris Gayle said he too was subjected to racist remarks in his career.
"Right now if the cricket world (is) not standing against the injustice against people of color after seeing that last video of that foot down the next of my brother you are also part of the problem," Sammy tweeted.
"ICC and all the other boards are you guys not seeing what's happening to ppl like me? Are you not gonna speak against the social injustice against my kind? This is not only about America. This happens everyday #BlackLivesMatter now is not the time to be silent. I wanna hear u.
"For too long black people have suffered. I'm all the way in St Lucia and I'm frustrated If you see me as a teammate then you see #GeorgeFloyd Can you be part of the change by showing your support. #BlackLivesMatter," he added.
Former pacer Ian Bishop tweeted: "The pain is real. People are crying out to be heard. They are hungry. They feel hopeless. They feel helpless. They feel neglected & subjugated. This is not the social contract that was agreed to decades ago. We need leaders who will help, heal, empathize & inspire at all levels."
Former boxing champion Floyd Mayweather has offered to pay for George Floyd's funeral and memorial services, and the family has accepted the offer.
Fifa has urged soccer competition organisers to apply "common sense" and consider not sanctioning players for solidarity with Floyd during matches. The recognition of the "depth of sentiment" over Floyd's death came in a rare statement by Fifa telling the global game to show flexibility and not enforce laws of soccer it helps to set.
England winger Jadon Sancho was booked while playing for Borussia Dortmund on Sunday for removing his jersey — a yellow-card offence — only so he could reveal a T-shirt with a "Justice for George Floyd" message.