Should Kohli be Captain Cool?
Not unless Virat Kohli wants to be unnatural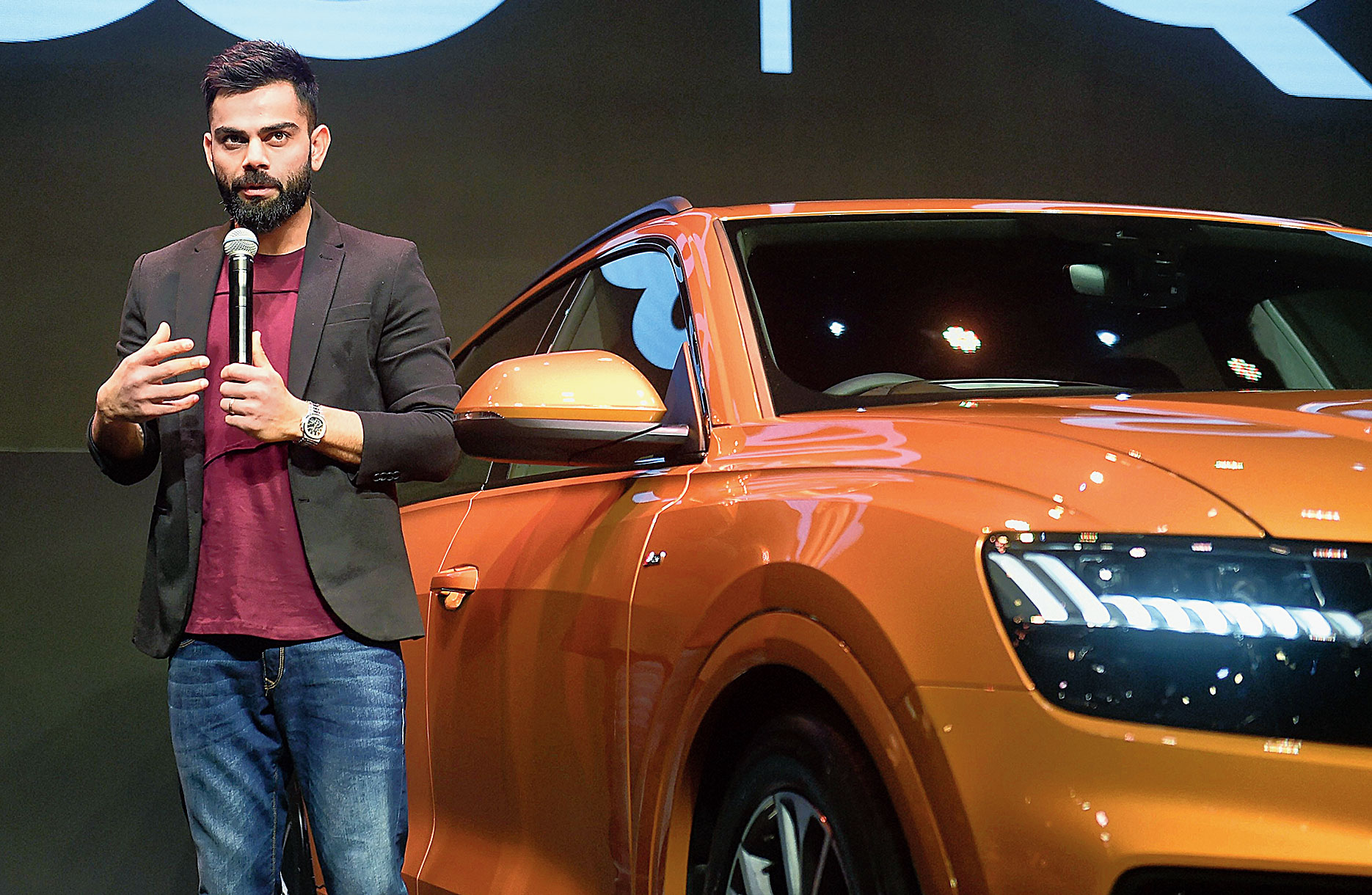 Virat Kohli during a promotional in Mumbai on Wednesday
(PTI)
---
Calcutta
|
Published 15.01.20, 09:33 PM
|
---
Virat Kohli is used to winning laurels, but one that has "surprised" him is the ICC's Spirit of Cricket Award, which, the India cricket captain said, he has got after "years of being under the scanner for the wrong things" — a reference to his past flare-ups.
Kohli won the award for his gesture at the 2019 World Cup in England when he egged on the crowd to support, and not boo, Australia's Steve Smith, who was making a comeback to international cricket after a one-year suspension for ball-tampering.
From once stopping short of calling his Australian rival a cheat to winning an award for urging the crowd to back him, it has been quite a turnaround for Kohli, who has himself often been accused of "over-aggression" on the field.
"I'm surprised that I have got it, after many years of being under the scanner for the wrong things," Kohli said in a statement issued by the ICC.
Since he burst on to the cricketing space, Kohli, besides his brilliance with the bat, has also developed a reputation for abrasive behaviour, a cricketer with a mercurial temper who is prone to losing his cool every now and then, especially when the going is rough.
He has been penalised for showing the middle finger to the Australian crowd who had heckled him in 2012; has picked fights with his own team-mates; told an Indian fan to "go live somewhere else" because he preferred English and Aussie cricketers; and more recently, sledged West Indies' Kesrick Williams by mimicking his "notebook" celebration.
South Africa pacer Kagiso Rabada, with whom Kohli had a run in during IPL 2019, says Kohli is open to aggression on the field but can't take it when an opponent decides to give it back to him.
"I was just thinking about the game plan, really, but Virat, he hit me for a boundary and then he had a word. And then when you give it back to him, he gets angry. I don't get the guy," Rabada had then said on his face-off with Kohli.
Though the India skipper has worked on his patience levels, he still does get flustered, as was evident during India's hapless outing at the Wankhede on Tuesday when David Warner and Aaron Finch took Jasprit Bumrah, Mohammed Shami et al to the cleaners.
Sports psychologists, however, said Kohli's display of anger on the cricket field reflects his own emotional style and engagement with the game that differs from one sportsperson to another.
They say emotional reactions strongly impact a sportsperson's ability to respond to challenges during matches and emotional venting of the kind that Kohli displays can sometimes even help players drive motivation for the game.
Sports psychologists call the intensity of emotions the activation level and every sportsperson has a different activation level.
"Some players like to be in a calm, relaxed state of mind before and during a match, others like to be more activated and aroused during a game," said Janki Rajapurkar Deole, a Mumbai-based sports psychologist.
"Virat Kohli likely falls in the latter category. Both styles have pros and cons," she told The Telegraph. "A player may find himself to lose his cool but that player may also be known to be aggressive on the ground which may be important. This comes to a player naturally — and for Virat Kohli to be anything else would be unnatural for him."
Experts also say his display of anger implies that Kohli experiences his emotions deeply.
"His intense expression of frustration may simply be a method he adopts to maintain his emotional equilibrium," said Sanskriti Chhabra, a sports psychologist in New Delhi. "Emotional venting of this nature often helps athletes fuel their motivation towards the sport."
But, Chhabra cautioned, high-intensity emotions also carry risks. When emotions build up to a point where they take control of sportspersons' ability to objectively and rationally take decisions, they could impact performance, she said.
Sportspersons who experience anger need to "quickly reset thoughts and ensuing emotions through disciplined practice of psychological skills," said Irina Brar, a sports psychologist and a certified mental performance consultant in Chandigarh.
Dwelling on anger midway through a match, Brar said, could be detrimental to the rest of the game, draining energy and focus.
"Sports psychologists can help sportspersons to learn psychological skills to press the reset button on negative thoughts and emotions when they need it most before things unravel on the field," she said.
However, Kohli is "undoubtedly an influencer," Chhabra said. "While the focus turns on the way that he vents on the field after losing a match, we must pay equal attention to the positive behaviours he displays."
Kohli's latest award is possibly a recognition of that.