'Real' home Test awaits Pakistan
Sri Lanka to play two Tests under heavy security, one in Rawalpindi and the second in Karachi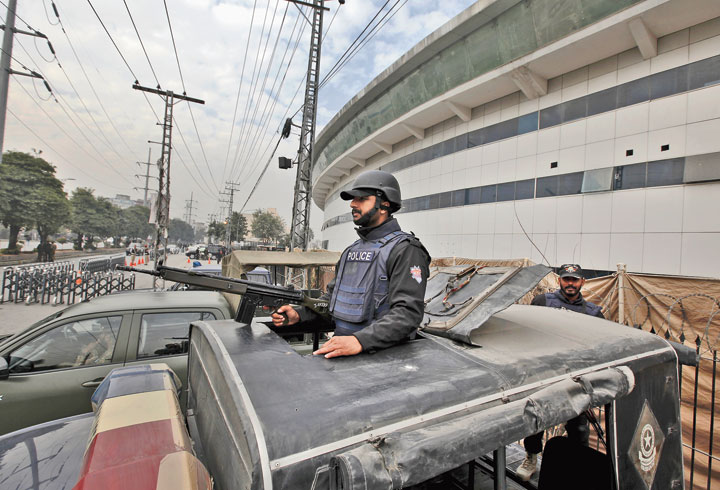 ---
---
Sri Lanka embarked on the first Test tour of Pakistan in 10 years on Monday following the deadly 2009 attack on their team that plunged Pakistan into sporting isolation.
"Touchdown Islamabad," tweeted the Pakistan Cricket Board, along with video of the players at the airport, while Pakistan Cricket Board chief executive Waseem Khan called their arrival a "historic occasion".
Sri Lanka will play two Tests under heavy security, one in Rawalpindi — where Pakistan's Army is headquartered — and the second in Karachi, ending a decade-long absence for cricket's longest format since the attack. Eight people were killed and several
players and officials were wounded when militants opened fire on a convoy of buses travelling to a Test in Lahore in March 2009.
"This is my first tour to Pakistan," said Sri Lanka skipper Dimuth Karunaratne, who opted out of the team's recent limited-overs tour of Pakistan. "After the 2009 incidents players were scared to tour Pakistan but in the last two years or so Sri Lanka and other teams have toured Pakistan. We want to play good cricket in Pakistan and hope they give us some good security."
The 2009 attack slammed the door shut on international sporting fixtures in cricket-loving Pakistan as foreign teams refused to visit over security fears.
Pakistan's cricket team has been forced to play its home matches on neutral ground in the United Arab Emirates, resulting in financial losses and hard times for Pakistani fans.
International cricket began making inroads back into the country when Zimbabwe became the first team to play in Pakistan in 2015, paving the wave for a smattering of Twenty20 matches ever since.
But Test matches have until now remained absent. The first Test starts in Rawalpindi on Wednesday and the second is in Karachi from December 19.
None of the players on Pakistan's current roster, including skipper Azhar Ali (75 Tests) and Asad Shafiq (71), have played a Test at home.
There is a lot more at stake than World Test Championship points for Pakistan when they host Sri Lanka in a two-match series.
Karunaratne said it was now time to bring Test cricket back to Pakistan. "After the 2009 incident, players were scared to travel to Pakistan," he said in a PCB podcast.
"But our Twenty20 and ODI teams have toured the country and they told us that security and other arrangements were really good. All our guys are ready to play. We are looking forward to a good series in Pakistan."
The series will be as much a test of Pakistan's organisational abilities as its cricketing skills. The PCB has promised watertight security for the tour and has invited Bandula Warnapura and Javed Miandad, captains in the first Test between the teams in 1982, for the series opener.
"December 11 will be a very special day in Pakistan cricket history and it is appropriate that it is celebrated with Bandula Warnapura and Javed Miandad on our side," PCB chairman Ehsan Mani said in a statement.
Pakistan will look to use the series as an opportunity to bounce back after being swept 2-0 in Australia, suffering innings defeats both in Brisbane and Adelaide.