Ready to meet big brothers
Yashasvi hope to meet Kohli and Dhoni during IPL and get some word of advice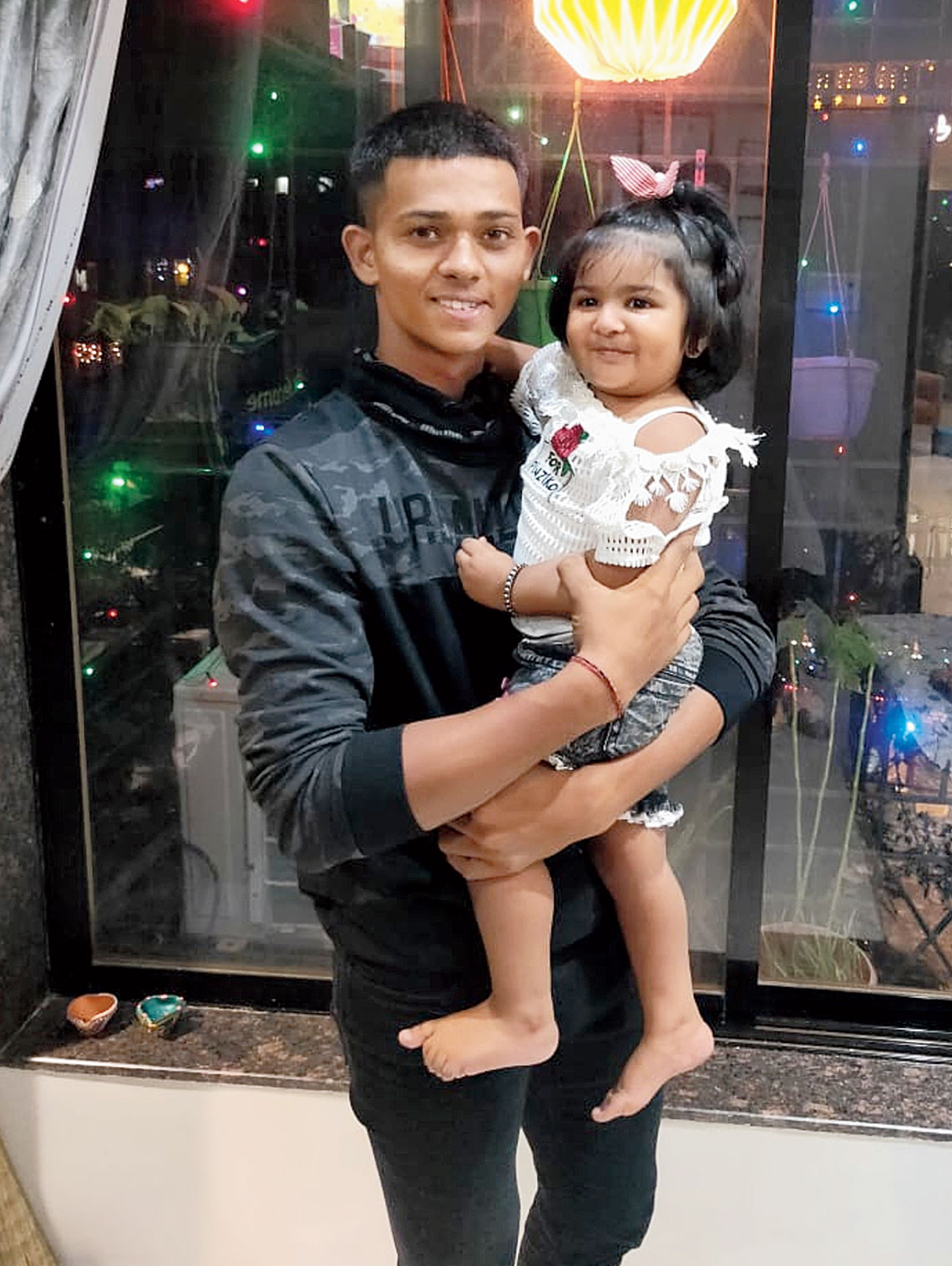 Yashasvi Jaiswal with coach Jwala Singh's daughter Kyra
Telegraph picture
---
Calcutta
|
Published 13.02.20, 08:35 PM
|
---
Under-19 cricket over, Yashasvi Jaiswal is ready to meet the men of world cricket. On top of his wish list are none other than Mahendra Singh Dhoni and Virat Kohli.
"I like Virat and Dhoni very much. I used to watch their matches, there was a time when I could readily tell where their cutouts were placed in Mumbai. Hopefully, I will meet them during the Indian Premier League (IPL) and I would like to get some advice from them. And of course, take pictures with them," Yashasvi, who was U-19 World Cup's player of the tournament, told The Telegraph from Mumbai on Thursday.
The talented all-rounder bagged a Rs 2.4 crore contract with the Rajasthan Royals during the IPL players' auction in December last year.
"I don't know whether I will get the opportunity to play in the IPL this year, but I will certainly get the chance to meet my favourite players and hopefully they will share some of their rich experiences. I believe that will help me to take the next step in international cricket," Yashasvi, who scored 400 runs in six matches at the U-19 World Cup, said.
Yashasvi met Sachin Tendulkar a few times before the U-19 World Cup. The legend's tips worked for him. "Sachin sir is my idol. I have watched almost 300 videos of his various innings. When I first met him, I couldn't talk for a few minutes… Then my coach, Jwala Singh, introduced me to him and told him that I was eager to get some tips. Afterwards, it gradually became easy for me to speak with him."
The youngster still remembers what Sachin advised him during their first meeting. "He asked me to play according to my strengths and not to think about the past. That every ball is a new challenge, that everyday you have to start from zero."
Paying heed to Sachin's advice, Yashasvi said: "The U-19 World Cup is past for me. Obviously, the experience will help me. But I have to start afresh. If I don't do better, nobody will remember what I did in the U-19 Cup. I have to work hard and I am ready for that."
Besides Sachin, meetings with Rahul Dravid have enriched Yashasvi. "Technically, Rahul sir told me a few things, I followed those and that has definitely improved my batting. But I want to do well as a bowler as well."
Asked about India's loss in the final, Yashasvi said: "I still think, had I scored a century in the final against Bangladesh, we could have won the tournament."
The Indian opener was out for 88, the top score among the Indians, but batted very slowly in the beginning. "The wicket was not easy to bat on. I just tried to stay at the wicket. My teammates and I tried our best to win the game. But then, maybe our opponents were better that day."
Yashasvi's only century of the Cup came against Pakistan in the semi-final. "We were excited about the game. But all that was before the match. When the game started, it was normal as usual. When we were batting, they tried to sledge us. But we didn't react. I know that if I have to play for India some day — which of course is my target — I have to face harder situations."
Yashasvi thanked his childhood coach Jwala for backing him. "For the last six-and-a-half years, I have been staying at sir's house in Santacruz. He takes care of everything. I don't know how to thank him. I try to score more and more runs, that I believe would be the best gift for him.
"I don't get time to go to my home in Bhadohi, Uttar Pradesh, so my parents come to Mumbai and stay with me. Jwala sir arranges everything."
Yashasvi's father Bhupendra runs a small paint shop.
Jwala can still remember the day when he first met Yashasvi. "I met him at Azad Maidan and told him to come with me and stay with us. I had heard about his struggles in life, I didn't think twice before taking up the challenge," Jwala said. "For me and my wife Vandana, he is a member of our family."
And what does Yashasvi do when he's not playing cricket? He likes music and watches movies, but that is not his favourite time pass.
"I love to play with Kyra, Jwala sir's two-and-a-half-year-old daughter. You can call that my stress buster," Yashasvi revealed.
Standing at the doorstep of the "big" world, the boy it seems has kept the child in him alive.