Rafael Nadal: Lesson in how to ace the odds
In the Australian Open final, the Spaniard showed just why those who create history are destined to do so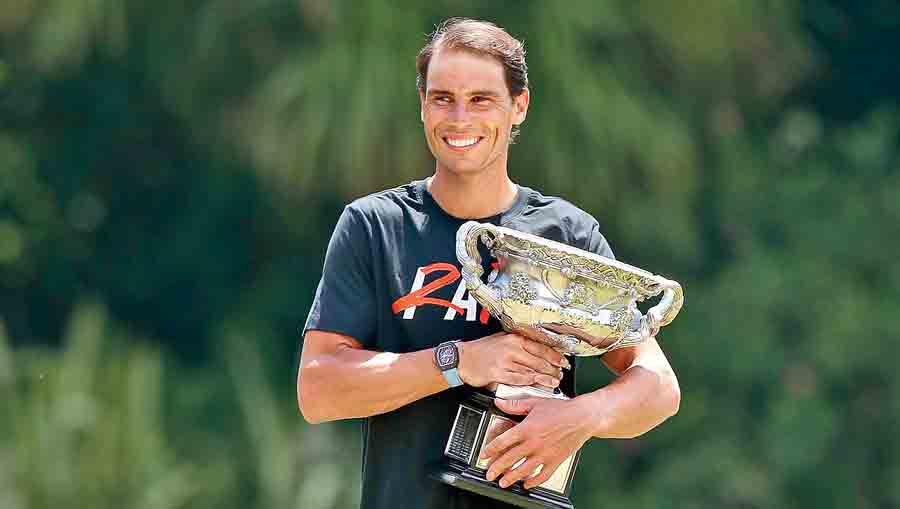 Rafael Nadal with the Australian Open trophy a day after winning his 21st grand slam, in Melbourne on Monday.
Getty Images
---
Published 01.02.22, 01:36 AM
|
---
New Year's Eve was a good one for Rafael Nadal fans because the 35-year-old Spaniard, despite several uncertainties, had reached Melbourne Park. "Don't tell anyone…," he said, but did anyone think that in less than a month, this injury-ravaged champion was going to be the first man to win 21 grand slams?
That's just what he did sometime after 1am Melbourne time, after a five-hour-24-minute epic battle with Russian Daniil Medvedev, 10 years his junior.
The world No.5 Spaniard started Sunday's final as the underdog. World No.2 Medvedev is not just younger, but also has a strong game and had already put the brakes on Novak Djokovic's 'No.21' run last year. So, why not again?
But Nadal showed just why those who create history are destined to do so.
Medvedev, all young and fresh legs, took the first set in 42 minutes. Nadal was pushed, Medvedev made him sweat, literally, and ran him all over the court, matching stroke for stroke. After three games, the Spaniard requested for sawdust, something Ivan Lendl used to help dry the moist racket grip.
In any Nadal game, the longer the rallies, greater the chances he'll come out on top. Not so with Medvedev. One rally in the second set had 40 shots. Was it sustainable, the commentators wondered, for a knee-and-foot injury-riddled body? Going on to win the match in a five-setter isn't new to Nadal. But less than two months ago, he had self-doubts if he would ever play again because of his chronic foot injury. Could he crank up the gears yet again?
A social media post doing the rounds on Monday said that the tournament's AI had given Medvedev a 96 per cent chance of winning in the third set when he was 3-2 and 40-love up on Nadal's serve. What AI and rational analysts didn't factor in were the intangibles that often come to play when champions decide to up their game.
And this is precisely what happened. Nadal recognised Medvedev's lack of skill in the front part of the court. At 0-40, Nadal feathered a drop shot. At 15-40, Medvedev failed to take advantage of a short ball. At 30-40, Nadal dashed in to cover a Medvedev drop shot, the Russian only managing to swing a volley into the net.
Nadal had identified a key flaw in Medvedev's game. Seeing Medvedev's limited skill up front, Nadal eventually seized control of the court. Medvedev was rattled, complaining to the umpire, John Blom, about shouts from the crowd in between his first and second serves.
By the fourth set, defying all logic, Nadal had the momentum on his side; his younger opponent looked tired. And though he failed to take the match from 5-4, 30-0, he quickly corrected himself. With a 6-5 break and up 40-0, he converted the first championship point by rushing forward to put away the volley.
Grand slam title No. 21 in his 29th grand slam final.
Of course, Novak Djokovic wasn't there in Melbourne this time. The world No.1 Serb had defeated Nadal in the semis of last year's French Open, a tournament the Spaniard has won a record 13 times.
The next major starts on May 22 — Djokovic's birthday — at Roland Garros. Would Nadal be able to take it to No.22, a couple of days after his 36th birthday or will Djokovic join him? Or will both bite the dust to one from the new brigade, who still have a few months to imbibe such tenacity to come from behind every single time and take the coveted crown?
Then there will be Wimbledon. Will the world see the return of a refreshed Roger Federer? Will Nadal's aging legs carry him high and far on the grass courts as well?
Questions, and more questions. Nadal knows the race is far from finished.