Phone call Shahbaz Nadeem will never forget in his life
Shahbaz Nadeem joined Virat Kohli as cover for Kuldeep Yadav for the third and final Test against South Africa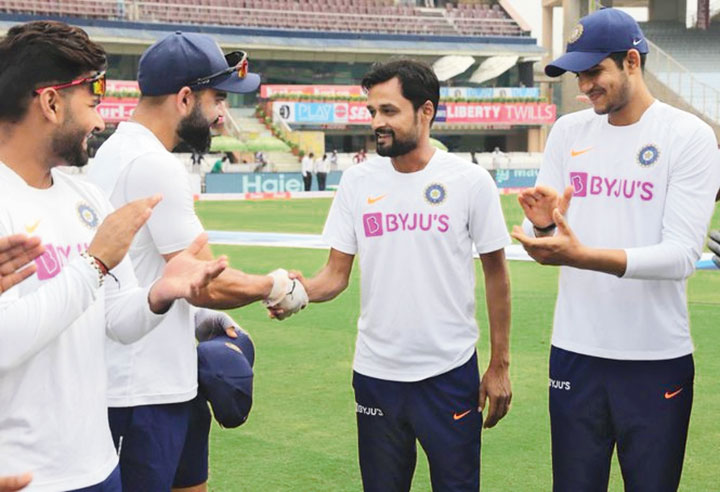 Shahbaz Nadeem gets the Test cap from India captain Virat Kohli as Shubman Gill and Rishabh Pant clap in Ranchi on Saturday
Picture courtesy: ICC
---
Ranchi
|
Published 19.10.19, 08:00 PM
|
---
Shahbaz Nadeem was preparing himself for another successful domestic season on Friday. But a call in the evening filled his heart with joy.
"I got a call from a liaison officer (of the BCCI) and was asked to report to the India squad," an excited Nadeem, with 424 first-class wickets so far, had told The Telegraph before boarding a Ranchi-bound flight late on Friday evening from Calcutta — his current place of residence.
And less than 24 hours after he joined Virat Kohli and Co. as cover for Kuldeep Yadav for this third and final Test against South Africa, he was handed an international debut at the JSCA International Stadium. It's the same venue where he has taken plenty of wickets as a Jharkhand left-arm spinner especially in the Ranji Trophy.
The last few hours till he received his India cap has certainly been eventful for Nadeem, but his tireless and relentless service for Jharkhand shouldn't let his focus deviate from the job ahead.
"See, my target is to cement my place in the squad now that I have been selected. I need to create a place for myself, and that will happen if I keep performing in every game I play," the 30-year-old, who's the third ever to represent India from Jharkhand after Mahendra Singh Dhoni and Varun Aaron, had said on Friday.
Nadeem knows it well that he has to fight for a place in the India XI especially against Ravindra Jadeja and Kuldeep Yadav — the other left-arm spinners. But he doesn't seem to be affected by it.
"I see it as a healthy competition. Finding myself among quality spinners gives me an opportunity to learn more and more stuff. In fact, I see it as an ideal opportunity for me to develop myself further.
"As a player, I want to grow, so it's important that I learn new things. Being among international players, particularly someone like Virat (Kohli), you can get to know how they approach each and every game and different situations," Nadeem, who has played for Town Club for a couple of years and also led the club, emphasised.
Nadeem keeps Daniel Vettori in mind, as he is a keen follower of the former New Zealand bowling all-rounder. "Vettori is my idol. His flight variation is something I focus on," he said.
His Jharkhand teammate Aaron, who has also played Test cricket, feels this was the right time for Nadeem to get an India call-up. "Nadeem has been getting it all right for the past three-four years. He is at a point of his career where he is comfortable with his game, so it's a perfect time for him," Aaron said from Chennai.
According to former India wicketkeeper-batsman Deep Dasgupta, Nadeem should do well with the ball in this ongoing Test as he has a fair idea of the pitch here.
"Nadeem should be able to pick up wickets as he has taken quite a lot in domestic cricket bowling at this stadium. And they have all been decent players of spin," Dasgupta, here for commentary, said.
Dasgupta also pointed out Nadeem's inclination to concentrate on flight and getting good drift has been highly instrumental in his progress.
"He was my roommate during the Deodhar Trophy in Rajkot. I think it was in 2004-05 – his debut season. He used to try and bowl fast then… More of the Utpal Chatterjee mould… But now he is a vastly different bowler, focusing a lot more on flight and he has got good drift as well," Dasgupta explained.