Pep Guardiola eyes national job after 2023 exit from Manchester City
He has won three league titles with City and as many with previous clubs Bayern Munich and Barcelona as manager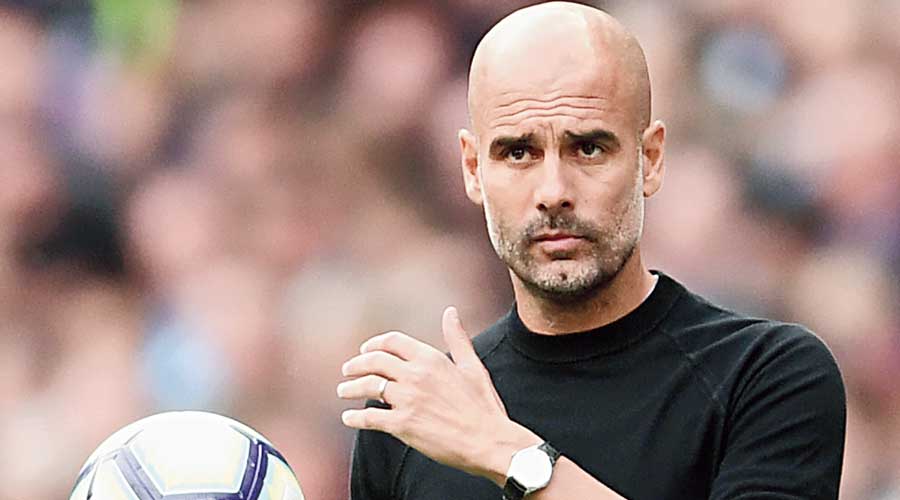 ---
Published 27.08.21, 02:43 AM
|
---
Pep Guardiola has said for the first time that he plans to leave Manchester City when his contract expires in 2023 and that his next job will be as the head coach of a national team.
In an interview to ESPN Brazil, the 50-year-old that he intended to take a break from management when his contract with City ends after the 2022-2023 season, which will be his seventh at the club.
Guardiola then plans to seek a job in international management, which is sure to be a welcome development for any national federation looking to appoint a top-class coach. "A national team will be the next step, yes. It's the next step," Guardiola said. "After seven years on this team, I think I will have a break. I'll have to stop for a while, see what we've done, and review."
"If, during this process of stopping, there is a chance to coach a national team then I think I'd like that. I'd like to coach at a European Championship or Copa America or World Cup. I'd like to experience that."
Guardiola has won three league titles with City and as many with previous clubs Bayern Munich and Barcelona as manager. But the Champions League trophy has eluded him at City after he lifted two at Barca, with whom he spent four years in charge at the start of his managerial career – the longest before his City stint.
The Brazilian media have long speculated that Guardiola is destined to coach their national team. Last summer, his brother Pere opened a new branch of his agency, Media Base Sports, which represents the City manager, in São Paulo. Two members of Guardiola's City squad, Ederson and Gabriel Jesus, are in the present Brazil squad, who are managed by Tite. Guardiola has not ruled out managing a national team in Europe either, however.
"I would like to coach a [national] team, South American, European . . . To play a Copa America, I want to have this experience," he said.
When asked directly if coaching Brazil was a possibility, Guardiola told his Brazilian interviewer: "I believe that the coach of the Brazilian team will always be Brazilian, I don't see a foreigner in teams like Brazil.
"If you compare this Brazil with the team of Pelé, with the 1994 champions, the current one will always lose. But if you ask me what I think of Tite's selection? Fantastic. Some are my players, others rivals, but it's fantastic.
"Compared to the past, teams from the past always win because they don't play any more. But Brazil is always the favourite, in Copa America, in the World Cup. It always was and always will be.."
Guardiola's next break will be the second time that he has taken a sabbatical from the game. In 2012, at the end of his time in charge of Barcelona, the Catalan took a one-year sabbatical, which he spent with his family in New York, before he became the Bayern Munich manager.
During his time in the United States he attended economics classes at Columbia University and became friends with Garry Kasparov, the Russian chess world champion.
Guardiola had said before  that international management intrigues him. In 2018, he admitted he would look to take a job in international football one day because of the stresses and strains that come with managing a domestic team.