Neeraj Chopra allays injury fears
The 24-year-old slipped after his third attempt in Kuortane on Saturday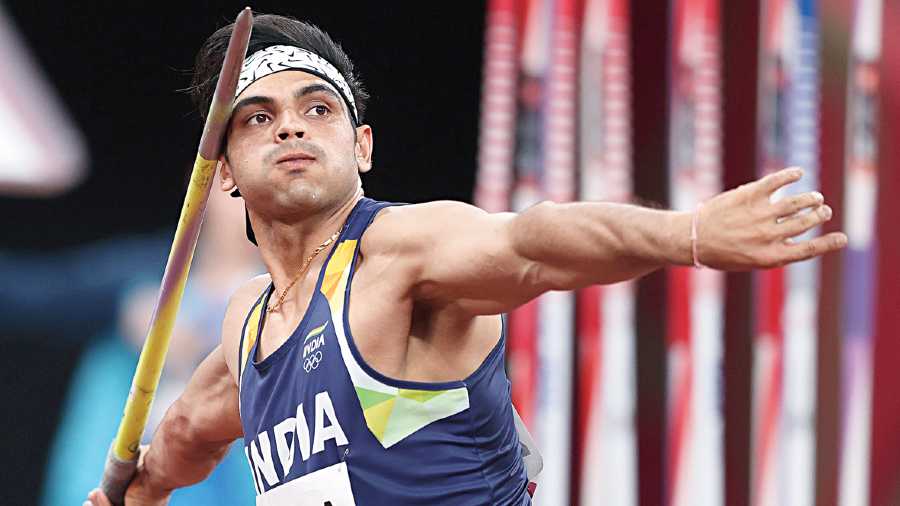 ---
Published 20.06.22, 02:45 AM
|
---
Allaying fears of any injury during the Kuortane Games in Finland, where he claimed his first win of the year, Tokyo Olympic Games javelin champion Neeraj Chopra said he is looking forward to starting his Diamond League season in Stockholm on June 30.
The 24-year-old Neeraj slipped after his third attempt in Kuortane on Saturday. The conditions were treacherous for a javelin throw competition with a wet and slippery run-up due to rain. He lost his balance after releasing the spear in his third attempt and had a nasty fall with his left shoulder hitting the turf.
Neeraj won the competition with his opening throw — his lone legal attempt — of 86.69m.
He took only three attempts, just like second and third-place finishers — Trinidad and Tobago's 2012 Olympics champion Keshorn Walcott (86.64m) and reigning world champion Anderson Peters (84.75m) of Grenada.
"Tough conditions with the weather, but happy to get my first win of the season here at Kuortane," Neeraj wrote in an Instagram post.
"I am feeling good and looking forward to starting my Diamond League season at @bauhausgalan (Stockholm Diamond League) on the 30th."
His throw was not as big as the 89.30m effort while finishing second in the Paavo Nurmi Games in Turku, Finland, in a starstudded field on June 14 but the win will surely boost his confidence ahead of the Stockholm Diamond League.
Athletics Federation of India (AFI) also said that "all is well" with Neeraj.
"News from Kuortane: All well with @Neeraj_chopra1 after that bad slip on his third attempt. Nothing to worry. Well done #NeerajChopra, congrats for one more top class performance," the AFI tweeted.
At the Paavo Nurmi Games last week he broke his own national record with the 89.30m throw.
That was his first competition since winning gold in Tokyo in August 2021, becoming the first Indian track and field athlete to do so.
Finland's Oliver Helander, who won the javelin throw competition in Turku with an effort of 89.83m, did not turn up at the Kuortane Games though his name was entered.
Reigning Asian and world para javelin champion Sandeep Chaudhary, who was also training at the Kuortane Olympic Training Centre along with Neeraj, also took part in the competition and finished eighth with a best throw of 60.35m. 
Peters is leading the charts this season with his monster throw of 93.07m while winning gold in the Doha Diamond League last month.
Neeraj's 89.30m effort in Turku stands at fifth best of the season.
However, the 90m mark continues to elude the ace athlete though he closely missed it during his spectacular return to action in Turku.  The 24-year-old Indian superstar's spear had landed 70cm short of the 90m mark, the gold standard of the javelin world.
The Kuortane Games, where he won gold on Saturday, is a silver-level event in the World Athletics Continental Tour.
Neeraj is currently based at the Kuortane Olympic Training Centre, around 300km from Turku, ahead of the all-important World Championships (July 15-24) in Eugene in the US. He is expected to shift base to Sweden on Tuesday or Wednesday.
(Written with inputs from PTI)