Most contentious moments in the history of tennis
Naomi Osaka pulling out of French Open earlier this week came as a shocker for the sports fraternity. Highlighting other controversies related to the game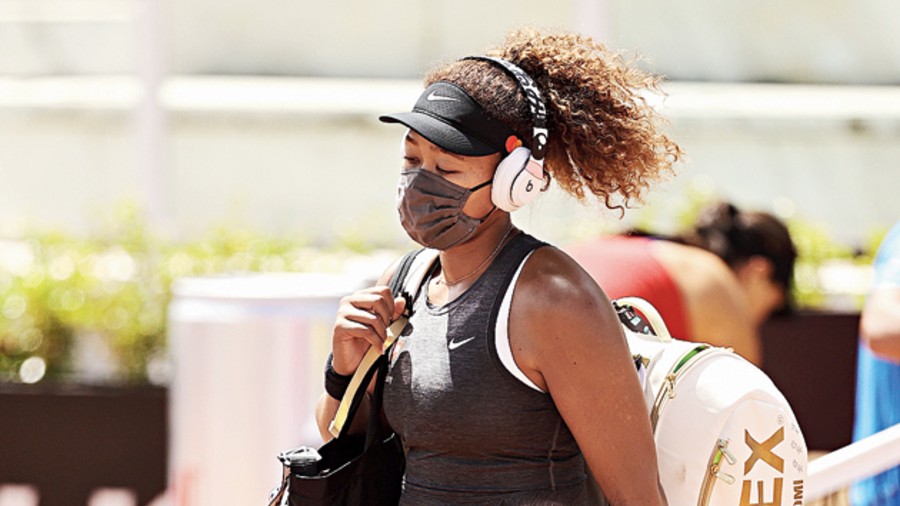 ---
Published 04.06.21, 12:30 AM
|
---
OSAKA PREFERS SILENCE, THEN QUITS
Even before the dust could settle on the opening round of fixtures on Parisian clay, the 2021 edition of the French Open was rocked by its first dose of controversy. Naomi Osaka, 23, and already a four-time Grand Slam champion, withdrew from the competition after winning her first match against Patricia Maria Tig.
Osaka had announced prior to this year's Roland Garros that she would not be speaking to the media or participating in the traditional post-match press conferences, as such interactions gave her "huge waves of anxiety". Both Osaka and her sister had hinted at the fact that persistent questioning around Osaka's struggles on clay had unnerved her recently, exacerbating her psychological woes when confronting journalists. Osaka had also acknowledged that skipping press duties could result in her getting fined, which is precisely what happened when the French Tennis Federation reprimanded her with a USD 15,000 penalty a day before her withdrawal.
Citing that she does not want to be a distraction to the tournament in any way, Osaka quit this year's clay court showpiece event with the hope that "everyone can get back to focusing on the tennis going on in Paris."
Osaka's decision has received strong support from her peers like Coco Gauff as well as tennis legends like Martina Navratilova.
DJOKOVIC'S DISASTROUS ADRIA TOUR In the middle of the first wave of the coronavirus pandemic last year, with all official tennis brought to a halt, Novak Djokovic thought it would be a good idea to band together a few of his fellow professionals and organise an Adria Tour across Serbia's Belgrade and the Croatian city of Zadar. With no regard for social distancing, the tone deaf tour saw players competing and partying as if they were oblivious to the pandemic. Djokovic finally returned to his senses and called off the jamboree once he and three other players had tested positive for the virus. The Serb subsequently delivered an apology while simultaneously accusing his critics of a witch-hunt, which only amplified the peculiarity of the whole situation.
McENROE STRIKES ROYALTY Arguably the most polarising individual to ever wield a tennis racket, John McEnroe was never one for politeness on court. During the 1984 Stockholm finals, McEnroe, enraged as usual, opted to attack a table stacked with refreshments to vent out his anger. In a baffling turn of events, McEnroe hit the table so hard that some items flew off it and struck Carl XVI Gustaf, the king of Sweden, in the audience. Thankfully for McEnroe, the king did not take the matter seriously, acknowledging the accidental nature of the strike and helping McEnroe get away with the fiasco.
WHEN LAVER SPIKED THINGS UP The 1969 US Open final witnessed Rod Laver triumph over Tony Roche to become the first (and still the only) man to win all four Slams twice. But Laver's victory may not have been possible were it not for referee Mike Gibson's permission to let Laver wear spikes. Back in the day, spikes were not common on the tennis court and Roche had none to fall back on during the final. But as the conditions got wet, both players, and especially Laver, began to lose their footing. At this juncture, Gibson allowed Laver to switch over to spikes, perhaps blissfully unaware of handing the favourite a distinct advantage. As it turned out, with the spikes on, Laver regained his balance and made the result a mere formality.
THE STABBING OF MONICA SELES The early 1990s saw a riveting rivalry take shape between Monica Seles and Steffi Graf at the summit of women's tennis. In April 1993, with Seles on her way to wrapping up a quarter-final match against Magdalena Maleeva in Hamburg, an unemployed German and massive Graf fan, Gunter Parche, did something hitherto unprecedented in sport. As Seles sat on the bench catching a breather, Parche walked down the aisle and inserted a nine-inch knife right into Seles's back. While Seles collapsed on the floor, Parche was restrained by security officials. The wounds kept Seles out of action for months, and when she returned, she was no longer the same. Trauma took precedence over talents as she faded away, clearing the way for Graf to become the most decorated player of her generation.
AN ODD HUMILIATION FOR NADAL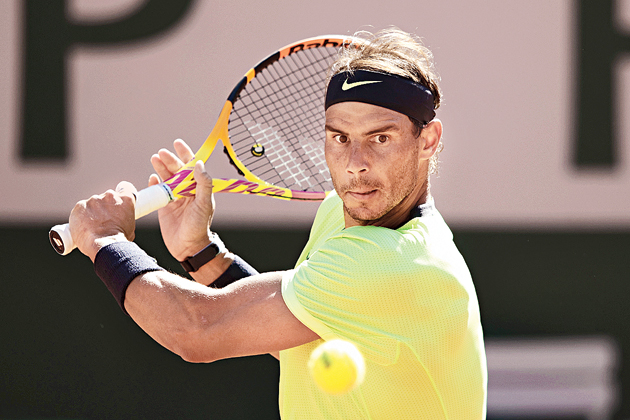 In February 2015, Rafael Nadal was midway through his match against Pablo Cuevas in Rio de Janeiro when he realised that he had worn his shorts the wrong way around. The Spaniard went up to chair umpire Carlos Bernardes asking for his approval to retire briefly to the changing rooms and have his shorts fixed. Bernardes, in what may be mildly put as an odd response, warned Nadal that going off court would lead to a time warning being issued against him, and that if Nadal really needed to sort out his shorts, he should do it on court (in public view!) so as not to waste time. A confounded Nadal reacted to Bernardes's approach by announcing that he would never play another match in which Bernardes was officiating.
SHARAPOVA'S DOPING SCANDAL In March 2016, Maria Sharapova caused a storm of speculation as she announced that she had tested positive for the use of meldonium, a banned substance for tennis athletes. In spite of Sharapova's defence that she had consumed the substance for medical reasons, the Russian superstar was handed a 24-month-ban, which was later reduced by nine months following an appeal. Matters were compounded by the fact that Sharapova had admitted to using meldonium for a decade, which led some quarters of the tennis community to consider most of her five Grand Slam crowns as illegitimate. The revelation, as expected, affected Sharapova's credibility among her contemporaries, but it also temporarily tarnished her standing as the most marketable female athlete on the planet.
SERENA LOSES HER COOL The 2018 US Open final may have been won by Naomi Osaka, but it was her opponent Serena Williams who grabbed all the headlines in the ugly aftermath of a one-sided face-off. After umpire Carlos Ramos warned Williams that she and her coach Patrick Mouratoglou were using hand signals to communicate tactics during the second set, the American burst out in rage, firing off a set of expletives at Ramos, before smashing her racket in disgust. The incident assumed greater severity when Williams demanded an apology from Ramos post-match, alleging the umpire of carrying a bias against her.
Pictures: Getty Images