Michael Holding runs in, crowd cries 'Knock his head off'
The West Indies innings folded up on the fourth day — April 25, 1976 — for 391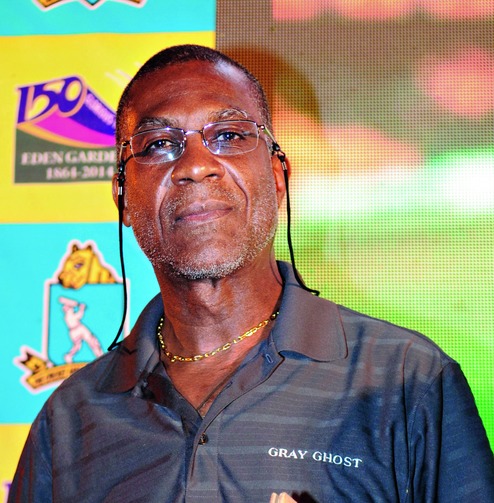 Michael Holding
Telegraph picture
---
Published 24.04.20, 07:59 PM
|
---
On April 25, 1976, West Indies beat India by 10 wickets in the fourth and final Test at Sabina Park in Kingston, Jamaica, in a match that has gone down in history as one of the bloodiest ever
Kill him, Maan", "Hit him, Maan", "Knock his head off Mike"... Thus shrieked the crowd at Sabina Park 44 years ago as Clive Lloyd unleashed his fast bowling armada on the Indian batsmen, who had levelled the series 1-1 a few days ago after a thrilling chase in the third Test at Port-of-Spain.
For Lloyd, it was a make-or-break game. His team had been routed Down Under 1-5 by Australia and the knives were out for the Super Cat.
Lloyd found his answer in pace for the match to be played on a recently re-laid pitch, which offered unpredictable bounce to the fast bowlers. He went in with a four-pronged pace attack — Michael Holding, debutant Wayne Daniel, the left-arm pacer Bernard Julien and Vanburn Holder. Holding and Daniel were in the super-fast category; Julien and Holder slightly slower but equally vicious on such a track.
Former India opener Anshuman Gaekwad recalls: "Right from the start, the West Indies' strategy was clear as there was no mid-off or mid-wicket. Everyone was standing in line of the off-stump or behind the wicket. They wanted to bowl only short-pitched stuff and nothing up. The wicket also suited their style — it was hard and bouncy. There were cracks large enough for a coin to have vanished in them!"
The real intimidation began after lunch on the first day with India's openers still at the crease. Holding switched to bowling round the wicket and hurled three bouncers at Gaekwad. In the next over, it was Gavaskar's turn to face three bouncers, and a beamer aimed at his forehead.
"Once Wayne Daniel bowled a beamer and Sunny was furious. Daniel said it just slipped out of his hand. Sunny walked up to umpire Douglas Sang Hue, a Jamaican of Chinese descent, and complained. The umpire just laughed it off. Sunny lost his cool and threw his bat and cap. Sunny's logic was simple —'I don't want to get killed. I want to go home and see my son,' he said. Rohan had just been born then," Gaekwad reminisced.
After Gavaskar fell for 66, Gaekwad was joined by Mohinder Amarnath and the two remained unbeaten at stumps. "At the end of the first day, I had swollen and fractured ribs, the effect of being hit several times. But I stayed put ," recalls Gaekwad.
The next day Holding was spitting fire again. Amarnath was out to a nasty rising delivery from Holding, and Gundappa Viswanath, among the finest players of fast-bowling, got a ferocious delivery aimed at his face which he deflected to Julien as the ball crushed his hands and broke his right middle finger.
Then it was Gaekwad's turn. "It was the last over before lunch. It was possibly the third delivery of the over and as I left it, the ball moved a little and hit me on the rib cage. The next one was short and I just about defended off the bat and gloves. But the blow had started to hurt me and I could barely hold my bat. I removed my gloves and saw I had cut my middle finger.
"The next delivery was at rocket pace. I just didn't see it. It hit my left ear and the spectacles went flying. Everything went numb and I could only hear a humming sound. I was bleeding profusely but managed to walk off the field," said Gaekwad, who batted for seven-and-a-half hours for his gutsy 81.
"I was taken to hospital, where, as I was being attended to, I heard someone whisper, 'Maan another one has come'. I saw Brijesh Patel being carried in after being hit by Vanburn Holder.
"The injury had damaged my eardrum and I needed two surgeries. A bit of problem with hearing still persists."
At 306/6, effectively eight wickets down, skipper Bishan Bedi declared since he didn't want to expose himself and Bhagwat Chandrasekhar — the two spin giants — to the pace assault and risk injury.
The West Indies innings folded up on the fourth day — April 25, 1976 — for 391.
India, in their second innings, reached 97 for 5 — 12 ahead. They didn't declare, there was no batsman left fit to bat. West Indies won the match by 10 wickets and the series 2-1.
Gavaskar, in his autobiography Sunny Days, first published in December 1976, did not mince words when describing the match.
"To call the crowd a crowd in Kingston is a misnomer," he wrote in a chapter titled Barbarism in Kingston. "It should be called a mob… The way they shrieked and howled every time Holding bowled was positively horrible. They encouraged him with shouts of 'Kill him, Maan', 'Hit him, Maan', 'Knock his head off Mike'… The whole thing was just not cricket."