Messi reaches the promised land
After 16 years and five finals with Argentina, Lionel finally has an international trophy to his name. Here's what it means to his fan who has been through it all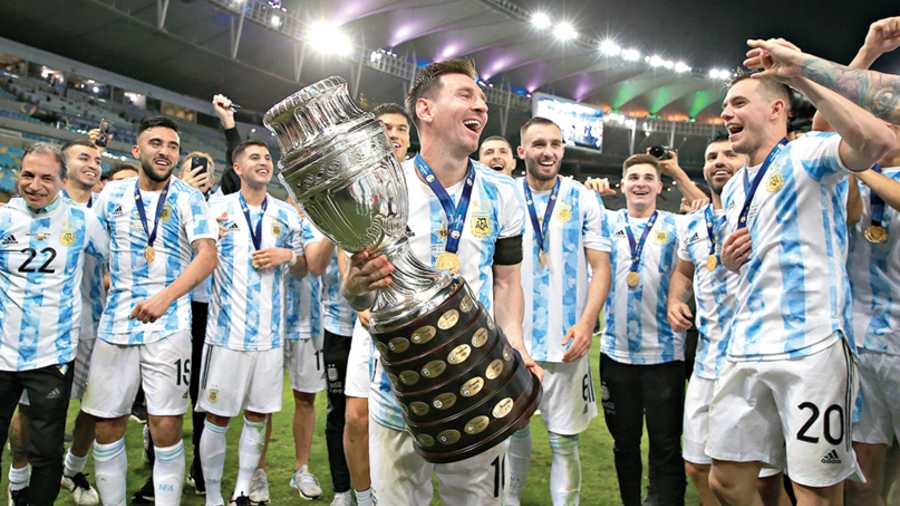 ---
Published 13.07.21, 10:21 PM
|
---
As the final whistle blew at Rio's Maracanã stadium, Leo Messi was on his knees. Holding his head in his hands, he could not hold back the tears — of joy, of relief, of his destiny. His Sisyphean curse was over, for this time the boulder did not roll back down. Rather, it rolled all the way into the promised land, taking Messi with it. As the entire Argentine eleven collapsed upon their captain at full-time, football felt complete. An ugly final had culminated in a beautiful climax. Messi, so often doomed to playing tragic hero for his country, had ultimately emerged victorious. It was meant to be after all. Messi was meant to win after all.
PREPARING FOR PAIN
Over the years, preparing to watch Argentina play a major final has been akin to preparing for pain. The final of the 2021 Copa America, a tournament that so nearly became a casualty of Covid-19, was no different. Waking up at 20 minutes past five on Sunday morning (exactly five minutes before kick-off) with slightly less than two hours of sleep under my belt, I started watching Argentina versus Brazil with zero expectations. I was mentally equipped to see Argentina stumble at the last hurdle once more, to repeat a nightmare whose ending seems all too familiar.
The gnawing sense of doom had already been creeping in during the first few minutes of intense Brazilian pressing, as Argentina appeared undercooked, unsure, and unnerved. A part of my head waited for the Argentine net to bulge, for the few thousand Brazilian fans in attendance to inaugurate their much anticipated carnival. Instead, it was the other net that was grazed by the ball, the other (even smaller) set of fans who went berserk. On 21 minutes, the always enterprising Rodrigo De Paul released the always enigmatic Angel Di Maria. Brazil's Renan Lodi swiped at clean air and Di Maria, in on goal, floated the ball above the onrushing Ederson with the nonchalance of a child letting a balloon take flight. Argentina were ahead, my head was spinning.
THE PERFECT PRIZE
I did not jump out of my lucky chair to celebrate Di Maria's strike, I merely shuffled. I promptly imagined Brazil getting an instant equaliser and romping home to a comfortable win. It was instinct to think so, the years of trauma conjuring worst case scenarios on auto-pilot. But there was no immediate Brazilian response, the match merely ticked along, coming apart every 10 minutes and threatening to degenerate into a quintessential South American street fight.
With every passing minute, I wondered: What if the scoreline actually held? What if this year was different? As the seconds were eaten up by Argentina's street smart football and Brazil's wayward finishing, I started growing in confidence, the dark memories of the past receding gradually.
And then, it happened. The referee blew his whistle a few seconds too soon, and the cameras cut to Messi. My eyes began to water and my hands began to tremble. Seeing Messi at his happiest was liberating, almost therapeutic. It was a sight I had not been prepared for, and its sudden manifestation caused an instant flashback of all the misery and madness of finals gone by, of defeats swallowed. It was, as if, I was trying to remind myself how much this moment mattered, how much I had endured to witness Messi lift the perfect prize.
A SUBLIME STORY
It is one of those quirks of fate that Messi should win the first international trophy of his career exactly five years after Cristiano Ronaldo had claimed his (the common date of both victories even has both their kit numbers, 10 and 7!). Adding to the irony is Messi's contract situation at Barcelona, which, though likely to be resolved soon, left him as a free agent heading into the Copa final. For once, Messi belonged exclusively to Argentina, quite literally.
Watching Messi in an Argentine shirt has been a cycle of despair for so long that the entire trophy presentation had to conclude before I could actually internalise and accept the novel result. Thereafter, the satisfaction that slowly settled into my veins felt sweeter than anything I have felt as a fan. No more disqualifications from GOAT debates on account of winning nothing with his national team, one more Ballon d'Or, no more interviews with the same questions about Messi's complicated relationship with his homeland, one more Ballon d'Or, no more highlight reels of near misses, one more Ballon d'Or (yes, Messi's seventh, two clear of a certain Portuguese).
But beyond the hypothetical places on all-time lists and the tangible golden balls, my satisfaction grew at the thought of a man completing his quest, a man successfully chasing down something that seemed eternally elusive.
For those of us that chase lost causes — be it a spurned love, an impossible job, or ideals like meaning and fulfilment— Messi's triumph is a message of hope. A message that tells us that no matter the dead ends we meet, we must keep on running, keep on questing. We may lose repeatedly, but one fine day, the stars will align. One fine day, we will look up at the sky and realise we have been blessed, we have prevailed.
This, after all, is the beauty of sport, the beauty of a sublime story. A story that has made me gutted, confused, tired, and hopeless, before eventually giving me a taste of the elixir of ecstasy. A story that has proven to me that true greatness lies not in winning, but in trying, in believing that every time we are lost, we are simply one step closer to finding our way.
THE LONG ROAD TO REDEMPTION
The Telegraph revisits the ghosts Messi and Co. had to exorcise en route to Argentina's first major title since 1993:
An Utter Humiliation
July 15, 2007: The Venezuelan city of Maracaibo played host to one of the most one-sided Copa America finals in history, as Brazil ran riot against a dysfunctional Argentina to win 3-0. A 20-year-old Messi failed to make an impact and Argentina emerged from the final chastened and humiliated.
Gotze's Dagger
July 14, 2014: The Maracana was the venue for the 2014 World Cup final, which pitted Germany's lean, mean, winning machine against a resolute Argentina side. Messi wasted a glorious chance in the second half when his otherwise unmistakable left foot fired wide after being left one-on-one with Manuel Neuer. In extra time, the miss proved extra costly, as German substitute Mario Gotze popped up with an exquisite match winner to pierce Argentine hearts.
A Chile-ing Outcome
July 5, 2015: Messi was the only Argentine to convert his spot kick as Chile sailed through 4-1 on penalties after a drab Copa America final produced no goals in Santiago. Alexis Sanchez cheekily rolled home the final penalty for Chile in the form of a nerveless Panenka, as a much-fancied Argentina unit endured their usual cruel fate.
Messi Blazes Over
June 27, 2016: Argentina met Chile in the Copa finale for the second year running, and once again, the game went to penalties. Stepping up first for Argentina in New Jersey, Messi smashed his penalty into the stands. Argentina never recovered from the shock of their skipper's miss, as Chile clinched another title in style. Following the final, Messi announced his retirement from international football, a decision he would reverse later in the year.