Nobody I know has seen the God above. But many I know have seen the God below, the one wearing a blue-and-white shirt with the number 10 and gliding past mere mortals on a football pitch. The one whom I could never witness in real time, and yet, whose stories from those lucky enough to have watched him play, have consumed my footballing fandom with an indefinable appeal — his name pronounced as if it were an incantation, a homage to the almighty.
On November 25, Diego Armando Maradona died of a heart attack, aged 60. The footballing universe became godless, bereft of the one who had transcended all earthly boundaries, defying defenders, despair, maybe even destiny itself.
DIGGING UP DELIRIUM
When Maradona had announced his retirement on the eve of his birthday in October 1997, I was not yet born. Growing up, I would often be regaled with the most surreal accounts about a player whose feet seemed glued to the ball, whose single shoulder feint could flail an army of adversaries, whose hand was that "of God".
And then, when the wonders of the Internet arrived, all those images that my mind had conjured of a supernatural warrior wading through everything in his way, came to fruition. I finally saw Maradona in action, albeit on YouTube.
For someone obsessed with another diminutive Argentine with the same shirt number, it was impossible not to love Maradona. How could I, brought up on a staple of Lionel Messi embarrassing opponents for fun, not be engrossed by the magic of Maradona? So much of the charm was identical — the dribbles discrediting gravity, the scintillating range of a left foot wedding force with flair, the innumerable match-winning strikes and laurels, the tag of being the most talented footballer of his generation.
But no, the similarities were simply a suggestion of style, not a statement of substance. Underneath, Messi is no Maradona.
Messi, a normal human being outside a football stadium, never projects the conscience of a turbulent Argentina; Maradona did. Messi, the jewel in the Barcelona crown, is never a soloist; Maradona, at Napoli, was an entire orchestra by himself. Messi, a spick-and-span public figure, is not a suitor of scandal; Maradona oozed scandal from every fibre of his being.
Soon enough, or rather, some hundreds of match clips and dozens of films later, I realised that Maradona was not just an iconic sportsman or a cultural enigma, he was an emotion. The kind you feel when your meteoric rise perpetually wrestles with your self-engineered free fall. The kind you feel when you score wondrous goals by day and hobnob with cocaine, mistresses, and the Italian mafia by night. When you are simultaneously an unforgettable hero and a disgraced citizen. When you contain so much within you that those who seek to understand you are left to be overwhelmed, left to dig up delirium.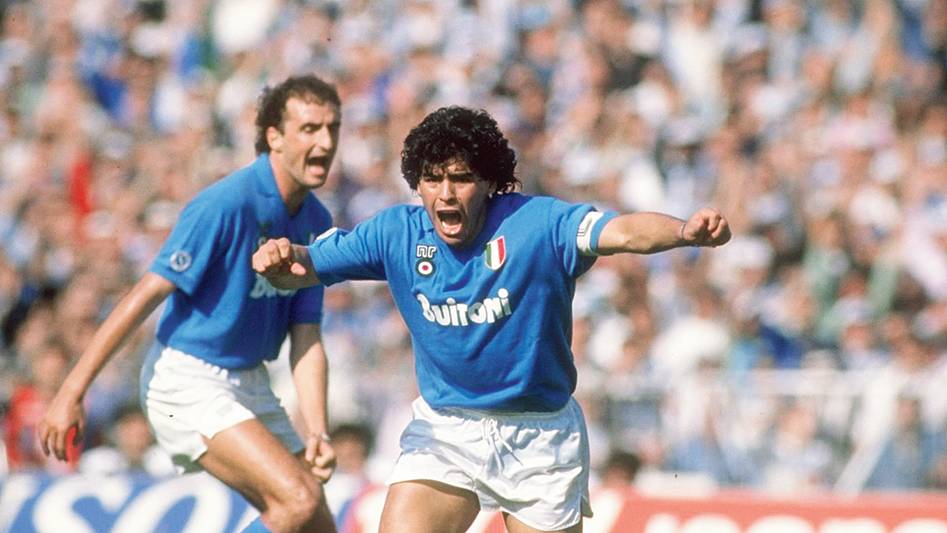 Diego Armando Maradona Sourced by the correspondent
A WISTFUL WISH
Having consumed every type of footage that exists of Maradona, I wonder what it is that I have truly missed. Have I missed the electrifying anticipation that would course through spectators a second before Maradona graced the ball with his touch? Have I missed the pure ecstasy of sighting Maradona running through teams without the certainty of knowing the eventual outcome? Have I missed the histrionics and the hullabaloo that would accompany Maradona incessantly during his prime? Or, have I missed the opportunity to use every act of Maradona's professional ingenuity to overlook every instance of his personal insanity?
Perhaps, I have missed them all, but more importantly, I have missed seeing God create his kingdom on earth and then, almost in a fit of exhilaration, rip it to shreds. I have missed observing the most perfect of players turn into the most imperfect of people. I have missed the daily drip of desperation that every part of Maradona's life used to evoke for decades, before it all began to slow down.
It is only natural then that I wish I had lived in the Maradona era, that I wish I could soak up all the visceral tension that this most unprecedented of athletes could create, identify all the subplots that a career full of twists and turns entailed, inhale the aura that only the past could exude, unrepeatable as it is in dusty old newspaper columns as well as in the most sparkling of high-definition documentaries.
A UNIQUE LEGACY
It is futile to debate whether Maradona has left us as the greatest footballer of all time, for Maradona's impact cannot be restricted to a sport, even if it is the world's most popular one. Maradona was not just a World Cup-winning maverick, he was not just the mercurial idol with a megawatt smile. He was also a deeply insecure and vulnerable individual, suspended between the dream of playing well enough to "buy a house for my parents" and the reality of a global superstar's lifestyle that had one temptation too many.
He was the Argentine street fighter who won over his country, the city of Naples, and gradually, the whole world, but could never win the battle within, the oh-so-fabled struggle between courage and corruption, between right and wrong.
Yes, Maradona was both a champion and a cheat, an addict as well as an allure. Reliving the Maradona years — the sensational, the sublime, and the sordid — has been an utterly unique experience for me. Akin to reading Dickens in tandem with Dostoevsky, or having Monet imposed upon Matisse.
Years later, when I sit down to recount the legacy of Maradona in front of a bunch of wide-eyed kids (the way my kakus and dadas had done to me), I shall hail him as the man whose peculiar path to stardom straddled both glory and gore, both legend and lunacy.
To me, Maradona will always be the one whose soul was kissed by the divine and the devil alike, the man who became a God by sinning his way to salvation.
THE MOMENTS THAT MADE THE LEGEND THE MOST INFAMOUS GOAL IN HISTORY
Six minutes into the second half of a tense quarter-final between England and Argentina at the 1986 FIFA World Cup, the ball looped into the English penalty area after a miscued clearance by Steve Hodge. As England goalkeeper Peter Shilton rushed out to collect, Maradona, a full eight inches shorter than Shilton, leaped into the air and punched the ball into the net with a combination of his head and his left fist. The referee failed to spot the illegal handling and allowed the goal to stand, as Maradona wheeled away in celebration with all of England feeling robbed. After the game, Maradona immortalised the goal with his words, exclaiming that it was scored "a little with the head of Maradona and a little with the hand of God."
THE MOST FAMOUS GOAL IN HISTORY
Only four minutes after his most controversial goal, Maradona popped up in the same game against England and produced what is still regarded by many as the best goal football has ever seen. Picking up the ball well inside his defensive half, Maradona went past four England players (a hapless Terry Butcher was beaten twice) before rounding Shilton in goal and slotting the ball home with his left foot. All inside 10 seconds, across 60 mesmerising yards. On this occasion, the words of Victor Hugo Morales, a Uruguayan journalist, immortalised the goal as the live Spanish commentary cried out, "Thank you, God, for football, for Maradona, for these tears…"
THE WRONG KIND OF SHOOTING
While at his residence in Buenos Aires in February 1994, Maradona became increasingly frustrated with the persistent presence of media personnel around him. Tired of being pursued by reporters, Maradona brought out an air rifle, crouched behind a car, and started firing at the journalists who had assembled outside his house. This outburst of eccentricity resulted in injuries to four people and Maradona eventually received a suspended prison sentence of 22 months for his actions.
AN IGNOMINIOUS EXIT
After dragging Argentina to victory almost single-handedly in 1986 in Mexico and reaching the final in Italy four years later, Maradona's international swansong arrived, unexpectedly, in the World Cup in the United States in 1994. After just the two games on American soil, Maradona was forced out of the competition for failing a drug test. Even though Maradona attributed the doping to a lapse from his personal trainer, most of the world showed little sympathy for an individual who had developed a history of substance abuse and was compelled to leave the grandest stage in shame.