Maradona: Immortal who almost challenged Sisyphus
What is beyond doubt is that Maradona has done what few in sport have been able to do for those who watch from outside the ring of action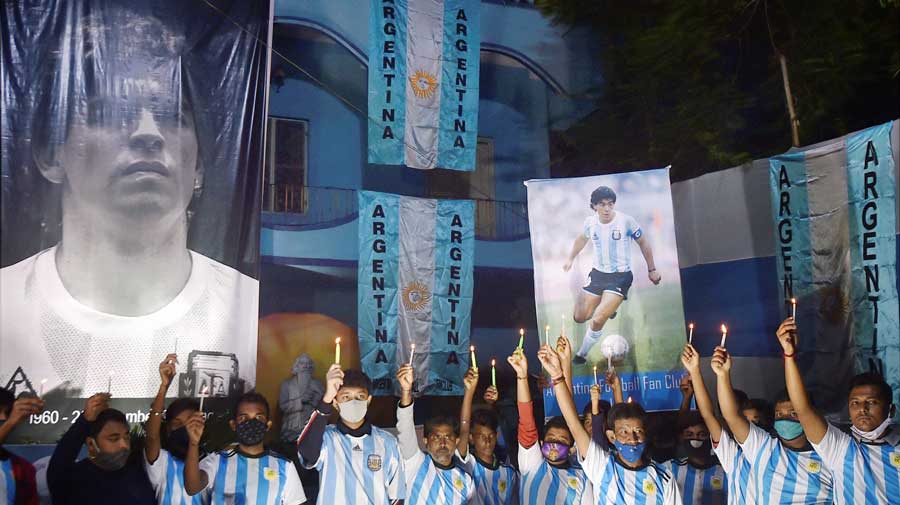 Fans of Diego Maradona hold candles to pay the footballer homage in Calcuuta on Thursday.
PTI
---
Published 27.11.20, 01:11 AM
|
---
Fame? Oh yes. The world was at his feet, football's grail held aloft in his hands. Never mind the delinquent fist. That too was part of the man. How can you separate the dancer from the dance? Or, for that matter, Merlin from his magic?
Stardom, in a nutshell.
Infamy? Sadly, yes. An abundance of it. Off the field, mainly. Debilitating addiction to cocaine. Shadowy hand of the mafia. An intoxicating mix of the heady and the reckless.
Disaster, in short. A star gone astray. Calamity. That's what it meant long back in those olden times.
Love? Oh! Diego. Has there ever been any doubt? When Maradona dribbled, even young lovers held their breath. Orgasm was on the field of play; embrace of passion could wait.
Hatred? That too is true. They have never forgotten his Hand of God. So they harp on Maradona the "cheat". Maradona the addict. His alleged drug-fuelled carousals and his link with the Camorra mafia.
"God is no more!" wrote a bereaved fan on social media after the news broke on Wednesday that Diego Maradona was no more. In a flash came the counter. "What God? God doesn't do drugs!"
How he could polarise, this man! You either loved him, or hated him. But you could never be ambivalent. That was Maradona. Genius, both perfect and flawed — as exhilarating as a swell, as dramatic as self-destruction.
Remember Hotel California? "You can check out any time you like, but you can never leave." Maradona epitomised that — promise, greatness and the irresistible fascination for a hoax. A man who radiated scoop and fervour — whether in that goal-of-the-century run or an ungainly jig on the sideline as coach — and a joie de vivre that could be scandalous and, ultimately, for a gratification that would be illusory.
Yet it was these contradictory attributes of character that made fanatics of his fans. So what he had to exit the stage of 1994 in ignominy? So what he opened fire at journalists with an air rifle? So what he took drugs? Hadn't he given us visions of eternity in a dodge and shown that even football could at times be a one-man ballet?
It's a debate unlikely to ever end. The "heart's memory", as his fellow South American, Gabriel Garcia Marquez, says, "eliminates the bad and magnifies the good".
What is beyond doubt is that Maradona has done what few in sport have been able to do for those who watch from outside the ring of action. Exorcise — if even for a fleeting moment in time — the tyranny of failure. The Sisyphus we all carry within.
If the mythological Greek was the "proletarian of the Gods", damned for ever to roll a boulder up a hill, Maradona was the rags-to-stardom plebeian who made the boulder obey his feet's sublime command. The boulder — and chalice — of World Cup glory.
It's a pity he had to leave so soon, just weeks after his 60th birthday. Maybe, his time was up. Now he is beyond time. Adieu, Diego Maradona, the curtains have been drawn aside for an immortal.