Make it count: Jhingan
Jhingan said he and Gurpeet kept on motivating each other during Tuesday's World Cup qualifier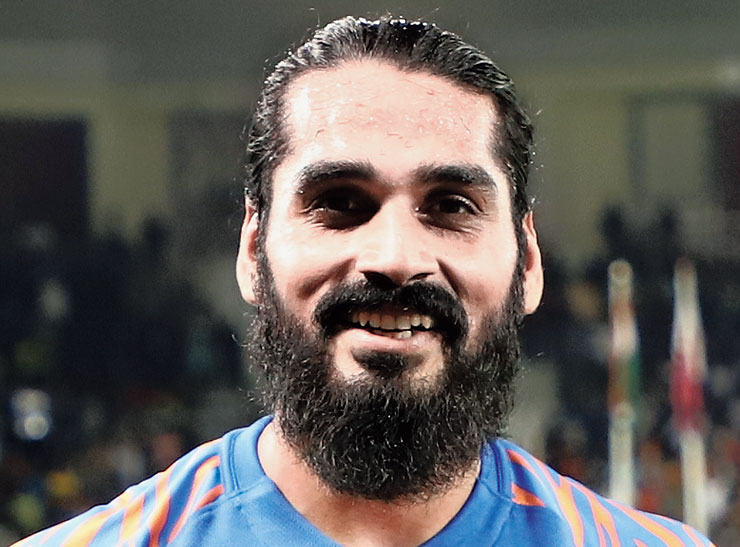 Sandesh Jhingan
Telegraph file picture
---
Calcutta
|
Published 11.09.19, 08:17 PM
|
---
Indian centre-back Sandesh Jhingan enjoys protecting a lead in a match rather than playing a goalless draw. India gave away a 1-0 lead against Oman to lose 1-2, but on Tuesday, against Qatar, the back-four and goalkeeper Gurpreet Singh Sandhu were simply amazing.
"I enjoy more when we are protecting a lead. In such situations, the rival team puts more men forward, and I enjoy that challenge a bit more," Jhingan told The Telegraph on Wednesday evening.
"But then both are similar. As long as we do the right things, play our football, and keep a clean sheet, we will take a lot of pride in that. We have managed a lot of clean sheets in the past. In the past few years, I think we've had 40-50 per cent clean sheets — a lot of 1-0 results.
"Be it China, or Qatar, it's a team effort. I cannot keep a clean sheet alone if my No. 9 or No. 10 are not doing the hard work upfront. There's a whole process of a team doing it together. Now we have to make sure we keep our feet on the ground," he added.
Jhingan said he and Gurpeet kept on motivating each other during Tuesday's World Cup qualifier.
"We just kept motivating each other. We told ourselves to get the basics right and keep the sheet clean. Whenever he made a great save, I threw in some motivating words, just to inspire him so that he kept on doing the same for the full 90 minutes."
The loss against Oman was very demoralising, but Jhingan said the attitude of the present Indian team was always to stay positive. "It was a disappointment against Oman. But the attitude of this team is always to be positive. There are a lot of strong characters in the team, who help the players recover mentally, and that includes coach Igor Stimac.
"He helped a lot to cheer up. He said that there's always a new tomorrow; there's always light at the end of the tunnel. And no matter how bad it gets today, the sun will always rise tomorrow. A lot of motivation was there, and we badly wanted to do well. We had faith in our abilities, and I think that's what carried us through."
But Jhingan doesn't think this was his best match. "It's never the best match. Probably if it had ended 1-0 in our favour, I would have said yes. I never judge a match by whether it's my best performance or whether it's Gurpreet's best. It's the whole team that has put in the effort. But I'm happy that I could do my job for the team."
India played for a draw against Bahrain in the last group match of the Asian Cup and lost. Jhingan said the players were to be blamed for the loss. "Against Bahrain, we didn't do much justice to ourselves. We were just defending. Looking back, we were the ones to be blamed. But on Tuesday it was not only about the draw. We were creating chances, playing from the back as well. In the final few minutes we created some chances and could have scored a goal."
Jhingan said all the hard work would come to zilch if India do not get full points from the matches against Bangladesh and Afghanistan. "The forthcoming matches in October and November will be very crucial. If we don't win against Bangladesh and Afghanistan, and manage away points from the Oman game, this point won't matter much. To value this hard-earned point, we need to win our other games."
Former India captain Bhaichung Bhutia though feels Bangladesh and Afghanistan do not have the defensive qualities to thwart India. "I do not think they have the calibre to maintain shape for 90 minutes. It will be a challenge for India against those teams but India should log full points," Bhaichung said. And what about the performance against Qatar? "Amazing," said Bhaichung. "We were all worried about the defence, but yesterday the back-four and Gurpreet were fantastic. This draw will give the boys a lot of confidence."
Rennedy Singh also echoed his former India teammate's views. "We were so compact. I think this is the best match we played in many years. And now under Igor Stimac we are playing quality football. One year back, we were not. If you see Gurpreet and Jhingan, they are very different players under Stimac. The coach has given them the confidence," Rennedy said.
Jhingan's former India teammate and ATK defender Arnab Mondal also said Stimac has done wonders with the players. "A good coach helps a player to develop. Jhingan is proof of that."
According to Arnab, a defender maps out a match in a different way. "For us it's a different way of reading the game compared to a striker. If you ask me how Jhingan read the match, I would say he would have told himself that we should not concede in the first 15 minutes. The last five minutes before half-time, the first 10 minutes after the change of ends and most importantly the last 10 minutes — these periods are crucial as there could be lapses in concentration," he said.
Agrees former India defender Gouramangi Singh. "If you ask me, a 1-0 win or a goalless draw gives you more satisfaction than say a 3-2 win. That's how it works in football."