Lakshya Sen counts gains of loss for bigger tests
In the new rankings, the 20-year-old has broken into the top 10 — he's world No. 9 now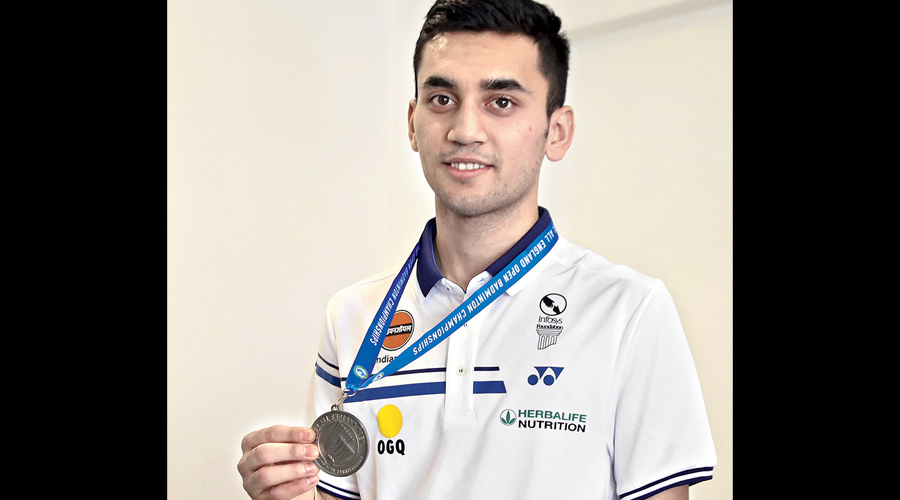 Lakshya Sen with his All England Championships silver medal in Bangalore on Tuesday.
PTI
---
Calcutta
|
Published 23.03.22, 03:51 AM
|
---
Lakshya Sen has been 'living a dream'. A bronze in the World Championships last December was followed by a title in the Indian Open. And thereafter two back-to-back runner-up finishes — in the German Open and then, on Sunday, in the very prestigious All England Championships.
To top it all, in the new rankings announced on Tuesday, the 20-year-old from Almora in Uttarakhand has broken into the top 10 — he's world No. 9 now.
All the success, however, has not gone to the young shuttler's head.
In a virtual media interaction on Tuesday, Lakshya analysed the All England final which he lost 10-21, 15-21 to world No. 1 Dane Viktor Axelsen and discussed his game and future plans.
"Firstly, it was a bad toss to lose which gave Axelsen the advantage of the better side. And right from the beginning he had control over the match," said Lakshya.
"Yes, I was a bit overwhelmed with the enormity of the situation and this despite the fact that I had defeated Axelsen just a week back in the semi-final of the German Open.
"The first game I lost badly. In the second I had got my rhythm back. But then a couple of errors proved too costly. Had I managed to win the second, who knows, the final result might have been different."
Added father and badminton coach DK Sen: "From this loss, what we learnt are the things Lakshya needs to learn. The pockets where he needs to improve. And that will help him in the future."
Did the fact that Axelsen is a much taller player (6 feet-4 inches) give the Dane an advantage?
"Not really. For every player, you need to have a different strategy, different tactics. You must have everything in your tool bag. So the height does not matter. You only have to keep in mind the fact that while lifting or clearing tosses, you must give a good length."
Lakshya enjoyed the atmosphere at All England immensely.
In the semi-final against defending champion Lee Zii Jia of Malaysia, there was an equal distribution of Indian and Malaysian fans, both groups cheering loudly for their respective player.
"It was an invigorating experience. It makes such a difference while playing. When your chips are down, the cheers lift you and help you to fight back.
"The same experience was repeated in the final...where even in defeat I learnt a lot."
So far an attacking player, is Lakshya's game tilting towards the defensive side now?
"As a junior player, I was more aggressive. During the pandemic, I did a lot of off-court training and majorly improved on my fitness. I also learnt that in big arenas you have to play a patient game. So I guess my game has transformed somewhat.
"Also, last year the big tournaments that I played gave me a lot of self-belief. I understood you cannot score all the time, but you have to be patient and get the winners at the opportune moments."
Now that he has broken into the top ten, what will be his priority? Attempt to improve his ranking further or chase wins in tournaments?
"Better rankings help in the draw in big tournaments. With my current ranking, I wouldn't need to play top 8 players before quarters," said Lakshya.
"But my priority, naturally, is to keep fit and try to win every big meet without thinking too much of the ranking."
Right from a young age, revealed his dad, Lakshya was extremely competitive. So much so that losses would reduce him to tears.At that early age, his father had seen signs of strength, not weakness, in those tears. The tears have given way to confidence now.
Right after the World Championships, Lakshya looked forward to coming back home and watch Spiderman.
"Not much time on hand this time...will catch up on a couple of movies, go out with brother (Chirag) and friends and one thing I do not wish to do is to talk badminton in these few days," he added.