Kolkata Knight Riders determined for a 3rd consecutive win
All eyes are on Russell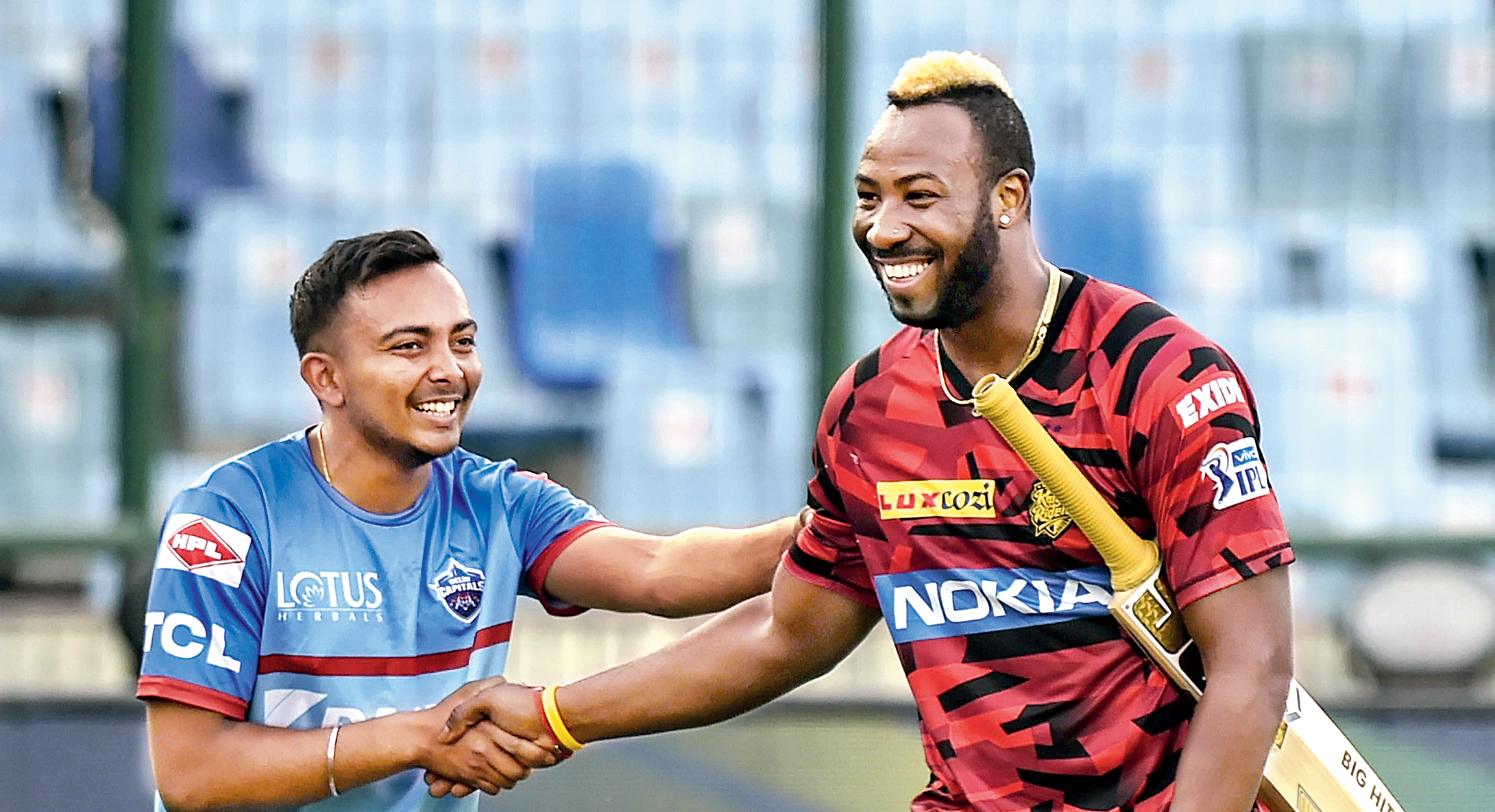 Prithvi Shaw of Delhi Capitals greets KKR's Andre Russell during a training session at the Kotla on Friday.
(PTI)
---
New Delhi
|
Published 29.03.19, 11:00 PM
|
---
The Kolkata Knight Riders are currently on a roll with back-to-back victories, but they are certainly not complacent.
On Saturday, against Delhi Capitals at the Kotla, Dinesh Karthik's boys will play their first away match of the season and they are determined to make it three in a row.
The sense of seriousness in the KKR camp was evident from the way they toiled hard for more than two hours at the Kotla on Friday evening.
After Jacques Kallis briefly spoke to the players, the entire squad trained with a kind of urgency that speaks volume of their approach.
No wonder, Robin Uthappa, when asked how his team would like to look at the match, said: "We are determined to win this encounter.
"We won two matches on home turf, but this is our first away game. In IPL, away games are always important… And it is extremely crucial to win away games.
"It will give us the extra confidence if we win here. Then we can move on to Bangalore for our next stop," Uthappa said.
From the two matches KKR played, it is evident they are a balanced side.
They have a bunch of good batsmen with Andre Russell and Nitish Rana on top of the chart. KKR's spin bowling could be the most respected in IPL as it is being managed by Sunil Narine and Kuldeep Yadav.
Not that Delhi Capitals are a weak combination despite their home defeat against Chennai Super Kings in the previous outing.
After all, with batsmen like Shikhar Dawan and Rishabh Pant in their ranks the Delhi franchise have the capability to chase big totals.
Delhi Capitals, no doubt, would like to see the back of one KKR batsman — Russell as soon as possible. Chris Morris was candid in his admission that his team would be looking forward for Russell to commit a mistake.
"Andre Russell is an absolute genius … It's as simple as that. I don't want to give away too many tactics or anything.
"Like I said Russell is an unbelievably good batter and he is dangerous. Hopefully, at the end of the day, he makes a mistake," said Morris.
Uthappa described Russell as a senior statesman for KKR. "He plays an important role for the team in later overs and he understands the value of his role in the team. He looks himself as a senior statesman in the team," said Uthappa.
What really bothering both the teams on eve of the match is the nature of Kotla wicket and it could turn out to be uncomfortable for the visitors as well as the home side. Morris said he felt it was not the Kotla wicket he knew all these years.
"Biggest difference I have seen... I was chatting with the boys, is that it is a little bit slower. The ball is stopping a lot more than it is turning, that's probably been the biggest thing that's changed," said the Delhi Capitals cricketer.
Uthappa, on the other hand, was clear in his views that wickets in T20 cricket should ideally be batsman-friendly.
While making it clear that IPL had always been extremely competitive, he said there are other factors that make it necessary to have tracks which would see the batsmen dominating over bowlers.