Kim Clijsters defends title - WTA Tour Championship - Ruthless Belgian makes short work of Mauresmo
Read more below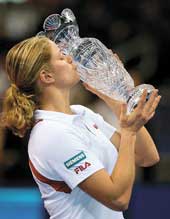 ---
Angeles
|
Published 12.11.03, 12:00 AM
|
---
Kim Clijsters kisses the winner's trophy after defeating Amelie Mauresmo 6-2, 6-0, at the WTA Tour Championship final on Monday. (AP)
Los Angeles: Kim Clijsters won the WTA Tour Championship, defeating France's Amelie Mauresmo 6-2, 6-0 on Monday to defend the title she won here last year.
While Clijsters will not finish the year as world No. 1 — compatriot Justine Henin-Hardenne assured herself of that honour just by reaching the semi-finals — Clijsters had the satisfaction of wrapping up 2003 with her ninth title of the year.
Despite her lengthy season, which included reaching the semi-finals or better in 19 out of 20 WTA Tour events, Clijsters showed no sign of fatigue as she ruthlessly closed out Mauresmo.
Breaking the Belgian in the opening game of the match was the brightest spot for Mauresmo. She twice double faulted to give Clijsters set points in the final game of the first set, sending a backhand wide on the second.
Mauresmo, who confidently moved Henin-Hardenne around the court in her semi-final victory over the No. 1-elect on Sunday night, could make no such inroads against Clijsters.
The Belgian finished things off after 52 minutes when Mauresmo put a backhand into the net.
"It's always a nice feeling, that you could do whatever you want with the ball," said Clijsters. "When you want to go down the line where maybe it is not the right position. But I could feel that I was able to do it. That is always a nice feeling to have.
As the match progressed, Clijsters said, she just tried to "keep playing aggressively and not let her get back into the match."
The ebullient Clijsters even put a positive spin on her failure to hang on to the world No. 1 ranking. On Tuesday, it will go to Henin-Hardenne, who defeated Clijsters in the finals at Roland Garros and the US Open.
"Of course, it's a little disappointing, but at least I got to be No. 1," said Clijsters, who was playing in her 15th singles final of the season and claimed her ninth title of 2003. "And I end the year No. 2 — that's not too bad."
Even the Grand Slam defeats don't rankle, Clijsters insisted.
"I see it in a positive way," she said. "I made the finals of two Grand Slams."
Certainly the $ 1 million first prize might have taken any sting out of losing the top spot. With it, Clijsters surpassed the $ 4 million mark in season earnings, a first for women's tennis.
Her winner's cheque was actually for 1,000,030 dollars — the extra 30 to commemorate the 30th anniversary of the WTA Tour. The Belgian had emerged from round-robin play undefeated, including a three-set win over Mauresmo.
The Frenchwoman, in contrast, had backed into the semi-finals when Elena Dementieva rallied from a set and a break down in the final Red Group match to knock out Chanda Rubin and let Mauresmo in.
She made good use of the opportunity with her semi-final win over Henin-Hardenne, but on Monday, Mauresmo said, she couldn't find that level of energy.
In the immediate aftermath of the match, Mauresmo was still trying to puzzle out how much of the outcome was due to Clijsters' performance and how much to her own inability to perform.
Clijsters had a chance to make it two titles in one day, but she and partner Ai Sugiyama of Japan fell to Argentina's Paola Suarez and Virginia Ruano Pascual of Spain. Suarez and Ruano Pascual, who reached all four Grand Slam doubles finals this year, won 6-4, 3-6, 6-3 to earn a measure of revenge for their losses to Clijsters and Sugiyama in the finals at Roland Garros and Wimbledon.