Joginder Sharma in 'match' of his life
The 2007 World T20 winning bowler now playing an important role in the fight against coronavirus as the DSP of Hisar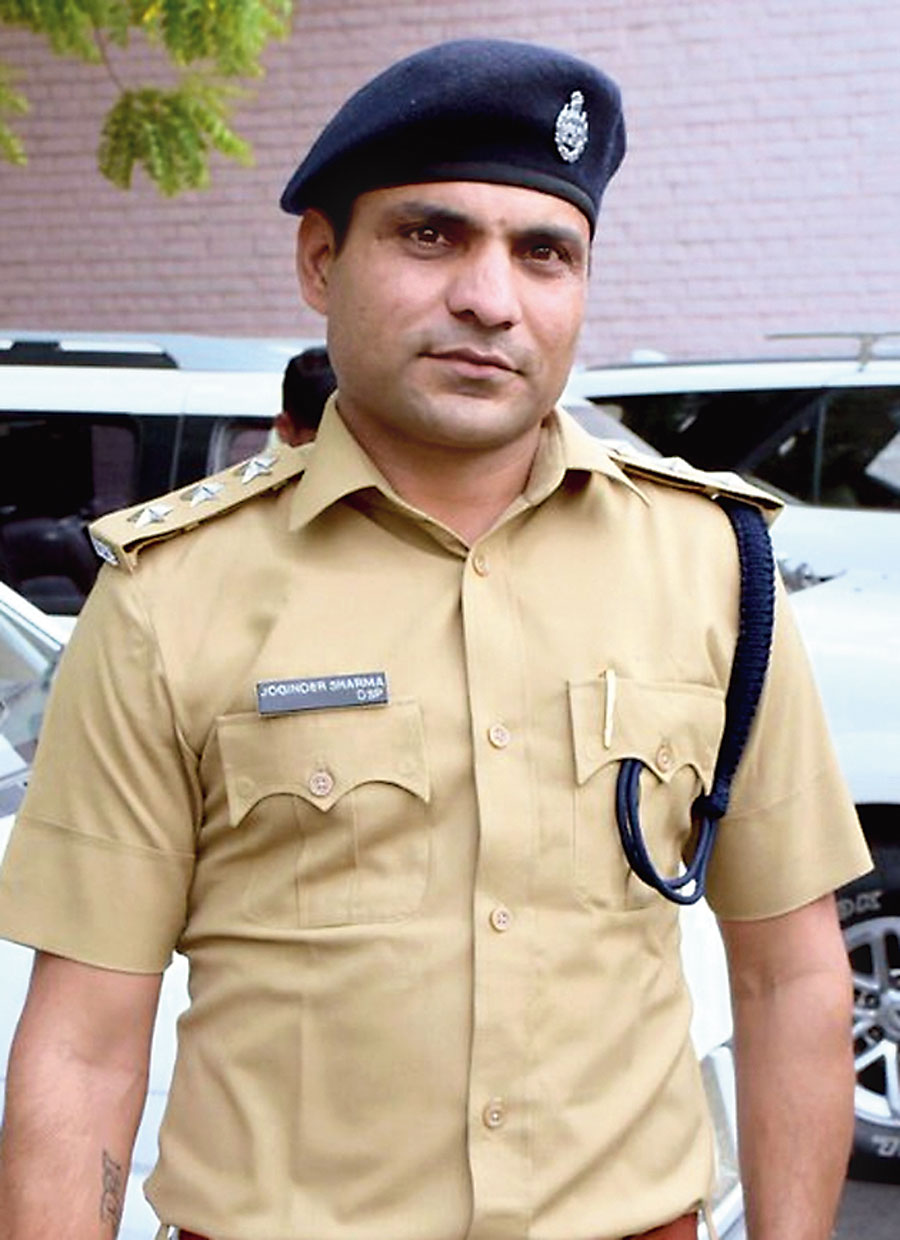 Joginder Sharma.
(Twitter)
---
Calcutta
|
Published 29.03.20, 08:13 PM
|
---
Not really because he used to play cricket once, but Joginder Sharma has managed to bowl over the International Cricket Council (ICC).
For the uninitiated, Joginder was the cricketer who bowled that match-winning last over for India in the final of the 2007 World T20 against Pakistan. Nowadays, however, the 36-year-old is calling the shots on a different pitch.
As the Deputy Superintendent of Police (DSP) of Hisar district in Haryana, Joginder has been extremely busy for the last couple of weeks as the nation fights the coronavirus pandemic.
Joginder's service as a policeman in this time of crisis has drawn praise from the ICC. Cricket's apex body tweeted Joginder's pictures as a cricketer and as a policeman with the caption: "2007: #T20WorldCup hero... 2020: Real world hero... In his post-cricket career as a policeman, India's Joginder Sharma is among those doing their bit amid a global health crisis."
It has been more than two weeks since the former all-rounder met his family. But he has no complaints and is ready for a much bigger fight.
"My wife and two sons stay in Rohtak, which is about 100km from Hisar… I haven't been able to meet them in the last few weeks, but I did speak to them via video calls. My children often ask me to return home, but then my wife helps them understand the situation.
"My family knows that I am in the midst of a much bigger and unknown challenge," Joginder told The Telegraph on Sunday.
"And it's not just me, thousands of others who are in emergency services are trying their level best to protect our country from the coronavirus pandemic. We all have to be very careful," he added.
Joginder, who represented India in four ODIs and as many T20Is between 2004 and 2007, played his last first-class game for Haryana in December 2016, against Tripura in Calcutta.
Joginder admitted that in his career as a policeman, he has never encountered a tougher challenge before.
"I have been with the Haryana Police since 2007 but have never experienced such situations and challenges. But I believe everything would be all right.
"People are very, very scared at the moment. Some don't even know what they should do at this point in time. Our first priority is to help them understand the situation. I just try to convince people in my area to stay home. We assure them that we will provide all the essential services. But despite the assurances, some people still come out of their houses without any proper reason. We all should fight together against the virus.
"I request everyone to follow the directive of maintaining social distance and to stay at home. That's how we can prove ourselves to be real patriots. Real patriotism now is in fighting together against Covid-19," he said.
Elaborating on the hectic routine the likes of him have been following, Joginder revealed how he has hardly slept more than four hours a day in the last fortnight or so.
"Our day starts at 5am. First, we discuss our plans. Our priority is to send the essential commodities or medicines to the needy people. Then we start patrolling. I can tell you, this is the toughest situation I have faced in my life."
"We also carry masks, gloves and sanitizers for our own protection, but for us the best protection is if people don't come out of their homes unnecessarily."
Asked if his current job is even tougher than bowling that last over against Pakistan in 2007, Joginder said: "Obviously, you can say the pressure is a million times more now.
"In the 2007 World T20 final, I knew what I had to do. Pakistan had to score 13 runs to win and we needed a wicket. Had we not won the match, nobody would have lost his or her life. It was not a question of life and death. But here it is all about saving lives. I know it is tough but I also believe that if we can maintain discipline, we will win this battle too."
That was the end of the conversation, with a duty-bound Joginder saying: "Now I have to go out, please excuse me…I wish you all a safe time ahead."