Chahal turns it in Royal Challengers Bangalore's favour
The man who impressed the most during RCB's innings was young Devdutt Padikkal, scoring a half-century on his IPL debut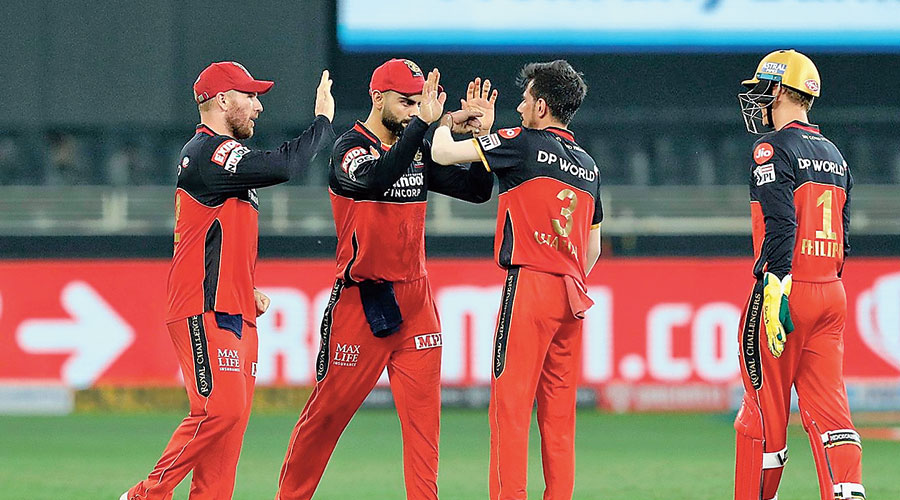 ---
---
Royal Challengers Bangalore (RCB) had a lot to smile about on Monday.
Led by their trump card Yuzvendra Chahal (3/18), Virat Kohli and his men turned things around wonderfully to begin their IPL XIII campaign with a 10-run win, as Sunrisers Hyderabad lost eight wickets for just 32, at the Dubai International Stadium.
With Jonny Bairstow (61) well in control and dominating the bowling, Sunrisers were cruising at 121/2 in the 16th over in pursuit of a 164-run target. It was then that Kohli handed over the ball to Chahal, who struck twice in his final over to destabilise Sunrisers. He got Bairstow first, and then followed it up with the scalp of Vijay Shankar, off back-to-back deliveries.
That triggered the Sunrisers' collapse as after Chahal's game-changing over, young quick Navdeep Saini (2/25) accounted for Bhuvneshwar Kumar and Rashid Khan in a space of three balls in the 18th over. The rest was formality.
Sunrisers captain David Warner looked good at the start, but an unfortunate run out led to his dismissal.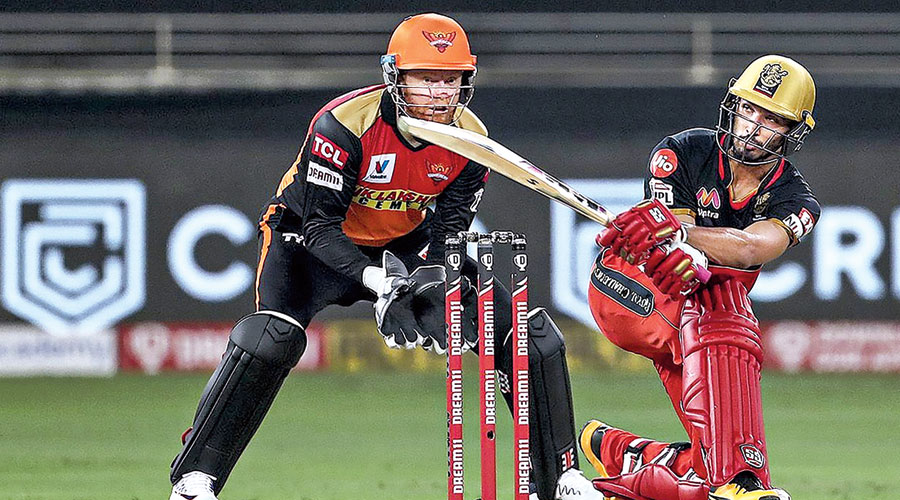 No wonder the pillars of RCB — Kohli and AB de Villiers — were pleased and relieved with their team getting off to a winning start. "Big change for me... For a change, we are on the right side of a close game. We had worked very hard for it," De Villiers said after the match.
"It's amazing, to be honest. Last time we were on the other side of the result, losing six (in a row). So nice to be one up.
"We kept our composure and Yuzi (Chahal) came in and completely changed the game for us. Not many spinners got much out of the pitch, but he showed that you can turn it if you have it in your wrists," Kohli said at the post-match presentation.
De Villiers (51) provided RCB with the push at the death that helped them to post a challenging 163/5 after Sunrisers won the toss and opted to bowl. Kohli contributed 14 off 13 balls.
But the man who impressed the most during RCB's innings was young Devdutt Padikkal (56), scoring a half-century on his IPL debut.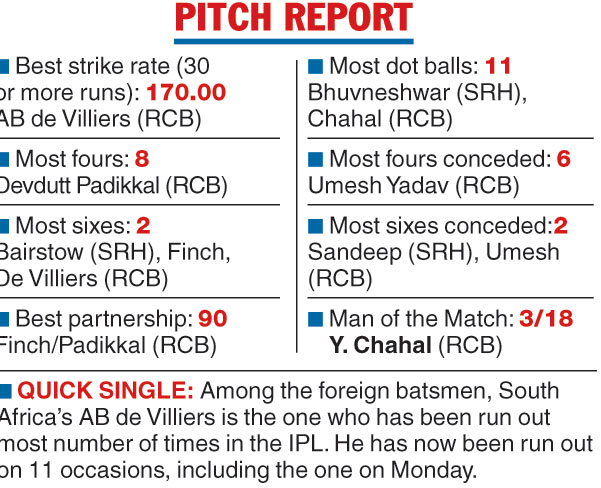 Marsh blow
It was a bad day for Sunrisers overall as all-rounder Mitchell Marsh twisted his ankle on the follow through during the fifth over of the RCB innings before hobbling out of the ground.
Marsh, who bowled only four balls, was sent out to bat out of desperation towards the end of the Sunrisers' innings, but he looked to be writhing in pain.
"It doesn't look great for Mitch. Hopefully, it isn't too bad," Warner said.