Rabada keeps it simple
It is engaging to hear him speak on how he goes about his planning, especially how he has done it on the wickets of UAE, which are not really pacer-friendly strips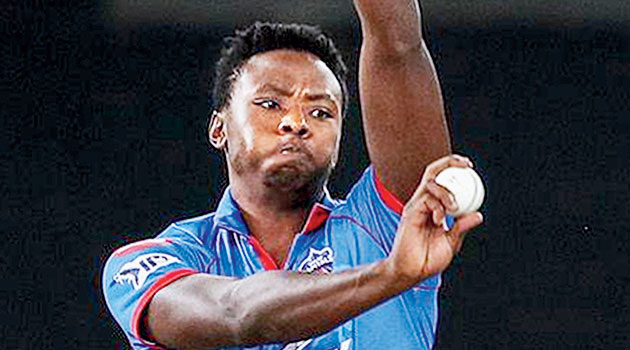 ---
Calcutta
|
Published 23.10.20, 02:57 AM
|
---
Kagiso Rabada is all of 25 years of age, but with 344 international wickets to his name, the South African speedster oozes maturity. It is no surprise that he leads IPL 2020 wicket-takers' tally with 21 scalps from 10 matches.
It is, in fact, engaging to hear him speak on how he goes about his planning, especially how he has done it on the wickets of UAE, which are not really pacer-friendly strips.
"It's about bowling the length that's going to work for a particular kind of wicket and making that kind of adjustment. But to start off, you got to hit your normal six to seven-metre length.
"In the back end, depending on whether the wicket is slowing down or whether there's dew, you can then see what sort of adjustments you need to make. But at the start of the day, it's all about sticking to the good old-fashioned line and length targeting the top of off stump," Rabada, who has been a top gun in Delhi Capitals' arsenal this season, said in response to a query from The Telegraph on adapting to the conditions.
"After all, it's about realising what works for you and summing up the conditions and bowling according to them, and also trusting your strengths and seeing how they can go with the conditions," he added.
The pitches in Abu Dhabi, particularly, did aid quicks to some extent with seam movement at certain times, but they have also had to keep in mind the ban on application of saliva because of the pandemic, which has forced further adjustments.
Asked if bowling without applying saliva has made any difference, Rabada replied: "Not really. The ball has been swinging any way. It's T20 cricket, so the swing pretty much gets negated early on even if you apply saliva on the ball.
"I guess there could be more dilemma in Test cricket. There you have to look after the ball much more.
"In T20s, the older the ball gets, the happier we are because it gets softer and then it's a lot harder for batsmen to hit."
Mandela's influence
Away from the cricket field, Rabada spoke of the influence Nelson Mandela has had on him.
"I do think he played a huge role in the world, particularly in South Africa, fighting for a basic right, which is freedom. It is important for people to feel that they are not inferior.
"Liberation of the mind is the most important thing and I guess that's the message you want to spread, especially as a sportsman where you do have a platform to express this. So there is a social responsibility I feel at times to serve a reminder that fighting for the right causes is important and most certainly, I wouldn't want to shelve my opinions and ideals."