India vs Pakistan: Who said what before the T20 World Cup encounter
Sunil Gavaskar says pressure is on Babar Azam's team; Virender Sehwag and Aakash Chopra back Hardik Pandya; Mohammad Kaif says "treat it as a game, not a war"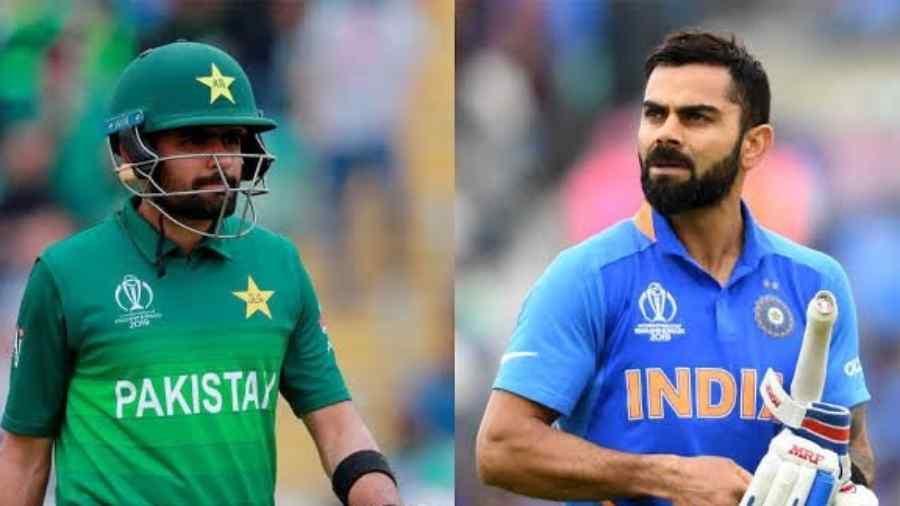 Babar Azam and Virat Kohli.
---
Published 24.10.21, 04:03 PM
|
---
Everything else can wait because it's time for India vs Pakistan. On top of that it's a Sunday. All former cricketers and experts are either busy giving pep talk or predicting the winner.
Let's just get the straight to the point, and take a look at who said what before the big game:
Virender Sehwag backs Hardik Pandya:
"He'll be on my team. The kind of batter he is, if he clicks, he'll make the match one-sided, and finish it. He has the ability, which he has shown many times. Yes, if he was bowling fit, that would have been the icing on the cake," Sehwag was quoted as saying by Cricbuzz.
Former Pakistan captain Rashid Latif predicts winner:
"In my opinion, no matter how well Pakistan play, if Indian players don't make mistakes, then it will be difficult for Pakistan to win the match. When I captained Pakistan, I always tried to induce errors from the opposition. Of course, you have to do your own job first, but at the same time, it's important to make the other team commit mistakes. So, it's not just about the technique or skills, it's about tactics. You have to get your tactics right and try to make the other team commit errors," Latif told Khaleej Times.
Sultan of swing Wasim Akram on social media platform Koo:
"It is a battle of the mind, nerves and a lot more when Pakistan and India play each other in a World Cup. Whoever handles the pressure and makes lesser mistakes will do well. Team strengths and weaknesses go out of the window when these two sides clash, pressure is the keyword #T20WorldCup," Akram wrote.
Mohammad Kaif's advice to players:
"On this nervous morning, one small advice. It is always a great idea to watch cricket by keeping away from politics, hate and arrogance. Enjoy the day, celebrate your win not your rival's defeat. Treat it as a game, not war. #indvspak," the former middle order batsman tweeted.
Aakash Chopra also backs Hardik Pandya:
"Shardul Thakur cannot play in place of Hardik Pandya. Where has he [Shardul] scored runs in T20s? For whom? He has not played a knock like that for CSK as well and let's be honest, we don't have an all-rounder," Aakash Chopra said on his Youtube channel.
Sunil Gavaskar in his column for Khaleej Times:
I can't speak for the Pakistani players, but the Indian players, over the years, have generally just shrugged this away and gone back to listening to their favourite music and drown out the outside noise as they call it. There's more pressure on Pakistan to beat India than the other way around.
Dinesh Karthik wants Shardul in XI:
"Shardul is in great rhythm. He has this knack of picking big wickets, so I would definitely have him in a big game like this. Even in the IPL final, he came in and turned the match around on its head and I don't like him for that. But, for the moment, I genuinely wish he does really well tomorrow if he gets a game," he said.