India's league of suspense
Bid to relegate I-League as premier event casts shadow on clubs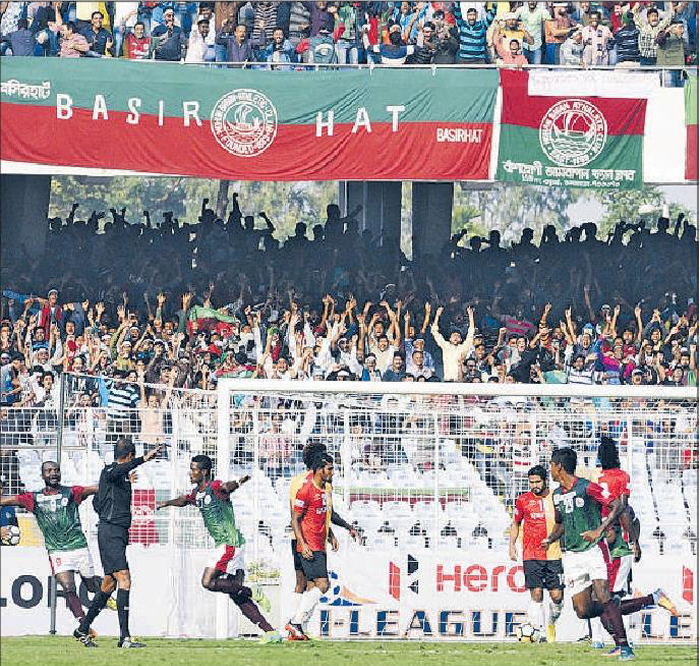 An I-League Derby clash between Mohun Bagan and East Bengal on December 3, 2017.
Santosh Ghosh
---
Published 28.07.19, 01:04 PM
|
---
It was the summer of 2014. Atletico de Madrid representatives were in town days after it was announced that a new franchise-based league, called Indian Super League or ISL, would start from October of that year. The Madrid club had a tie-up with Atletico de Kolkata but they were more interested in the two clubs synonymous with the city. Mohun Bagan and East Bengal. Matches between the two still draw spectators in tens of thousands.
Cut to 2018, Calcutta Press Club. Barca Legends were in town for an exhibition match with Bagan Legends. At the news conference, Barca Legends' Argentinian star Javier Saviola said he was lucky to play against a club older than the Catalan giants.
Now, the two Calcutta clubs are staring down the barrel with a question mark being raised on the importance of the I-League, thus far the premier club competition of the country conducted by the All India Football Federation (AIFF), vis-à-vis the ISL.
On July 9 this year, the AIFF executive committee decided to recommend to the Asian Football Confederation that ISL winners be given the slot for AFC Champions League qualifiers. This means ISL will be the No. 1 league, with I-League relegated to the second slot.
'They are killing the clubs. How can you have Indian football without East Bengal, Mohun Bagan and Mo- hammedan Sporting?' asked senior East Bengal official Debabrata Sarkar.
'We are not against anyone. We want a unified league where 18 to 20 teams would play. At present, a Calcutta team plays around 20-23 matches. Whereas you have to play 45 matches a year to make a vibrant national team,' said Bagan official Debashish Dutta. 'We had met Isac Doru, AIFF's new technical director, who said 20-25 matches won't help Indian football,' he added.
On an average, an Indian footballer plays 20-23 matches in a season. An ISL player plays 18 matches in the 10team league and can feature in a maximum of four matches in the Super Cup. An I-League player plays 20 matches. In the Super Cup, it depends on how long the team survives. An East Bengal or Bagan player features in some 12 matches more since they participate in the Calcutta Football League as well. In most of the other leagues around the world, a footballer plays 55-65 matches in a season.
Former India goalkeeper Subrata Paul made a telling comment. 'In the first three years of my career, I completed 100 matches for Mohun Bagan. Now to play 50 matches for your club, you may need three years,' he said.
But can East Bengal or Mohun Bagan be absolved of their tardy approach in the last 50 years? No youth development, no community building, none has a stadium of their own. 'They should have been the torch-bearers. Instead they always looked the other way round. The legacy they have, the fan base... if they acted in a more professional way in the last 50 years, they should not have been crying about the existential crisis now,' said AIFF general secretary Kushal Das.
Smaller clubs who have won the I-League in the past three years are staring at an uncertain future. Clubs such as Aizawl FC (2016-17 winners), Minerva Punjab FC (2017-18 champions) and Chennai City FC (the defending champions) are outside the ambit of the ISL.
'The Football Sports Development Limited (FSDL), promoters of the ISL, wants Mohun Bagan or East Bengal in the ISL. We are being taken for granted. A franchise-based closed league, where there is no promotion or relegation, becomes the No. 1 league. And then you are not showing most of the I-League matches live. It's blatantly money over merit,' said Ranjit Bajaj, senior official of Minerva Punjab and a trenchant critic of the AIFF.
ISL franchise owners could not be contacted for a comment despite repeated attempts.
Minerva Punjab, Mohun Bagan, East Bengal, Churchill Brothers, Aizawl FC and Gokulam Kerala had sought intervention from Fifa president Gianni Infantino in a 35-point letter with a copy of the Master Rights Agreement, signed in 2010 between AIFF and its commercial partners FSDL, attached to it. 'We would like to know why AIFF did not make the Fifa/AFC tentative roadmap on the Indian football league structure public,' said Bagan's Dutta.
The Fifa/AFC document said that from this season (2019-20) onwards, it should have been a 12-team league. According to the report, which was made public only recently: ISL and I-League to run in parallel, in a non-unified structure, for one more season i.e. for 2018-19 season, with 10 teams each as now. This is only to be permitted by AFC on the strict condition that there is a concrete agreement on the implementation of the roadmap for the unified system from 2019-20 season and beyond Presumption that the current 10 ISL teams will form 10 of the 12 Tier 1 teams in 201920, subject to appropriate financial/performance guarantees being in place At the conclusion of the 2019-20 season, two additional teams to be added to Tier 1 so that there are 14 clubs in the 2020-21 season Both East Bengal and Mohun Bagan had taken the bid papers but did not submit it on the ground that they would not pay Rs 15 crore as the franchise fee.
'How can you ask for franchise fee from us? ISL needs the two Calcutta clubs and not the other way around,' said East Bengal's Sarkar.
Some of the fledgling ILeague clubs such as Real Kashmir FC though prefer to wait and watch how the situation unfolds. 'Praful Patel (the AIFF president) has clearly said there would be two leagues for the next two years. What's the problem then? I agree I-League is more competitive than ISL but we have faith in the AIFF president. There will be a middle path,' said Sandeep Chattoo of Real Kashmir, which finished third in 2018-19.
Middle path is something even former India captains Bhaichung Bhutia or Rennedy Singh are talking about.
'All the stakeholders have to sit and decide on the way forward. The game is about the players and the spectators. So sooner we decide on that, the better,' Bhaichung said.
'I am sure the I-League clubs will not be taken for granted. Co-existence is the need of the hour,' added Rennedy, who does commentary for the official broadcasters of the ISL and I-League..