India-England Test: Umpiring slip puts DRS in VAR zone
The incident took place in the 75th over of the day as Rahane prodded forward to a good-length ball from Leach with the ball carrying to Pope at forward short leg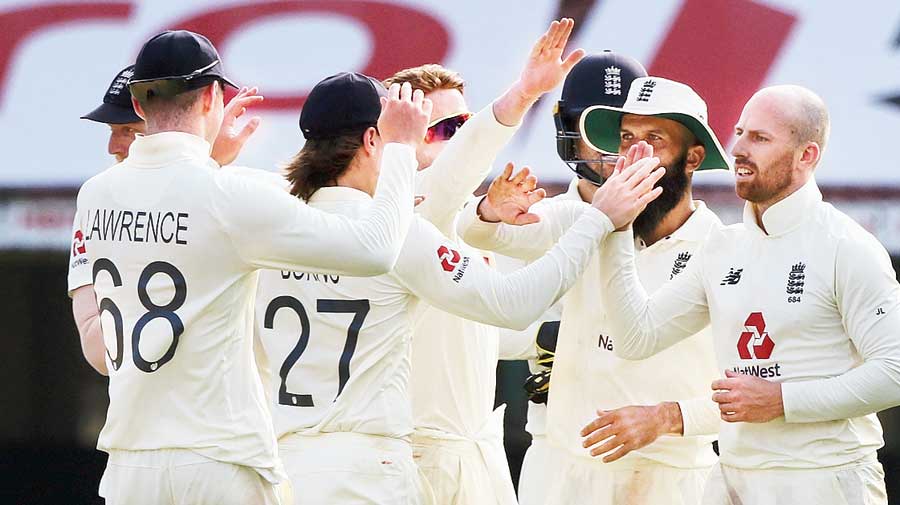 Jack Leach (right) celebrates Rohit Sharma's dismissal with teammates on Saturday.
PTI
---
Calcutta
|
Published 14.02.21, 01:58 AM
|
---
England were denied a wicket and had also lost their second review due to an umpiring error on Day I of the second Test at the Chepauk. Their frustration, though, didn't last long as the beneficiary of that error — Ajinkya Rahane — departed soon after the lucky reprieve, while the visitors also had their review restored.
The incident took place in the 75th over of the day as Rahne prodded forward to a good-length ball from Jack Leach with the ball carrying to Ollie Pope at forward short leg. England took the DRS when on-field umpire Virender Sharma turned down their appeal. Television replays clearly showed that the ball, after hitting Rahane's pad, took a faint edge off the back of the India vice-captain's glove before being taken by Pope. But Anil Chaudhary, the television umpire, appeared to check only the moment the ball passed the bat. And with no contact visible at that moment, he asked the on-field umpire to stick to his not-out decision.
England weren't at all amused, especially after seeing the replay on the big screen. They clarified it to umpire Sharma that they had appealed for a catch off the glove. But strangely the TV umpire responded by checking whether there was any possibility of the batsman being lbw.
It wasn't so and England thus lost two reviews. But once the officials realised the error, the review was restored.
The ICC protocols on the matter state that "an unsuccessful review may be reinstated by the match referee at his sole discretion (if appropriate after consultation with the ICC technical official and/or the television broadcast director) if the review could not properly be concluded due to a failure of technology." Agreeing that these things are part of the game, Leach jokingly compared the DRS to being "a bit like VAR (Video Assistant Referee)" in football.
"It was a bit like VAR today. It's still controversial even though you've got the video stuff there," he commented.
"We were trying to get them to roll it through because we felt the edge came later. They checked the lbw instead, but that's alright. It's obviously a mistake and these things happen."