In lockdown time, SSP Chowrasia Pixie-lated
SSP enjoying every minute of his stay at home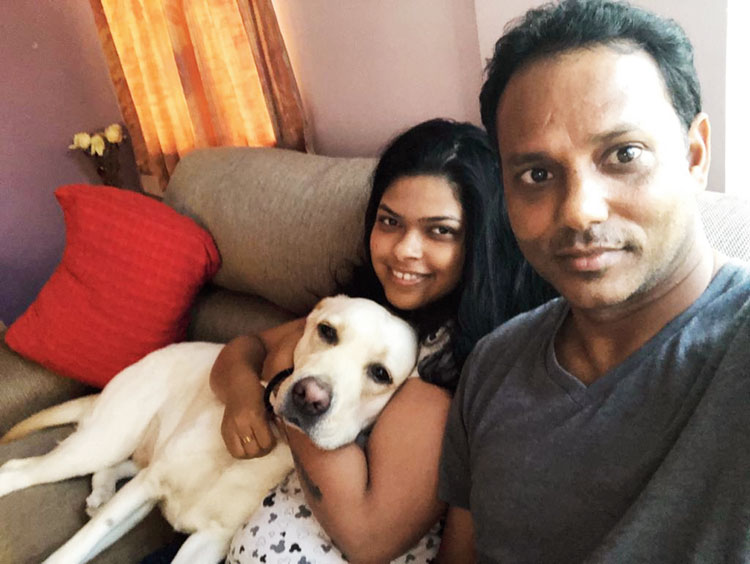 ---
|
Calcutta
|
Published 28.03.20, 08:52 PM
---
Pixie was confused on Wednesday, Day I of the lockdown.
The reason? SSP Chowrasia was not venturing out of home. That's something Pixie is not used to.
"She got confused and was irritated too. She couldn't understand what was I doing at home and why was I not going anywhere. Took a lot of effort to calm her down," a laughing SSP, an ace golfer, told The Telegraph when asked how his favourite Labrador was reacting to the 21-day lockdown announced by the Indian government to check the dreaded coronavirus.
SSP is here, at his residence, from March 9, a day after he finished tied-28th in the Qatar Open in Doha.
When at home, his usual routine is: Going to the club (Royal Calcutta Golf Club) for practice sessions in the morning, coming back home for lunch and then again in the evening some more golf.
"Pixie is used to that routine of mine. Also, being a professional golfer, you live out of a suitcase. She doesn't get to see me more often. Now that I am home 24 hours because of the lockdown, she was initially very annoyed. Now though she has come to terms with the fact that I would be here for sometime," SSP said.
SSP is enjoying every minute of his stay at home during the lockdown. "Spending time with Simantini (his wife) and Pixie, doing some exercises on the terrace, watching movies. That's my routine now," he said. "I am 100 miles away from golf though. I do not like watching golf, I always prefer to play the game. Frankly, I do not have the patience to watch golf on television."
Rahil Gangjee, who shifted to Bangalore a few years ago, also said he was far away from the game in this time of lockdown.
"I always like to get away from the game as much as I can. Instagram is my only peek into the golfing world. But yes, I am doing some chipping and putting in the living room. I am working out too in the living room. I am doing cardio by running up and down eight floors twice. My trainer from Singapore has sent me a bunch of workouts to do thrice a week. I am following that. I also end up swinging the clubs about a 100 times a day," he said.
Rahil played the PGTI's Bengal Open at the Tollygunge Club from March 12-15 and then decided to stay for some days with his mother here.
"To tell you the truth, I'm so used to waiting while travelling, but this lockdown seems just a bit more than that. After the Bengal Open, I could have rushed home to Bangalore, but I decided to stay with her for a few days and then due to the lockdown it has become an extended one. Now I am listening to a lot of music, watching movies on OTT platforms and video chatting with a lot of friends from different parts of the world," he said.
There is a growing fear that sponsors would turn their back on the sport in general since experts are fearing a global economic slump once the coronavirus pandemic ends. SSP though doesn't believe there is any reason to get worried. "I do not think so. Sponsors will support sport in general. But maybe some golf tournaments would get cancelled," he said.
Rahil also sounded bullish about the sport's future. "Well, I don't think all sponsors will stop pumping in money. But definitely a lot of companies will either postpone or cancel their sponsorships of events all around the world. I hope they realise that sport is a way of life too."