ICC Cricket World Cup 2019: Having wise heads like Dhoni helps
It is India who go into this semi-final with the better team, with more players in form and so with the greater confidence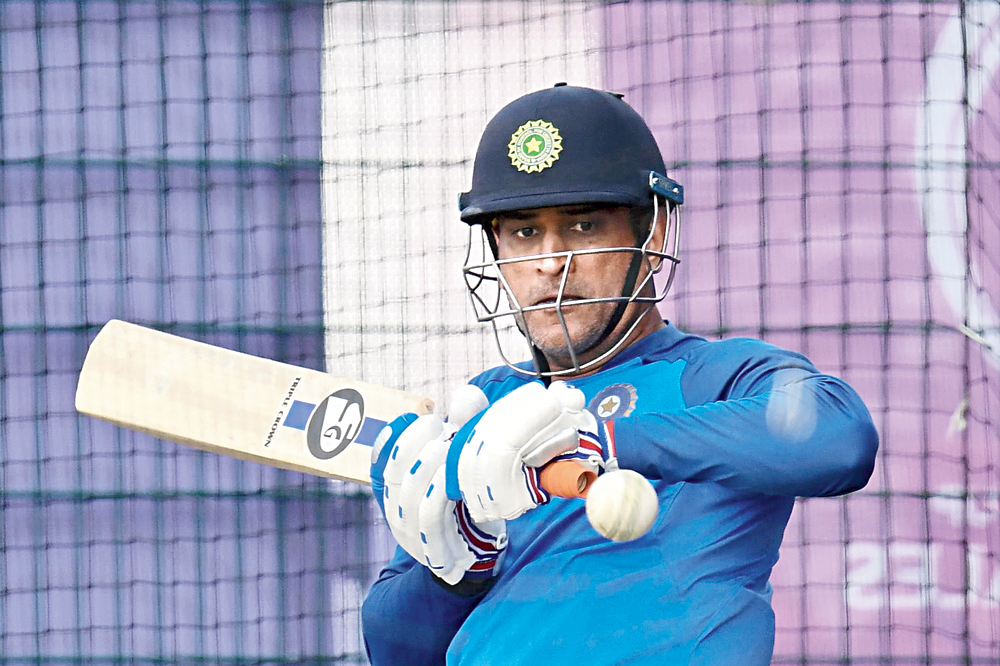 Mahendra Singh Dhoni during the nets at Old Trafford, in Manchester, on Monday.
(PTI)
---
Published 08.07.19, 10:57 PM
|
---
Old Trafford has been one of the best pitches in this World Cup and consequently we have some of the biggest totals and some of the biggest hitting on this ground. Both India and New Zealand will know that, despite the pressure of a knock out match and with a potential final just around the corner, the side batting first will have to aim suitably high.
This is not about throwing caution to the winds but about the realisation that in this era of one day international cricket judging the correct element of risk and knowing what is a "good score" is the path to success.
India, naturally enough, must start as favourites, the top team from the group stage versus the team that only just made it into the top four. Look through the stats in both batting and bowling and India has the bragging rights, with Rohit Sharma, Virat Kohli and KL Rahul all averaging over 50 against just the one man, Kane Williamson, and with the ball Jasprit Bumrah and Mohammed Shami, despite his not featuring in the early games, leading the wicket-taking stakes against, surprisingly, Lockie Ferguson.
The strength of India's batting is thus at the top of the order and its continued success throughout the World Cup has taken the pressure off the middle order. It is a sort of catch-22 that those lower down the order have therefore had fewer opportunities to shine but, at the same time, when needed have not necessarily been up to the task, with the chase against England the prime example.
One tends to look for experience in big games and again India have more players who have both been around for some time and have been involved in the biggest games. I cannot help but think back to the 2011 World Cup final in Mumbai with Mahendra Singh Dhoni's brilliant heroics. I fully understand that that was a full eight years ago and that much has changed not least that MS has inevitably had to acknowledge the passing of time.
However, without expecting him necessarily to repeat such feats, he and everyone else in this team can tap into that sort of experience and draw confidence from it. For the form men — Rohit, Rahul, Kohli — it is a question of finding ways to continue in that form. But for the likes of Hardik Pandya and Rishabh Pant, Kuldeep Yadav and Yuzvendra Chahal, who were rather taken apart by England, having wise heads around them is invaluable.
For New Zealand, Williamson is that inspirational figure but Ross Taylor too has years of experience and will be feeling that he owes his team something special at this crucial time. The bowling also has that mix of experience and more youthful fire that always keeps them in the hunt.
Although impressive Trent Boult, Matt Henry and the rather off the pace Tim Southee are the senior members of the attack, that fire is provided by the likes of Ferguson and Jimmy Neesham. Both have some experience of the IPL, which, as much as it is a world leading competition in its own right, seems to have become a training ground both for Indian and overseas cricketers, who all thus become accustomed to pressure cricket in front of big crowds.
Jimmy Neesham's story is fascinating in as much as, according to the BBC, he was out of the game for a year or so, apparently found himself a job with a company selling electronic collars for the remote herding of cows, then realised that he was not ready to give up on cricket. He is now making his way "very slowly" through a communications degree, while back fully involved with New Zealand cricket.
What I like about this tale is that he is a 28-year-old man with a perspective far broader than just cricket and that perspective has helped him come to terms with the vast ups and downs of the game. When he was bowling at Carlos Brathwaite that perspective might well have served him well in the high-pressure situation, whereas a single strand, career player might have seen it differently.
But, it can work the other way too. For instance, Jasprit Bumrah is probably more likely to deal effectively with that same situation for the simple reason that nobody in the world bowls end-of-innings yorkers better than him and I daresay that of the two I and most people would opt for Bumrah over Neesham in those circumstances.
The point is more that a match-up like this pits all sorts of characters against each other, all with different motive forces but all with one aim, to win a game of cricket. Whatever it is that helps you achieve the right mind set to do that is the key and everyone's key is cut differently.
However, it is India who go into this semi-final with the better team, with more players in form and so with the greater confidence. The squad and therefore the XI that take the field, appears to have more unity than some Indian teams of the past. All that to me means that India go into this match as strong favourites.
Unity, team spirit; these are things that have been trademarks of New Zealand teams for a long time. When Black Caps were Kiwis they always had the reputation that the whole was greater than the sum of the parts. That a strong team ethic, epitomised by its attitude to fielding, was what made a side lacking in world-class players still a very competitive one. Now that they can claim to have a number of genuine world-class players they are even more of a force to be reckoned with, so I am by no means writing them off either.