ICC Cricket World Cup 2019: Delighted with my knock, says Eoin Morgan
Eoin's superb 148: off 71 balls, 4 fours and a record-breaking 17 sixes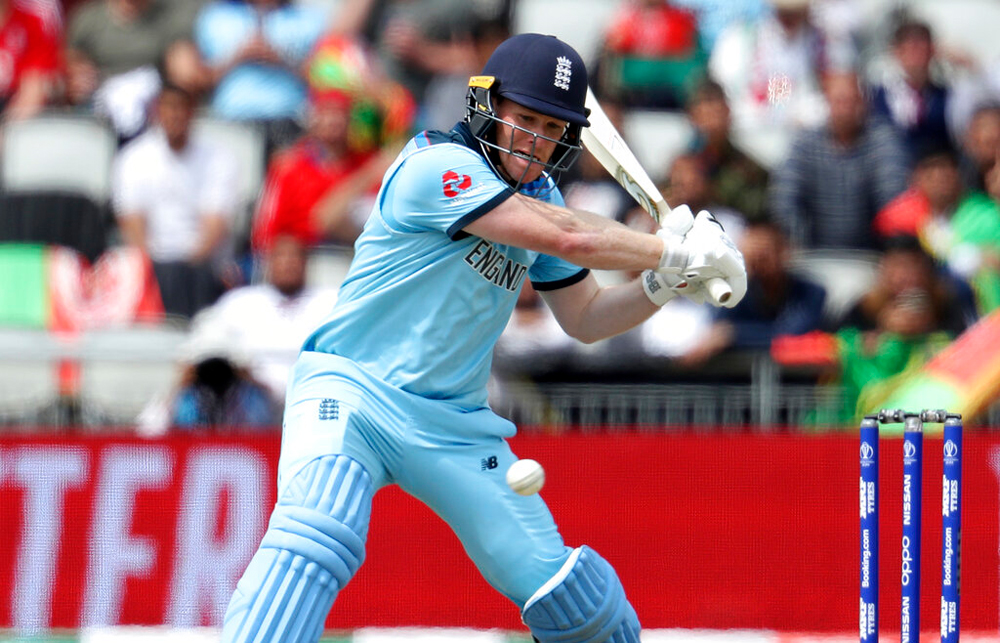 Eoin Morgan in action during the match with Afghanistan on Tuesday
Picture by AP
---
Calcutta
|
Published 18.06.19, 10:57 PM
|
---
Eoin Morgan too is an integral part of England's explosive as well as quality batting line-up.
But he was candid enough to admit that he "never ever" believed he could hit as many as 17 sixes en route a 71-ball 148-run knock… Something he actually did in England's massive 150-run victory over Afghanistan in Manchester on Tuesday…
Thanks to the captain's world record 17 sixes, England piled up 397/6 and thereafter restricted an already battered Afghanistan to 247/8. The win also took England to the top of the points table.
"Never, never ever have I thought I could play a knock like that… I'm delighted that I have… I think coming in at the time where it was a 50-50 shout as to whether myself or Jos (Buttler) went in probably helped that, because after I faced a few balls, I had no choice.
"I had to start taking risks because of him coming in next, and then after I got dropped, it was just a matter of carrying on. Yeah, one of those days," Morgan said at the post-match media conference
The left-hander, during the course of his knock, went on to break records of ODI stalwarts in the form of Chris Gayle, AB de Villiers and Rohit Sharma.
"It's weird… A very strange feeling… It's something I never thought I'd do. It's a nice place to be in, though," he said.
"I think I'm probably just becoming a target for the guys in the change room to take down. The hundred I scored is considered a slow one in our change room. Guys talk about it all the time. So, yeah, tough school," Morgan quipped.
Asked if just recovering from back spasm made him for the big strokes, Morgan replied: "Myself and Joe (Root) aren't the quickest, anyway, so it's not really an issue.
"But turning and stuff, yeah, it took a bit of time before I could get confidence moving… It was just a time where I had to take it on…"
Morgan feels that he has become stronger in terms of hitting down the ground. "I have changed in terms of my game. I think I've scored a lot squarer early on in my career, whereas I look a little bit more down the ground now.
"I think right now, I'm stronger down the ground than I have ever been, and life seems to have come full circle that way because cricket has evolved in a way that there are fields that oppositions set for those funky shots now," he explained.
The skipper also feels he has been playing his best cricket over the last four years. "To be fair, over the last four years, I've probably played the best in my career, but that hasn't involved a 50 or 60-ball 100.
"I scored one in Middlesex that was I think a 55 or 56-ball one. I would have it in the locker somewhere, but it's never happened. So, I sort of gave up on it a little bit."
Morgan agreed that playing such a knock in a World Cup certainly makes it that more special. "Yeah, it does... It does...
"Simply, you know, in the Champions Trophy two years ago, I had a couple of scores. I would have like to have gotten more, but this is where it matters.
"All the work over the last four years, over the course of my career, it all sort of comes to a front now," he said.
The back too feels much better now, Morgan added. "The back feels good… Absolutely delighted with the way it's come through that, particularly with the fielding. That was one of the bigger worries, turning and diving and all sorts… So yeah, very happy at the moment…"
Morgan also had words of praise for his bowlers, mainly Jofra Archer, Mark Wood and Adil Rashid.
About England move atop the points table, Morgan stated: "I think it's a nice boost for the guys... I think it will leave us in a really good space."