ICC Cricket World Cup 2019: Can't belittle Afghans says England captain Eoin Morgan
Afghanistan have 4 defeats from as many matches so far, while England have 3 victories playing the same number of matches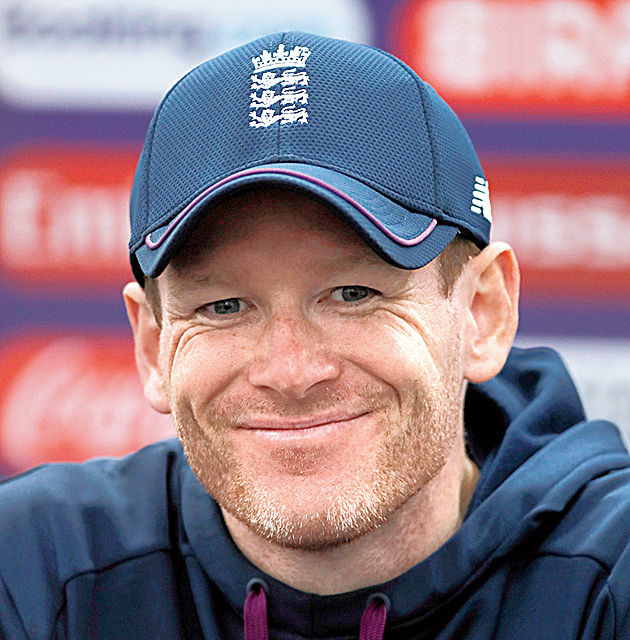 ---
Calcutta
|
Published 17.06.19, 11:15 PM
|
---
Afghanistan can still win games in this World Cup, Eoin Morgan feels, and that awareness has made the England captain careful of avoiding a slip-up at Old Trafford on Tuesday.
Afghanistan have four defeats from as many matches so far, while England have three victories to their name playing the same number of matches.
England, though, are not taking anything for granted. "I'd like to think we've been red-hot favourites in a couple of games already and underlining our preparation is the humility and gratitude with which we go about things," Morgan said during the pre-match media conference on Monday.
"That's an important part of trying to beat teams like Afghanistan. We went through the same process for the warm-up game.
"They are a strong side and I've said before that they will beat teams in this World Cup. They haven't done it yet, so that makes the game a tougher challenge.
"Their three spinners are their strongest component. It's a challenge we'll have to overcome. Pretty much every time we play against an Asian team, that's the case.
"Look over to their nets and they are practising against quicks, while at our net, we're practising against spin. It's a challenge for both sides. So we can't belittle them.
"The warm-up match doesn't mean a great deal... This week has been very important for us. We've had a lot of space between games, which has allowed us to come in very fresh," the skipper added.
England beat West Indies by eight wickets in their previous game, but suffered a bit of a blow in the form of injuries to opener Jason Roy and Morgan himself.
However, the captain is confident he will be fit enough to face Afghanistan, having recovered from the back spasms that sidelined him midway during the West Indies innings, while Roy — who made a brilliant 153 against Bangladesh — has torn a hamstring and will miss at least the next two matches.
James Vince will come into the side and open the batting alongside Jonny Bairstow in Roy's absence, but Morgan insists the 28-year-old is still a key part of England's plans in the Cup.
"I certainly believe Jason will play again in this tournament," he added. "He's out of the next two games, but we'll see after that.
"He might be back against Australia or maybe for the following game. It depends on how he responds to treatment and medication.
"We'll go on a game-by-game basis with him depending on where we are in the tournament and how crucial it is to win the games.
"He's a huge part of what we've been doing and is in the best form of his life. He's very important to us," Morgan emphasised.
Morgan's counterpart Gulbadin Naib, on the other hand, claims every game in this World Cup is a learning curve for Afghanistan and he still backs his team to do some damage, especially on turning pitches.
Naib is eager to see some turn on the Old Trafford pitch, believing that holds the key to Afghanistan's success.
"We are looking for turn in every game," he said. "But we found no turn on the surface.
"If the Old Trafford wicket is like it was when India and Pakistan played on Sunday, where the ball slightly turned, then maybe every team will in trouble against Afghanistan. Not only England but the others as well…
"Spin is key for Afghanistan. In the last three years, that's how we played our cricket. Spin provides a high rate of success for the Afghanistan team.
"If there's a little bit of spin there, maybe it's a good day for Afghanistan then."